Infused with unique, holistic crystalline remedies…
Taking care of yourself shouldn't be a chore. If you feel like it is, it's time to rethink your routine. Remember: you could be putting the best products in the world onto your body, but if you're not enjoying the process, that mind-body connection will flare up and you'll find those fancy products aren't working as well as they should.
Simply put, this means that it's time to start approaching your self-care routine as a therapeutic practice. A chunk of time every single day you can think of as a ritual, where for those few minutes, the only thing in the world you need to be concerned with is yourself. These moment you devote to taking care of yourself—and only yourself—should feel good and nourishing, and something you don't resent or take for granted.
Luckily, Shemana is in just that business. Each of their products is designed with the ritual of self-care at the forefront. Not only are their gorgeous ingredients good for you inside and out, but their products invite and encourage you to make their application a priority. All of which culminates in a beautiful harmony of your physical body and mental health.
By both honoring the past and embracing modernity, Shemana has brought ancient alchemy into the present. A "modern apothecary," if you will. Yes, it's a skincare line where every ingredient is chosen with an eye toward anti-aging, skin restoration and nourishment. But what separates Shemana from all the other skincare brands out there is that in addition to these skin-loving ingredients, each of their products is also infused with unique, holistic crystalline remedies.
That's right, we're talking crystal-infused skincare. Or, more precisely, crystal vibrational energies designed to help balance emotions, clarify the mind and align the spirit. You may be wondering, "but what does this mean?! Crystals in my skincare??" But it does make sense when you think about the way crystals work. Used in healing work for hundreds of years, crystals are believed to help bring in and move positive, healing energy within the body, while pushing the negative, toxic energy out. And since everything on earth has a unique energy field, the high vibration of crystals can help balance out and protect from other vibrations that may be clogging up your energy field.
Just like the rest of your body, when your energy isn't flowing the way it should or there's something toxic in the mix, things can go awry. If your skin is sensitive to dairy and you eat a pint of ice cream, chances are you're going to wake up with some new friends on your face the next day. Same goes for messed up energy, which is why crystal-infused skincare packs such a skin-loving punch.
Let's take this idea for a test drive, shall we? Say you've had a particularly stressful day. You get home, take your nightly shower, and reach for your Shemana Body Oil to not only moisturize your skin, but also to follow through on that daily self-care ritual we talked about. But why the Body Oil? Because in addition to the combination of sweet almond oil and vitamin E, it's infused with emerald, otherwise known as "the master healer" for its ability to calm and stabilize the mind, and pull out that toxic, tumultuous energy, replacing it with patience, peace, and optimism.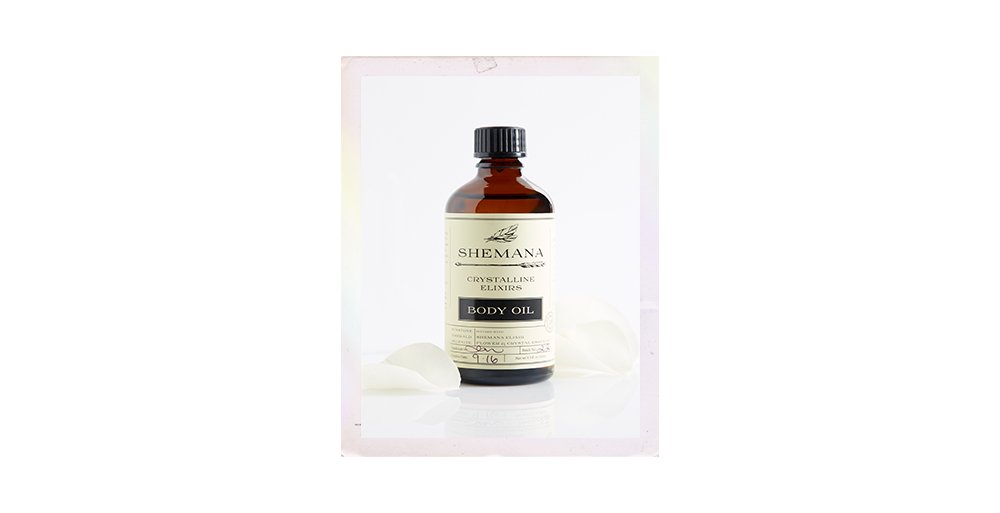 Then you follow it up with a few spritzes of the Crystal Clear Mist around the crown of your head. Infused with malachite (a mineral known for it's ability to create a clear path to healing and growth) and kyanite (the crystal of alignment and higher communication), the Mist will help immensely in clearing your mind of the day's stress.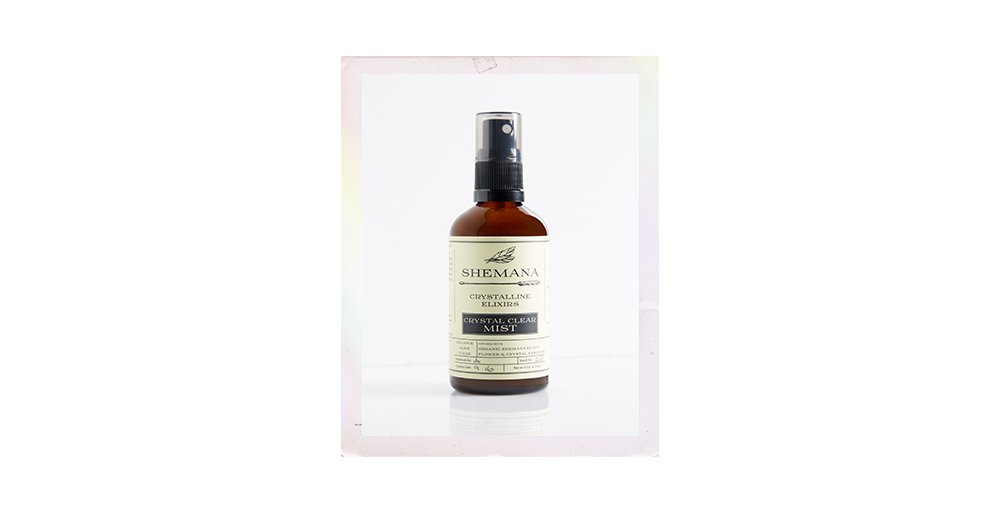 Finally, you massage a few drops of the Face Serum onto your gorgeous mug because not only are the watermelon seed oil and kakadu plum extract miracle workers when it comes to nourished, glowing skin, but also because it's infused with peach calcite. This potent crystal is believed to bring harmony by letting the body release any emotional stagnation it might be holding onto (like whatever it is that caused your stressful day).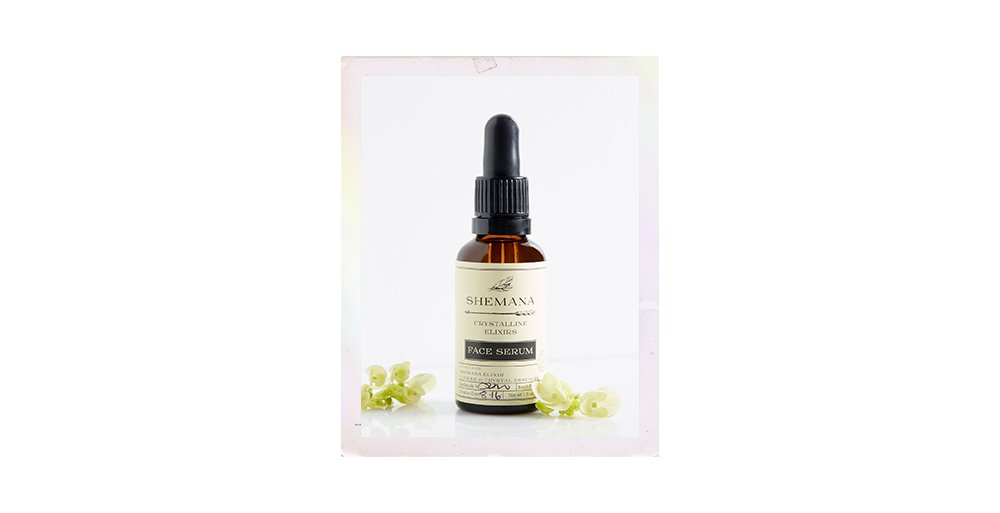 Don't you feel better already?
Taking the time to apply any of Shemana's products means you're also taking the time to care for yourself. To pay attention to and honor your body, mind and soul. This small ritual can make a world of difference in the quality of life you're creating, so make sure you're paying attention to what your mind and body are asking for, and give them both what they need.
It's important to note here that the benefits of crystals aren't backed by science. But they certainly can't hurt. And if you feel better with crystals on your side (and in your skin care), more power to ya.
+Need a refresher on crystals? Check out our Beginner's Guide to Healing Crystals.