Get it back to all its clear, glowing glory…
You spent months (maybe years) testing out different products to figure out what combination made the most sense with your skin. Now, you've whittled it down to your ride-or-die collection with a routine you could do in your sleep. Your medicine cabinet is an ode to your due diligence in the quest to get your best skin ever and you've got automatic reorders set up for everything. But then one day, you wake up and your skin just doesn't look like it normally does. You attribute it to a bad night's sleep and get on with your bathroom routine. But then it happens again the next day. And the next and the next. Pretty soon, you don't even recognize your skin. And try as you might, you just can't seem to get it back to all its clear, glowing glory.
I'm sorry to be the one to tell you this, but you're in a skincare rut. But fear not! You did a lot of work to come up with that original lineup and it's not going to go to waste. We'll get to the bottom of this.
Ok, so, your skin just doesn't completely change overnight because it decides it's up for something new. Which means there's a reason (or reasons) those products aren't doing their thing anymore. First step? Look at the calendar.
When your skin feels like it's going crazy, the calendar is your best friend. Other than an obvious hormone-based reason for funky skin, I'd bet a lot of money that your skin is reacting to changes in the weather. In fact, this is such a common reason for skincare ruts that you might even consider tweaking your regimen every few months with the seasons. Try experimenting with a new product or two every season in place of something already in your routine and watch that glow creep back in. During colder winter months when your skin has to deal with whipping winds and moisture-sucking icy temperatures, you'll want to go heavy on the hydration. Drink a ton of water, opt for a non-foaming cleanser, go heavy on the face mists and finish with a nourishing balm/oil/cream combination.
What to try:
A cream cleanser like the one from Mad Hippie means traditional suds won't strip already-lacking moisture from your skin. Then spritz away with Juice Beauty's vitamin- and essential oil-rich Hydrating Mist before layering on a nourishing, protective balm like the Supercritical Chia Waterless Wonder Balm from Maya Chia.
Spring is the time for detoxing, which means steaming is ideal for this transitional season. You can also start experimenting with lighter oils and moisturizers since your skin doesn't need quite so much protection anymore.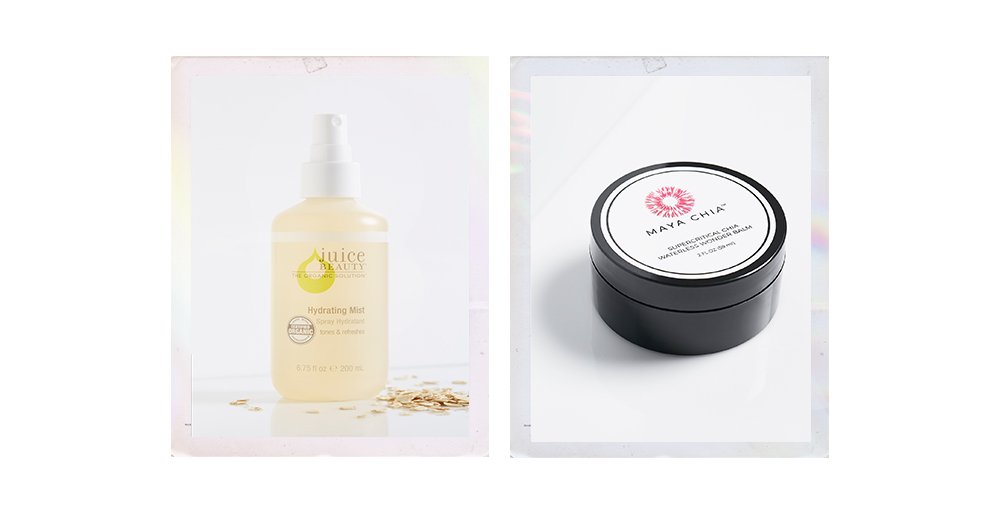 What to try:
Get your DIY facial steam on with Apoterra Skincare's Herbal Detoxifying Steam, whose flowers and cleansing herbs will help prime your skin for the rebalancing power of Pai Skincare's Geranium & Thistle Rebalancing Day Cream.
The heat and sun of summer can result in some seriously clogged pores, so exfoliation is key  to make sure you're removing any dead skin that can trap gunk in your sensitive pores. Also make sure to lighten up your moisturizer—your skin doesn't need as much oil when it's hot and humid since the weather does a lot of that work for you. And of course, SPF.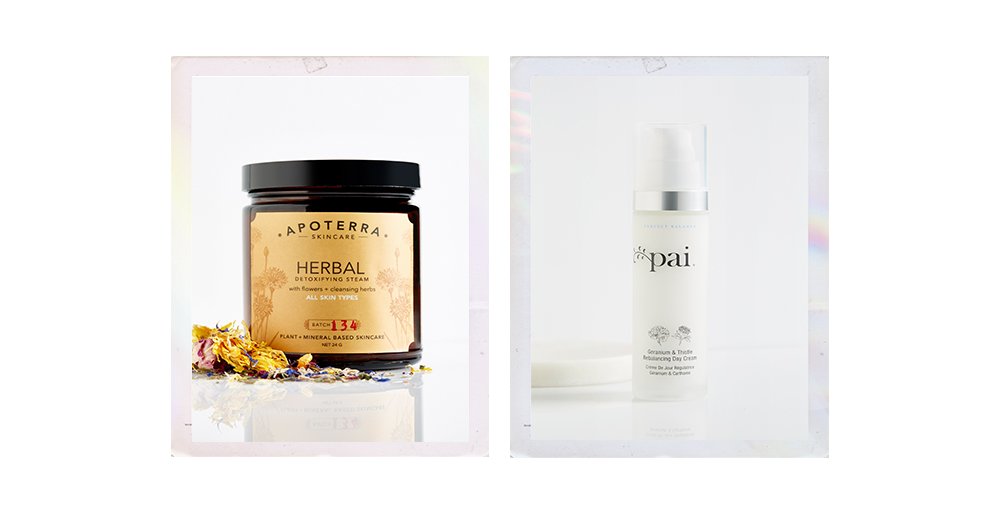 What to try:
You'll want to hydrate with an oil-free moisturizer during summer, which makes the Revitalizing Oil Free Moisture Gel from Modern Natural a great pick since it won't clog pores. And when you're ready to exfoliate, nothing beats the combination of a Sisal Bath Brush for your body and the natural enzyme exfoliating power of O.R.G. Skincare's Mineral Peel Face.
And when fall rolls around, let your skincare reflect what's going on in nature and reach for earthy botanicals that will hydrate and calm equally. Treat from the inside-out with warming teas, and from the outside-in with with mineral-rich products. You'll also want to use products that include ingredients like hyaluronic acid since skin will likely start to dry out a bit and this stuff will attract and hold onto moisture.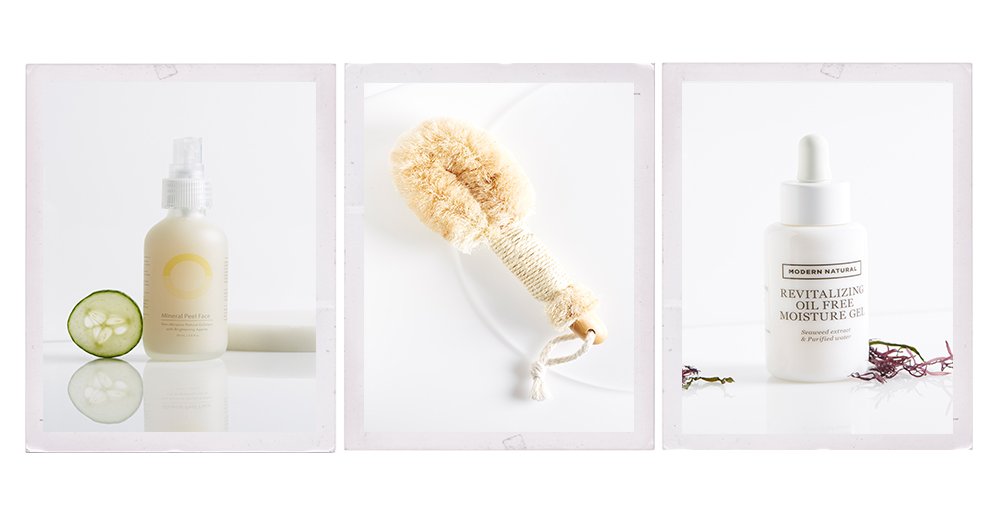 What to try:
To get your mineral fix, reach for something from Shemana's crystal-infused line, like their Face Serum, which is infused with pearl, peach calcite and iolite. Layer it with Youth to the People's kale, spinach, green tea and hyaluronic acid-packed Moisture Cream for autumnal skin bliss.
And just in case the seasons have nothing to do with your rut, it might just be that your skin has plateaued. Since skin doesn't build up immunity to the products you use, the fault may lie with your very own eyes. That's right: after months of seeing steady improvement you're hungry for more. But the thing is, your skin isn't getting worse, it's just not getting better the way you've come to expect. What you're dealing with now is your skin's new normal. This does NOT mean you're in a rut. It means you've found what works for your skin type, you lucky dog.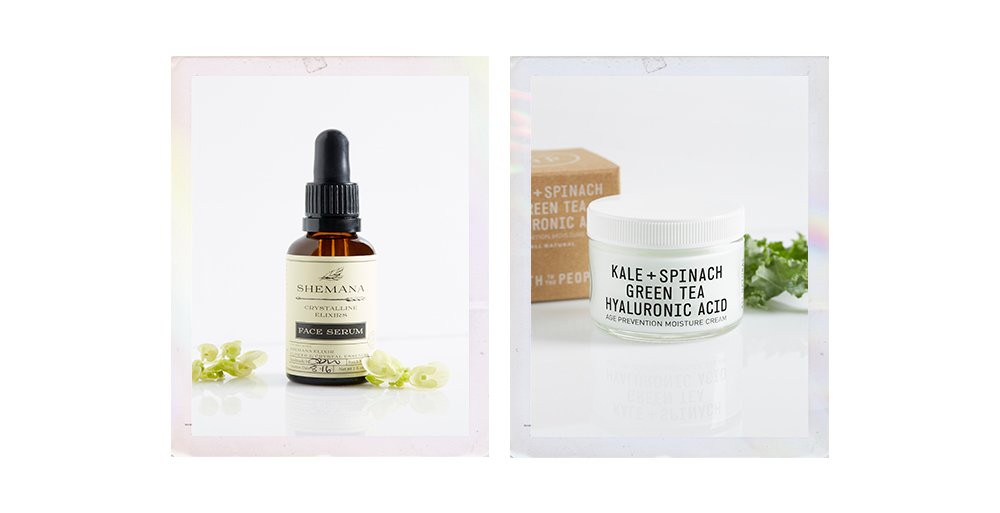 Whatever is going on with your skin, it can be fixed. After all, your skin is alive and breathing, and it needs different things at different times. Just listen to what it's asking for, and all will be well.
+ Need more for your skin? Check out these posts here!