Revolutionizing the way we think about sunscreen…
While it may not feel like it to some of us (looking at you, mid-March snowstorm along the eastern seaboard!), summer is mere months away, which means beach days, lazy lounging in freshly-cut grass, dining al fresco and more time spent outside soaking up all this gorgeous season has to offer.
And while I invite—nay, encourage—you all to spend as much time outdoors as possible as soon as the weather decides to cooperate, loading up on sun protection before you even think about heading out the door is a crucial first step. While you may rock an SPF all year round, the sun's rays are especially strong during the summer since UV exposure is greatest from May to August in the U.S. Not only that, but the heat means you're likely sweating more than usual which is an open invitation for anything you apply topically to slide right off. So when it comes to finding summer-friendly sun protection, there are three main things you'll want to look for: a product that's water-resistant, protects against both UVA and UVB rays (UVA rays prematurely age skin, UVB rays burn skin), and has a high enough SPF to actually do its job. And if you find a brand that does all of these things wonderfully, organically and in beautiful packaging, all the better.
Which brings us to Soleil Toujours, a collection of cutting-edge sun protection products that not only keep those nasty UV rays away from your skin, but do so while containing some of the world's finest, safest, naturally-based and organic ingredients. Gone are the days when your only clean sunscreen option was either thick, white zinc oxide or something that didn't work past the first five minutes and needed constant reapplication. According to Valerie McMurray, founder and CEO of Soleil Toujours—and mother of three with an acute awareness of harmful sunscreen ingredients—she "wanted to revolutionize the way we think about sunscreen [by] infusing modern glamour into exceptional, high-quality products that validate a healthy, discerning lifestyle."
So yes, McCurray's products block your skin from the sun's harmful rays, but their mineral-based formulas also rejuvenate and repair thanks to antioxidant and anti-aging ingredients, like argan oil, green tea extract, vitamin E, turmeric extract and rosehip seed oil. A line of products that can protect my skin from the sun while simultaneously making it look better? Sign me up.
Before you head outside:
Start your day by killing two skin steps with one stone with a makeup that doubles as an SPF. The 100% Mineral Sunscreen Glow boasts an SPF of 30 and will happily replace the foundation you definitely don't want to be wearing in the heat. The lotion is subtly tinted (think of it like a BB or CC cream) and leaves skin dewy with a hint of shimmer, all while protecting and nourishing the skin. What makes the Mineral Sunscreen Glow such a rockstar product is the level of protection it offers the delicate skin of your face while feeling virtually weightless. Unlike a lot of other mineral sunscreens—which are also known as physical sunscreens because they typically sit on top of the skin, physically blocking UV rays—you probably won't even realize you're wearing this since ingredients like aloe leaf juice (softening and soothing), mugwort extract (anti-inflammatory) and licorice root extract (ultra hydrating) make the zinc oxide basically undetectable on your skin.
Top it off with the Organic Set + Protect Micro Mist S.P.F. 30, a lightweight mist that will leave your skin hydrated, glowing and protected pretty much all day, and act as a setting spray for any makeup you don't want melting off your face.
While you're outside:
My preferred method of sunscreen application is to stand naked in a bathroom in front of a mirror and apply layers and layers of the stuff to make sure I've adequately coated every single millimeter of my very-prone-to-burning skin. And still, I end up with weird patches of red skin, probably because I am very bad at reapplying evenly throughout the day. But I have a feeling this summer will be different now that I've got a mist in the mix—even those impossible-to-reach places (and the ones that are easy to reach that I just have a mental block against) don't stand a chance next to the Organic Sheer Sunscreen Mist.
Normally formulated with oxybenzone and octinoxate—two common sunscreen chemicals that also happen to be known endocrine disruptors and allergens—this mist instead relies on Soleil Toujours' EcoSun Complex, a formula composed of red algae, vitamin C ester, vitamin E and bisabolol, which together act as a natural SPF booster and reduce UV damage. It's also water resistant for up to 80 minutes, so assuming you're not swimming laps all day, this should stand up to everyday sweat.
When the day is done:
You're home from your super-fun day of outdoor activities and believe it or not, you're completely sunburn-free. Feels good, right? Listen, there's nothing wrong with a healthy glow, but you do have to be careful about how you get it. If this piece has taught you anything, it's that sun protection is critically important to the health and wellness of your skin (not to mention how it ages quicker when there's sun damage involved). So instead of worshipping the sun in the name of a little bronze, fake it.
The Apres Soleil Exotic Shimmer Body Oil takes everything your 12-year-old self loved about sparkly body lotions and classes it up, imparting your skin with a subtle shimmery bronze hue while also making sure it's properly nourished. Yes, your (subtle) golden goddess fantasies will come true with the body oil, but let's not forget the healing power of its ingredients, especially after a day in the sun. Rose hip seed oil works to regenerate skin cells, argan oil heals tissues, and pomegranate seed oil is a strong anti-inflammatory just in case you start noticing any creeping redness. Then green tea leaf extract swoops in to neutralize free radicals while rosemary leaf extract soothes, tones and tightens. Oh, and the sweet almond oil makes for a killer moisturizing base.
And for your beautiful, sunburn-free face, there's the Organic Aloe Antioxidant Calming Mist. True to its name, this stuff is the ultimate in skin pampering thanks to the aloe leaf juice which will replenish your skin's moisture levels and fight off any irritation or potential swelling. Then there's the combination of red algae, vitamin C Ester and vitamin E which work in tandem to reduce free radical damage and brighten skin. And the pomegranate extract in the mist works overtime, enhancing the topical effectiveness of the sunscreen you'll apply diligently the next day.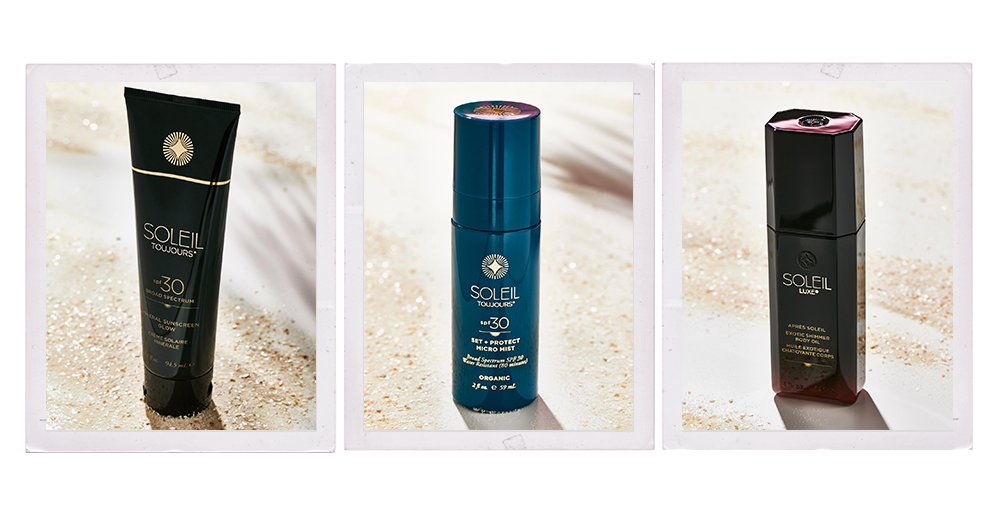 Because you will be applying SPF the next day. And the day after that…forever.
+ Ready to beat those rays? Check out all our SPF options here!