Follow the five W's of scrubbing your way to better skin…
When it comes to skincare, I don't think there's anything more controversial than exfoliating. There are those who argue that it's too harsh on skin, that it doesn't really do anything, that people abuse exfoliators. Others scream its praises, saying that daily exfoliation has cleared and cured their skin woes, that they've never felt smoother in their lives. And still more who, when walking down the skincare aisle, pause in front of the shelves containing exfoliators and simply shrug. "Huh…I could take it or leave it," they say before moving on to something else.
The professionals—aestheticians and dermatologists—fall into similar camps, with some warning against the dangers of over-scrubbing while others say it's a necessary part of any skin routine, regardless of your skin type. Even skincare brands, those who focus solely on achieving perfect skin, are split. Some brands refuse to formulate any type of physical exfoliator, while others produce six different formulas.
Needless to say, it's a polarizing topic in the skincare community. But as someone who sees a noticeable difference in her skin's tone, texture and overall appearance after I exfoliate, I am firmly in the pro camp when it comes to exfoliation. That said, it's only after a decade of trial and error that I've come to not only appreciate the act of sloughing off dead skin cells, but to also do it properly.
In the hopes of luring each of you to my side on this whole "to exfoliate or not to exfoliate" question, here's a very simple primer on five w's of exfoliation. Listen, I can't force you to gently scrub your way to better skin, but I sure can try.
What: 
At the most basic level, exfoliation is the removal of dead skin cells on the skin's surface and there are two types of common exfoliators: physical and chemical. Physical exfoliators are what you're probably already familiar with and are often referred to as scrubs. To use them, you have to mechanically massage the product onto your skin (gently!) in a circulation motion so that the exfoliating agents (sugar, flour, grains, etc.) slough off dead skin cells. Chemical exfoliants contain special types of acids that dissolve and remove dead skin cells without all the scrubbing.
Who + Where: 
You! All over. Face, knees, arms, tummy, bikini line…you name it, you can exfoliate it (within reason). Just make sure you're using an appropriate formula for each body part. For example, the skin on your face is much thinner than say, the skin on your legs, so you'll want to use a much gentler product above your shoulders (a super-fine scrub, a gentle brush, a clean washcloth, etc.) so as not to create micro-tears in the skin. While thicker, more durable body skin can usually handle something a bit tougher than what you'd use on your face, you still want to stay away from anything with large, jagged particles (sorry, apricot scrub fanatics) as they'll ultimately do more harm than good.
Why: 
Let me count the ways!
Skin prep: Think of exfoliating like sanding wood before staining or painting it. You have to prep the surface (your skin) to receive the stuff that's supposed to sink into it (skincare products). Removing that dead skin buildup helps your skin's ability to absorb everything else.
Smooth skin: See above, see below.
Glowing skin: Fresh, young, healthy skin cells = fresh, young, healthy skin. Your skin will also be able to breathe when it's not covered in dead skin cells, which will in turn promote cell turnover.
Smaller pores: Dead skin cells have a nasty habit of sticking around and gunking up your pores. If you let them in, they'll eventually make your pores larger to make room for the accumulation. Exfoliating them away makes for a much easier solution to the pore problem.
A better, longer-lasting shave: The closer you can get the razor to your skin, the better your shave will be. Exfoliating your legs pre-shave cuts out the dead skin cell obstacle. (But you already know that, right?)
More hydrated skin: If you think you have dry skin, there's a possibility that it's just dead skin that's inhibiting the absorption of your moisturizer.
Clearer skin: Remove dry, dead cells from the surface of your skin, reduce the risk or oil getting trapped under those dead cells and congesting your face and body.
Brighter skin: It can also help in lightening dark marks left behind by the ghost of acne past since it'll encourage the formation of new healthy (non-dark or scarred) skin cells.
When: 
This part is totally up to you. Some people prefer to exfoliate in the morning because they think it helps their makeup set more smoothly. Others like to do it at night since that's typically when the bulk of restorative skincare takes place, and a freshly-smoothed surface will help any serums, oils or moisturizers better penetrate your skin. For a full body scrub, your daily shower will make for the easiest application and clean up, but if you're on the dry brushing train you'll want to do it in a…well, dry environment. Figure out what you prefer and what works for your skin and your skincare regimen, and go with that. Just remember that when it comes to your face, always remove your makeup first.
In terms of frequency, that's another personal preference. If you're new to exfoliating, try it once a week and see how your skin reacts. If you're turning bright red after you exfoliate, you're either doing it too often, too aggressively, or are using a product that's too intense for your skin.
How: 
And now some personal favorites for you to try out on your exfoliating journey:
For your bod:
Apoterra Skincare Exfoliating Soap: Kill two birds with one stone by exfoliating and washing your body at the same time. The coffee grounds are tough enough to combat stubborn dry skin patches, but gentle enough to use on your thinner body skin. And it smells amazing.
Living Libations Ginger Body Scrub: Exfoliating and nourishing at the same time, the ground pumice in this scrub has serious power while the seaweed and jojaba oil keep skin moisturized and soft. Also, I accidentally ate this once and was not upset about it, so there's that.
Baudelaire Sisal Bath Brush: Do you want the best exfoliation of your life? Are you ready to forget everything you thought you knew about full body skincare? Get on the dry brushing train!
Osmia Organics Himalayan Body Buff: You know that feeling when you shower after spending the day at the beach and every single inch of your skin feels so soft and smooth you kind of can't believe that sand and ocean water are to thank? This achieves basically the same thing, just without the extra sand caught in your bathing suit.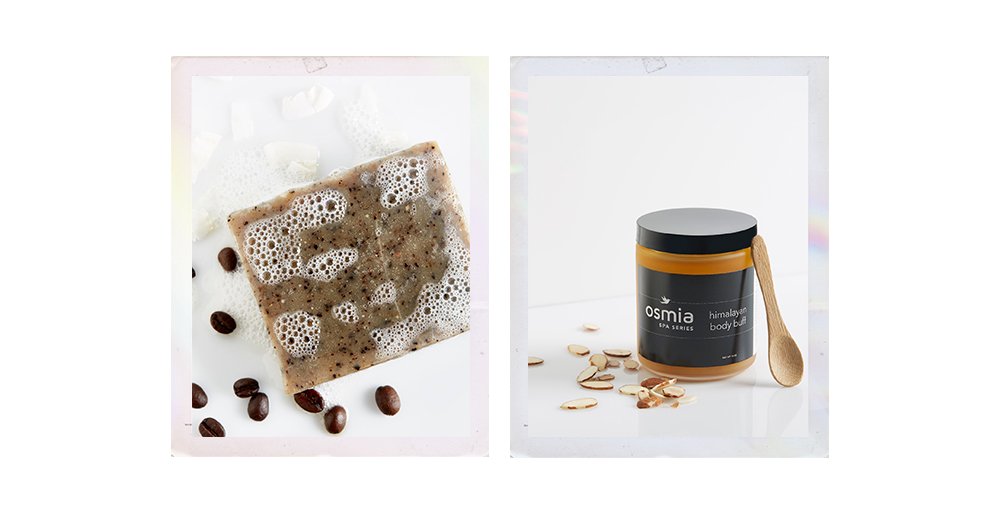 For your face:
Konjac Sponge Co. Premium Facial Puff Sponge: Super gentle, super effective, this konjac sponge can be used on its own as a light exfoliant or with a cleanser—your call. What's more, no matter how hard you press (accidentally of course), it's impossible to do damage with a konjac sponge since it's so gentle.
Juice Beauty Green Apple Peel, Sensitive: The only chemical exfoliant I trust on my skin, this stuff is potent enough to remove every last dead skin cell (thanks to the alpha hydroxy and vitamin-rich fruit acids) without turning my face bright red for a whole day.
One Love Organics Brand New Day Microderma Scrub & Masque: An incredibly gentle facial exfoliant, this scrub/mask combo has zero harsh, jagged or sharp particles. Instead, it gets its skin-sloughing powers from corn starch, pea flour, kaolin clay and pineapple fruit extract. And unlike a lot of natural scrubs that have a short shelf life due to moisture, this one comes dry so it pretty much lasts forever and you can control the thickness of the scrub.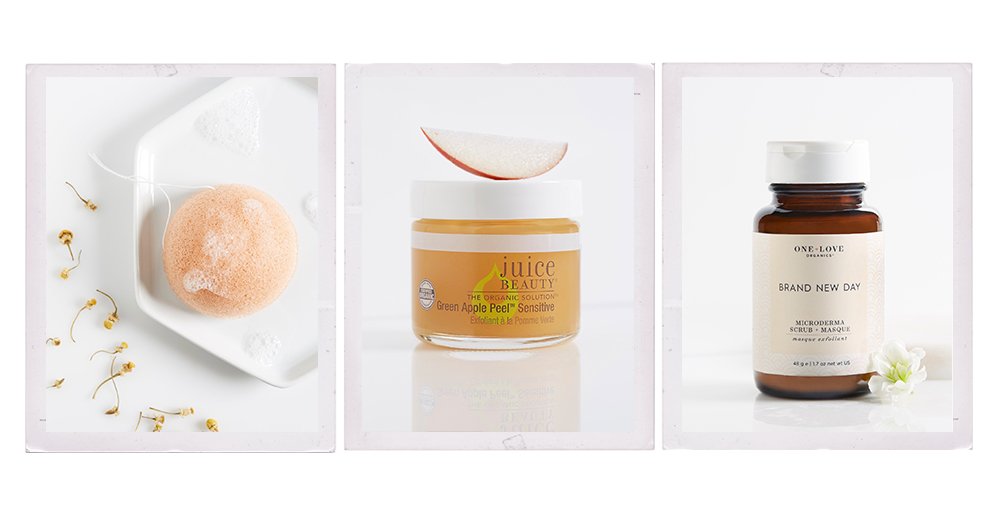 + Want more beauty tips? Check out other articles by Allie White here!