This week, Azure shares a few of Sydney's hidden gems…

This post comes from the FP Me muse-ically gifted Azure…
When people visit Sydney, Australia, they often leave only having scraped the surface of what this equally chilled-out/bustling city has to offer. I want to take you on a journey to my hidden gems, in my Sydney.
The people and places you surround yourself with, the thoughts you create and the food that you put into your body all contribute to what you radiate outwards. Which leads me to an enchanting place of pure magic I stumbled upon a few years ago. Orchard St is a home of wellness, where nourishment is present in many ways, through the beautifully vibrant creations that fill your body, the friendly smiles that fill your heart and the positive vibes that fill your mind. The space is painted in passion and a gentle calmness that always leaves me with a feeling of content love. Sending love to yourself is just as important as offering love to others, learning to love ourselves from the inside out is an empowering message presented on a plate at Orchard St.
My usual order consists of two pieces of Toasted Life Force Loaf — one with turmeric macadamia butter and coconut nectar; the other, with tahini, avocado, sauerkraut and lemon. Topped off with a Magical Hot Elixir filled with salted caramel and purification herbs on almond/coconut mylk.
Such a dream… and makes for a very happy Azure and an even happier tummy, ehe. Also can't forget to take away their Raw Blue Velvet Cake, best described as a creamy cloud of Blue Majik sandwiched between a rich cacao biscuit. <3
Lovett Bay 
When I first ventured over to Lovett Bay with my mum on the way to her work, I fell in love with it. Across the water lay a tranquil island only accessible by ferry — on gloomy days the boat dances with the rocky seas, and on sunny days the blue traveler glides freely upon the smooth waves, each day equally as thrilling, each adventure leading you to a fairy land of euphoria. When I reach the shore, a busy mind seems far away as I climb the wildwood trees, my inner child whispers in my ear, howling in the breeze. I like to come here and sit in silence kissed by the afternoon light, filling my body only with the pure scent of forest vines. There I remain, a steady heartbeat, and a sweet song  in the shelter of the trees.
Amongst the back streets of a suburban neighbourhood lies a secret rainforest hidden away in plain sight. Take a short walk winding around the sandy path, the vibrancy of evergreen leaves and the sound of falling waters will lead you out to a serene oasis. The air tastes of lingering rain, a calming rush beneath your feet and a pure breath to fill your lungs.
Disguised beneath the mask of Sydney City high-rises and concrete pavements rests an ode to a lost love, a visual romance reborn at the foot of artist Brett Whiteley's home in Lavender Bay. After Brett's passing in 1992, his widow Wendy carried the deep emotions of her loss and took the paintbrush in her own hands to create a magical escape, a secret garden open to the public, filled with fig trees that touch the sky, natives and herbs that trace the extraordinary gully below and, as kookaburras sing, the sun dances between the trees and blooming wildflowers.
Growing up on the northern beaches of Sydney, I am fortunate enough to be surrounded by a coastline of blissfully breathtaking beaches. Walking just a few steps, every day can be filled with crystal waters and oceans breeze to cleanse the mind, body and soul. Each morning I begin the day sat above the ocean's edge, thanking God, the Universe and Mother Nature for everything and naming all that I am grateful for at that present moment. The stillness of my body and the vision of rolling waves bring me back to the centre of my heart. I find a particularly special place in Bungan Beach — accessible only via a steep driveway, this shoreline is hidden beside passing cars in a suburban neighbourhood and below whistling trees that lead you down to a secluded paradise. What I love most about it — there is rarely  another soul around when I reach the sand. It's the perfect place to read to the sound of breaking tides, write your inner conversations down in your journal, or simply just close your eyes, breathe and be present.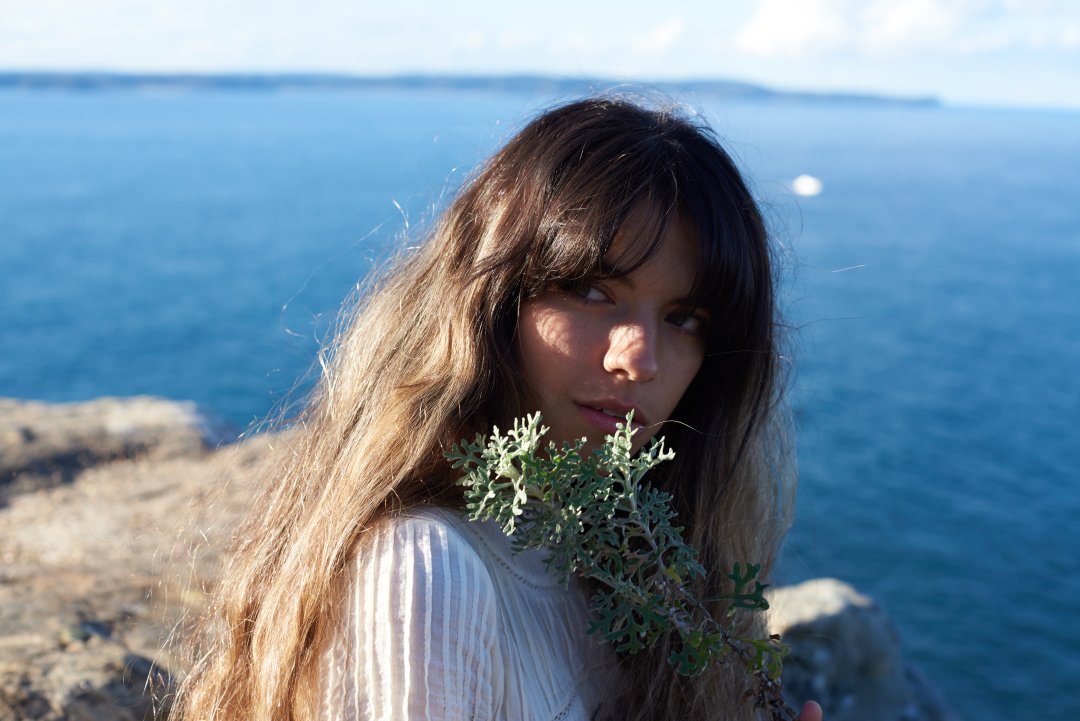 + Check back next Thursday to read more from Azure!