Adventure-ready styles for the summer days ahead…
Last week we introduced you to the Free People x National Park Foundation partnership, aka #LoveYourParks, in an aim to celebrate and bring awareness to our national parks and all things adventure! This week we are preparing your for those tree-lined trails and giving you a jump start on what to pack. Tailored with room to roam and ready to take on any terrain, this packing list is sure to inspire a new adventure.
An effortless take on a borrowed-from-the-boys V-neck. This tee is perfect for any weather that may come your way while exploring incredible vistas. Easily layer a thermal under for those chillier temps, or simply add a tank underneath such as the Hudson Tank when ready to shed a layer!
Featured in the same iconic fit as the Levi's 501, these vintage-inspired jean shorts sit just below the waist and with a button fly. You can never go wrong with a good pair of denim cutoffs — might as well make them Levi's.
For that lived-in look, we turn to plaid. Tie around your waist or toss over the Boyfriend Tee. This boxy shape pullover will take you from early morning hikes to late night camp fires.
Let's get real, no one loves a bug bite. Enjoy the outdoors without worry about the stress of pesky insects when using this 100% Organic Insect Repellant. Botanical oils keep bugs at bay while skin stays nourished with essential oils to help keep your people happy and bite-free!
As most of us head to the parks during those glorious summer months, sunscreen is a must. Balance skin tone and smooth fine lines with this natural matte tinted BB cream. Crafted from antioxidant-infused, plant-powered ingredients, this unscented mineral sunscreen improves elasticity while rejuvenating the skin. Hello summer tan, goodbye fine lines.
Because we are real woman who sweat, hear us roar. Crafted from all-natural ingredients in Portland, Oregon this certified vegan deodorant provides all-day odor protection and wetness relief. Keeping our minds focused on nature and not our stink.
Don't let the name fool you. The ultimate bandana with unfinished raw trim. Tie around your neck, hair or ankle for a versatile outdoor style.
Made for any outdoor adventure, this boot is the way to go. All things cool and rugged, in a cotton canvas that has been dyed and washed to create a vintage-inspired look. Wear as a high-top while trail hunting or fold down the collar when roaming around the camp site. An extra cushy footbed for extra comfort and support.
The name says it all, ready to take on any adventure and the perfect pair for your Baggy Lace-up Boot. Slightly stretchy fabrication and elastic band for an easy, effortless fit. Did we mention they come in seven different prints? One for each day of the week, to add some pep to your trail-bound step.
Now that you have your list of must-haves you need something to pack it all into. Nothing beats this Italian made canvas backpack with adjustable straps, a drawstring closure and inner and outer pockets to hold your water bottle, map, park pass and more!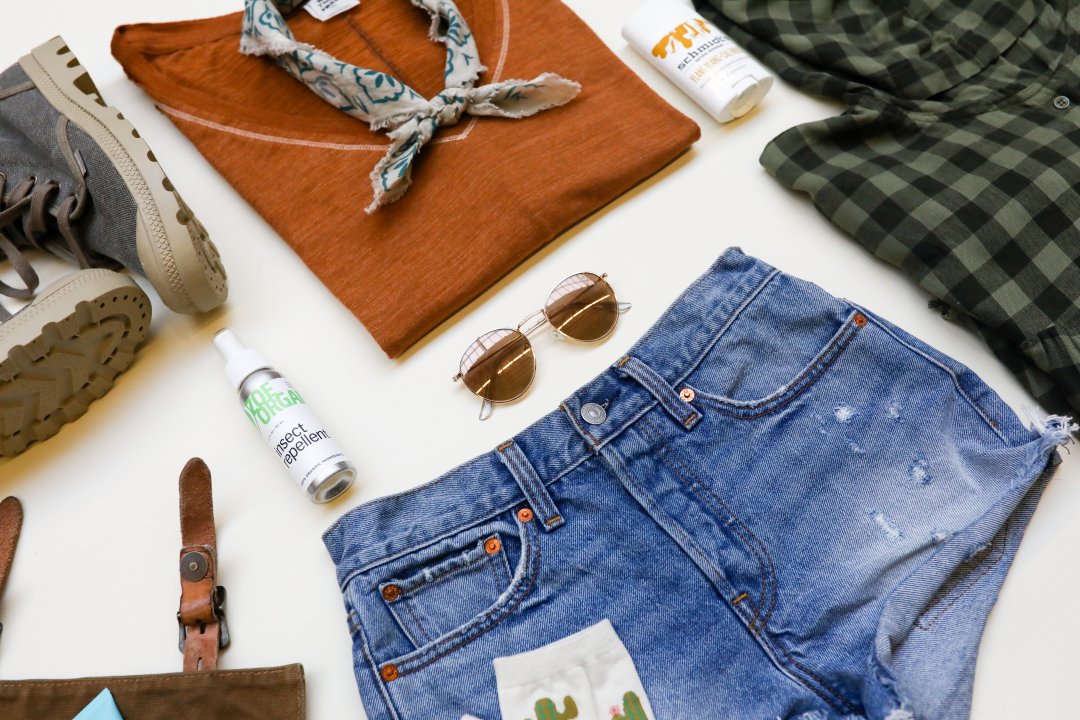 Be sure to enter our Instagram contest ending Friday, April 28th for your chance to win a dream National Park bundle.
+ Where is your next adventure? Headed to a National Park? Let us know in the comments below!
Follow April on Instagram.