You already know that you should switch up your skincare routine with the seasons, and your makeup is part of that equation….
April showers may bring flowers, but they also bring running mascara, frizzy hair and what I like to refer to as "clown mouth," that thing where your lip color smudges onto the skin around your mouth when you get caught in the rain.
Luckily, waterproofing your beauty routine doesn't have to be that complicated. No giant hats to protect against the rain or shellac spray to the face necessary to stay streak- and smudge-free.
Skin
You already know that you should switch up your skincare routine with the seasons, and your makeup is part of that equation. More moisture and heat in the air should mean less makeup, and formulas that are lighter and more breathable than the heavy stuff you used during winter. For a gentler take on full-face coverage, look for something that's sheer and buildable so you can tailor the application on a daily basis. Alima Pure's Liquid Silk Foundation is a spring skin staple as it's basically like a souped-up moisturizer that also offers smooth, light coverage. Since it sinks so beautifully into skin, you won't have to worry about it running all over the place when confronted with rain. But if you're still concerned, a quick spritz of Seven Seven Cosmetics' Natural Glow Finishing Mist will keep everything fresh and flawless.
And for blush, ditch the powder. Powder makeup is more prone to streaking when faced with moisture, so instead opt for a stain, gel or cream, like the Inner Glow Cream Blush from Rituel de Fille. (This also applies to face powder…stay away! Let your skin breathe this spring.)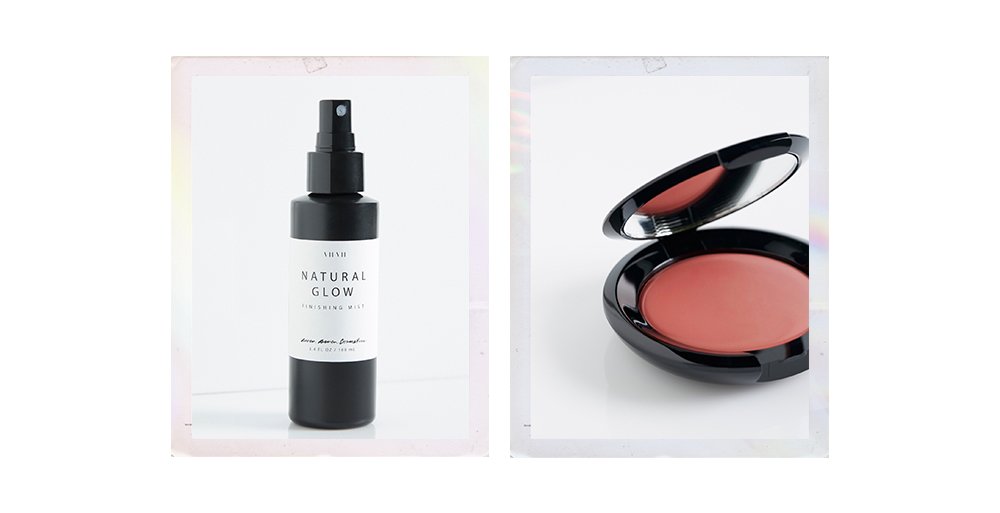 Eyes
Raccoons are cute. Raccoon eyes are not. The easiest way to avoid dripping, running lashes? Press pause on mascara for a while and instead let your eyelash curler and a tiny dab of balm on your eyelids do the trick. Easier said than done, I know, so if mascara and eyeliner are non-negotiables, look for products with staying power. First, line your lids with a smudge-free formula like the IPKN x Esther Loves You Twinkle Longwear Eyeliner Pen. Not only will it stand up to rain, but the thin, marker-like tip offers application precision (because we all know a perfect cat eye was never achieved on the first try). Then finish the look with an equally water-resistant mascara, like the line's Twinkle Longwear Dual Mascara. Et voila! Racoon eyes no more.
Lips
Come springtime, nothing is cuter than a bright lip that matches the budding flowers. What's not cute? The aforementioned clown mouth after a pesky spring shower. To keep your lip color in one place, a proper canvas is key. Start by lightly exfoliating your lips to slough away dead and flakey skin (Artifact's Honey Marshmallow Lip Masque will do the trick), then apply a moisturizing balm to prime your pout (the Luxury Lip Balm V2 from Henné Organics is ultra hydrating).
In terms of color, you'll want something with serious staying power that can hold its own against rain clouds. Typically, lip color is either highly pigmented but smears easily or stays put but is terribly drying. Luckily, IPKN has solved both problems in one adorable product with their Esther Loves You Twinkle Longwear Ink Tint. Thanks to a genius blend of kiwi, grapeseed and orange extracts, the tint is nutrient-rich and keeps your lips' moisture levels high. What's more, the formula isn't sticky at all (no worrying about your hair getting caught on your lip color) and the rich pigment settles into your lips gorgeously for all-day color.
If a subtler look is more your style, opt for a sheer tint formula instead. The lip2cheek sections of rms beauty's new Signature Set are perfect for a subtle wash of color that won't wash away. What's more, you can build the colors to create a more vibrant look if you want a bolder pop.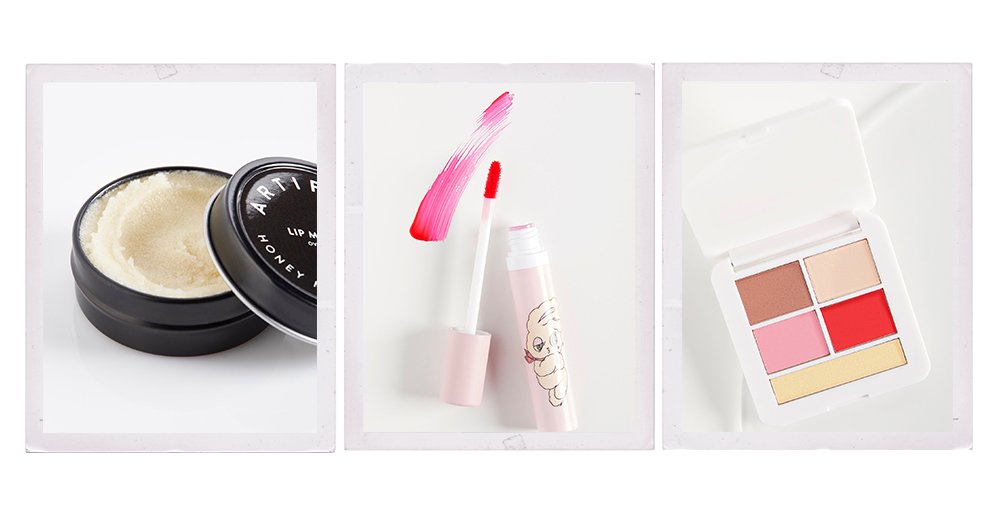 Hair
Rain + warmer temperatures = humidity, hair's worst enemy. So beat that warm, damp air at its own game and prep your strands for what's to come. Start with a shampoo that won't suck much-need moisture from your hair, like the Nourishing Hair Wash from Sans [ceuticals], and then make sure you're conditioning enough to keep things happy, like with their Balancing Hair Hydrant.
Once you're cleansed and conditioned, work a small amount of frizz-fighting styling product through wet hair. I know it may sound weird to do this before hair is dry, but by working something like Yarok's Feed Your Curls Defining Crème or AHNESTI Haircare's UTILITI Intuitive Gel through wet hair, you let the product get to work and smooth the follicles throughout the drying process. Instead of letting your hair dry and then figuring out how to combat frizz, you're nipping it in the bud post-shower.
And just in case, know that you can always rock a killer braid instead.
Just in case…
In the event that you get caught in the rain and don't like it the same way you like pina coladas, all is definitely not lost. First things first: clean up any smudges or runny makeup with the Ultimate Makeup Remover Wipe from rms beauty. They're individually packaged so you only have to throw a couple in your bag at a time, and the coconut oil in the wipes means they'll get everything off in one go. If you're dealing with a particularly stubborn lip color, try soaking a cotton ball or pad in Botanic Farm's Grain Ferment Lip & Eye Remover and let the sake, fermented soybean and fermented rice bran gently get to work. You can also carry a lightweight concealer like the Illusionist Concealer from Vapour Organic Beauty to cover any minor smudges if you're not down to clean your face in public.
And if rain-soaked hair has you feeling like a wet (albeit pretty cute) dog, spritz life back into your locks with a salt spray. Plantfolk Apothecary's Surf Sister Salt Spray beautifully combines Hawaiian salt with coconut oil to make sure that your hair stays perfectly tousled and hydrated.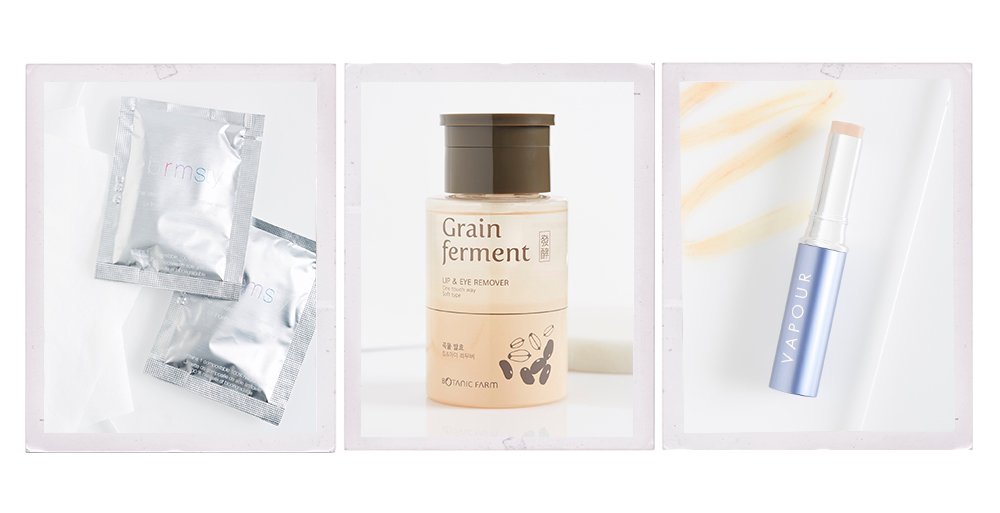 + So go swim, surf or sweat — we got you covered! Have waterproofing tricks of your own? Let us know in the comments below! 
Read more from Allie White here.