Dr. Krista Archer, also known as the mastermind behind Arch foot-care products, shares a few of her favorite recipes for putting your best foot forward this summer…
Open-toe days are here, at last. To get your feet ready—and fit in a moment of self-care—consider the beautifying power of a relaxing DIY foot bath. With myriad natural and ready-made ingredients to choose from, you can create a customized prescription for super pretty and healthy bare feet. Here, we chatted with Krista Archer, D.P.M., a podiatric surgeon in New York City and founder of the botanical-based foot-care line, Arch, about her go-to aromatic recipes to soften, tone and hydrate your skin in as little as ten minutes.
Good to Know:
You'll need a large glass or non-porous bowl that's big enough to fit your feet into comfortably when filled with warm water. "I like to use a diamond file first on dry feet before starting the bath," says Dr. Archer. "This really preps the feet and rids dead skin." Do any of these soaks for at least ten to 12 minutes to get the full benefits of the ingredients. (But going beyond 20 minutes can turn your skin prune-y, just FYI). Feel free to take a soak once a week, says Dr. Archer, who considers this ritual a moment of meditation. "Putting your feet in water might even bring down your blood pressure," she says. Ready to dip a toe?
Detoxifying Pink Himalayan Salt Soak
1/4 to 1/2 cup pink Himalayan sea salt
2 full droppers of Arch Sole Savour Nail Oil
2 tbsp fresh lemon juice
Lemon slices, if desired
"Pink Himalayan salt takes the toxins out of your skin and makes your feet very soft. Fresh lemon juice contains an acid that helps break down the outer layer of dead skin cells—it's like a mild peel—and acts as an antiseptic. And I formulated my Arch oil with a cornucopia of nourishing essential oils that are water soluble and easily dissolve into the bath."
Revitalizing Tea Soak
4 bags chamomile or peppermint tea
1/8 cup dried parsley
3 tbsp olive oil
4 drops sweet orange essential oil (or essential oil of your choice)
"Steep the tea bags in hot water for ten minutes and then add that water to your foot bath. I like using decaffeinated teas because caffeine can constrict circulation, and you want blood to be flowing freely to your toes. Peppermint is refreshing and chamomile is calming—it depends on the effect you want. Parsley is antibacterial and antifungal, olive oil helps hydrate dry skin and sweet orange essential oil is aroma-therapeutic—the smell is uplifting and balancing."
Hydrating Hibiscus and Milk Powder Soak
4 bags hibiscus herbal tea
1/2 cup whole, organic milk
3 tbsp olive oil
1/4 cup baking soda
1/4 cup corn starch
"Besides having a really pretty color and delicious smell, hibiscus tea contains free-radical-fighting antioxidants that improve the overall health of your skin. The milk and olive oil provide a lot of hydration while the baking soda adds a nice effervescent consistency to the bath. Cornstarch works to soften the skin and eliminate any dry patches."
After Your Soak:
"Pat your feet and legs dry and massage a cream, like my Arch Sole Savour Crème, into feet and ankles (extending up to your knees if desired). Finish with Arch Sole Savour Balm on any callused spots."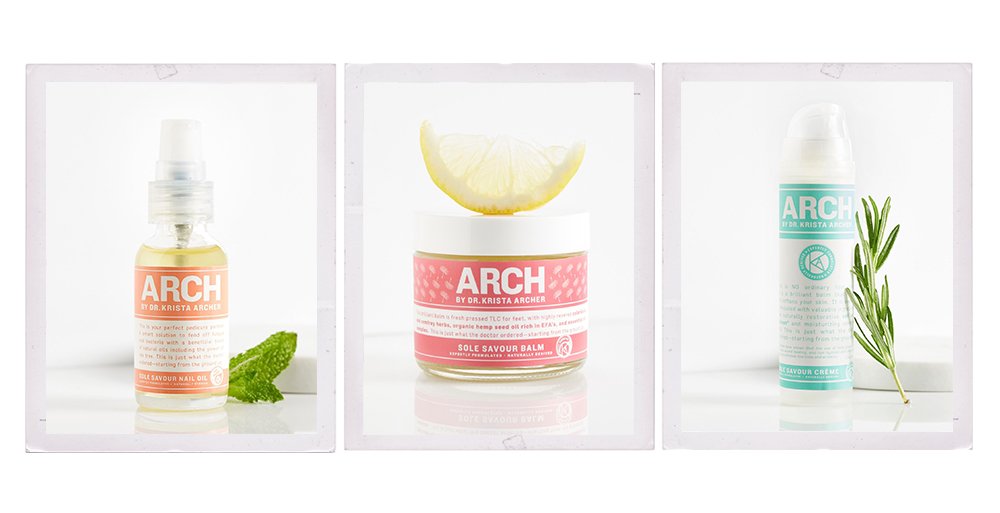 + Got any DIY foot tips to share with us? Leave a comment below!
Shop all of Arch by Dr. Krista Archer products here!