The inspiration behind that festival look everyone's been talking about…
BeautyMarks. You may have seen them grace your feed during recent festival coverage, with our favorite bloggers and it-girls decking out their faces in gold, silver and multicolored freckles. Yes, we said freckles. These temporary tattoo packs are not going anywhere anytime soon, so to learn more about the magic that went into this "new makeup" trend, we reached out to founder and designer Kate, of Mr.Kate, to learn more about the inspiration behind the freckle craze.
Tell us a little about yourself… Did you always have a creative personality?
I did, but I guess I didn't realize it until later because I went to a Waldorf school where everyone is encouraged to be creative. I was always a funky dresser and enjoyed expressing myself through style.
So you started out as a blogger… How did that lead to creating BeautyMarks?
I started as a jewelry designer, selling online with an accompanying blog. I have always made my jewelry by hand (I carve the original waxes by hand), so creating hand-drawn/hand-painted faux tattoos aka our BeautyMarks was an easy extension of what I was already doing. I love the idea of "The New Makeup" being just one more way for people to get creative with their daily style expressions.
When creating BeautyMarks, how/where did you foresee your customer would wear them?
Our skin is one of our best assets, so I loved the idea that BeautyMarks could be worn year-round to enhance and compliment it. I purposefully make each packet unique so our customers can choose from a variety of art, depending on their mood, outfit or occasion. Some people use BeautyMarks for special days and others, like myself, use them regularly for a little sparkle or added personal flair to an otherwise casual outfit. A Monday is way more fun when you're wearing golden freckles!
Do you have a favorite way to wear them?
I'm constantly discovering new ways of wearing BeautyMarks. I encourage people to cut them out and pair different packets to create entirely unique combinations. Sometimes I go simple by cutting out a smaller cluster of freckles to use like a highlight on my cheekbones, and other days I may want a full-on wrist sleeve so I can admire them while I'm typing emails! It's also fun to position them in little key holes, scoop-backs or other areas to highlight the cut of your clothing.
We hear you call yourself a "creative weirdo"… What does this mean?
I was called a "weirdo" growing up by certain people that didn't really understand me or maybe felt threatened by my creative expression or outside-the-box way of dressing. I think we all inwardly view ourselves as a little "weird" and that weirdness is what makes us unique. So now, "weird" is synonymous with "unique" in my definition and I've been able to bond with millions of others over our shared love to express ourselves through our creative weirdness. I am proud to be creative and weird and me!
What do you love most about your job?
I am very lucky to have built a business around my passion for creativity and inspiring others to celebrate that in themselves as well. Being an entrepreneur and small business owner is really hard work, but I've always loved to learn. I love that my job is well-rounded in that I get to work both my business brain and creative brain on a daily basis. But the thing I love most of all is the ability to connect and inspire others and, in turn, get re-inspired myself! The BeautyMarks are a perfect representation of that shared creativity. I bring them to every party and get-together because they inherently bring people together and next thing you know, we're all applying BeautyMarks on each other!
What does free mean to you?
Free, to me, means free of judgement by others and yourself. Free to trust that wonderful intuition that is in all of us and makes us feel alive. Free to laugh, love and take naps!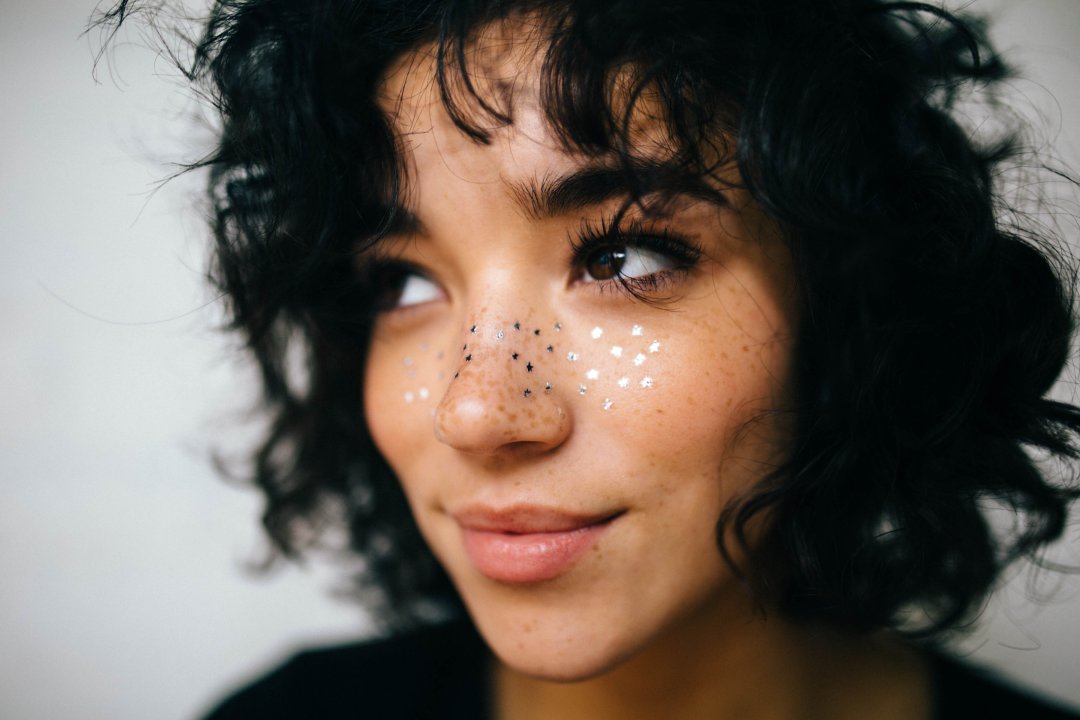 + Headed to a festival this season? Check out more beauty inspiration here! 
Follow April on Instagram.
Photos by Jana Kirn.