From the broad spectrum of SPFs, which one is ideal for you? 
Now that sunscreen has become as essential as face cream (even on cloudy days!), there's a new formula to match every skin type. Got combination skin? There's a non-greasy-yet-hydrating SPF for that. Or maybe you're super sensitive or acne-prone? Look for UV deflectors spiked with calming and clarifying botanicals. Considering how often you need to (re) apply this daily essential (hi, every two hours!) you really want to get a sunscreen that bonds well with your skin. Here's how to find your SPF soulmate:
For Dry Skin: 
This SPF water cream is infused with ultra-moisturizing sodium hyaluronate, along with aloe, sunflower seed oil and soybean lipids. It's great to counteract the natural water loss that happens on sweltering days (all that sweating can leave your skin parched). Thank You Farmer Sun Cream, $23.
For Sensitive Skin: 
Mineral sunscreens are the way to go. Made with physical blockers — zinc oxide and titanium dioxide — that sit on top of your skin, this lightweight cream won't clog pores. And unlike a lot of mineral SPFs, it absorbs to a transparent finish (just rub it in for a few minutes). Mineral SPF 30 Face Sunscreen Lotion
For Oily Skin: 
If you hate that slick feeling of anything heavy on your skin, this oil-free lotion is as light as can be. Crafted with organic fruit extracts and essential oils, it also has antioxidants that undo UV damage from the sun (bonus!). Juice Beauty SPF 30 Oil-Free Moisturizer, $29.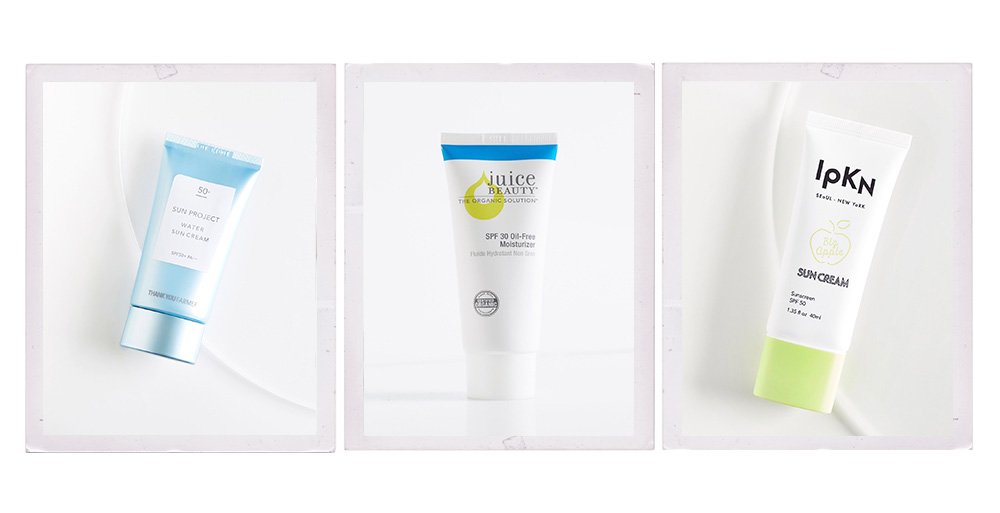 For Red or Blotchy Skin: 
This K-beauty find is like a powerful BB cream that defends your skin from the sun's rays with high-level mineral SPF 50 and a color-correcting tint. It's also loaded with apple water extract to tone down irritation and leave your skin smooth and clear. IPKN Big Apple Sun Cream SPF 50, $28.
For Skin that's Wearing Makeup: 
The hardest part about reapplying sunscreen during the day is that it often messes up your makeup. That's not the case with this SPF-spiked makeup setting mist. Just spray on to re-up your sun coverage and keep your foundation totally in tact. Soleil Toujours Set + Protect Micro Mist, $36.
For Any Skin Type, Anytime: 
This mineral SPF comes in the coolest packaging — a recyclable pouch that cuts down on plastic waste and is super convenient for travel (at 3 ounces, it will fly by any TSA checkpoint). It's also water resistant and blended with nourishing plant extracts. This is SPF you want to put on. Let It Block SPF 30 Sunscreen, $14.99.
+ Want to learn more about protecting you skin? Check out these articles here!