Practice first, go easy on the blush and pick a lipstick color that speaks to you…
When it comes to your wedding makeup, no one knows your face—and your exact preferences better than you. So why not just DIY? With a little advance planning and the right tools, you can totally pull it off. For a detailed lesson in how it's done, we asked natural makeup artist Jessa Blades for a pro tutorial. Here are her tips for getting a dewy, radiant effect that will last for hours and look amazing in photos, too.
Practice First 
"When doing your own makeup for your wedding day, the most important things to consider are: practice, practice, practice, and give yourself A LOT of time to do your makeup on the actual day! I recommend starting to practice your makeup at least two months before your wedding day so that you have time to make all the mistakes you need to and really get to know the products. It is also important to invest in GOOD brushes and learn how to wash them and how to best use them."
Take Your Time
"On the actual wedding day, schedule an hour to do your makeup. You will inevitably get disrupted and have less than an hour. But take time and savor the ritual of self-care. Enjoy these last moments before the day gets crazy!"
Do Your Prep
"Start with clean skin and moisturize your face as you normally do, but be sure to apply any cream or oil at least an hour before your makeup so that it can sink in. With any moisturizer, I like to massage the face for five to 15 minutes on a wedding day to really get the skin plumped up and glowing. Make sure you don't over moisturize, as then all of your products will slip off your face and the goal on this day is to have the products last! I also love using a primer after moisturizing to help makeup stay on longer."
Ace Your Base
"Choose a foundation or tinted moisturizer that covers your skin but doesn't look like a mask. You can always dilute the foundation a bit with a primer if it feels too cakey."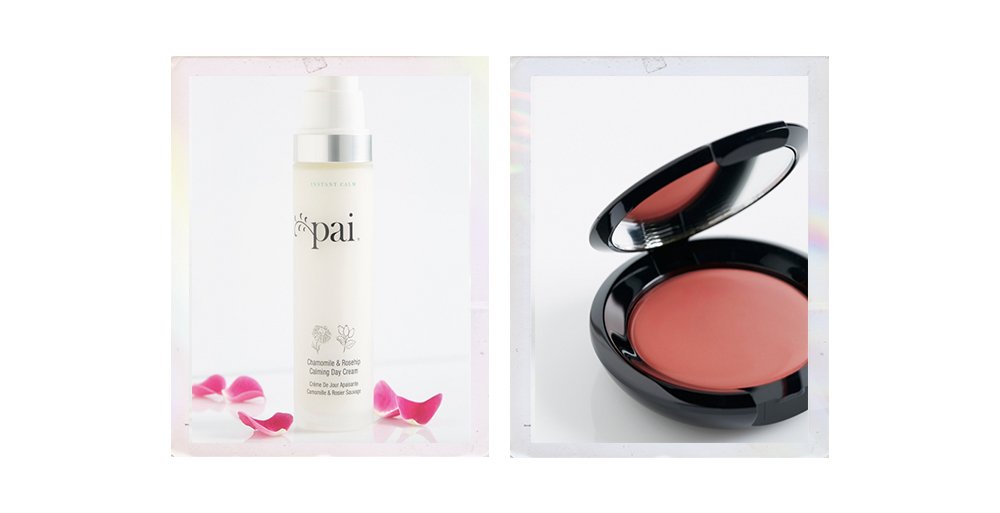 Tone Down Shine
"Use a powder all over your face that matches your skin color to set the makeup and decrease shine. I always like to go on top of that with a bronzer (choose one that isn't too orange and has no glitter) to warm up the face a bit. Apply this where the sun naturally hits your face, cheeks, forehead, bridge of nose and chin."
Go Easy On The Blush
"Add some blush onto the apples of the cheeks. To choose the right color, pinch your cheeks and see what color that is and then choose a product that mimics that natural flush. I always put on less blush than you think you want. It is much easier to add than to take off! Finish with a highlighter on the cheekbones and inner eye for some glow-y bride vibes."
Define Your Eyes
"Just pick two eyeshadow colors: one that's nude and a bit glowy (like Alima Pure Pressed Eyeshadow in Gamine) and another that's a natural brown (like RMS Swift Shadow in Enchanted Moonlight) or gray. Don't get crazy here and use a purple or green eyeshadow. The goal is to look classic and elegant and I don't want you regretting a wild eyeshadow choice when you look at your wedding photos in 10 years. Use a black or a dark brown liner to line your eyes. This is something that you will need to practice applying and play around with how much to use. Some people like a lot of liner and some like a little. This comes down to personal preference but, for wedding day, I say use a waterproof liner and mascara. I don't recommend this for everyday but for one out of 365 days, the waterproof formula is your friend and will save your from the makeup running down your face."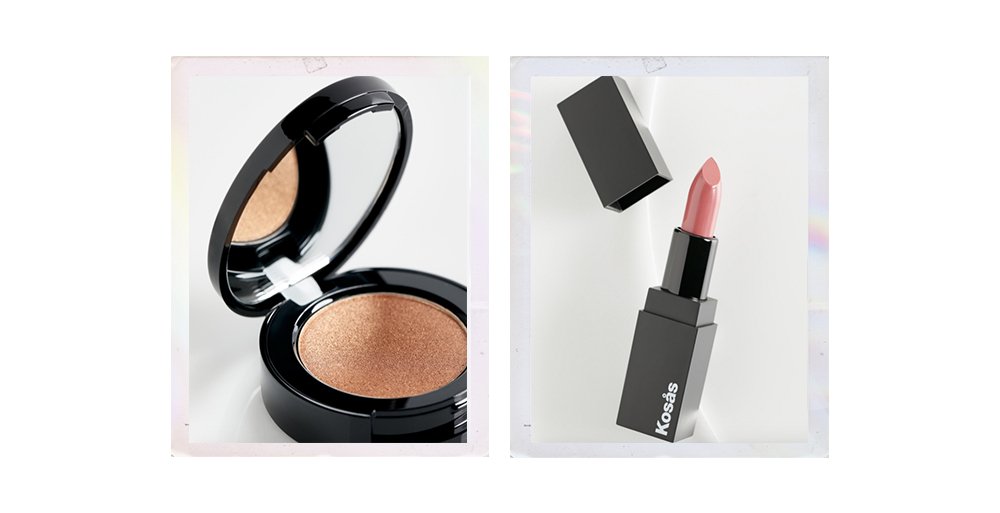 Perfect Your Pout
"For lipstick, choose a color that you feel comfortable and beautiful in. The reason pinks and peaches (like Kosas Lipstick in Stardust or Rosewater) are good for brides is they don't call too much attention to just one part of the face, and your natural beauty gets to really shine through. I love a red lip but is that the best choice for your wedding day? When doing your makeup yourself and going for a more natural, elegant look, it might be best to avoid the super bold colors and choose a natural lip shade. Bright colors are really fun but take a lot of work to maintain throughout the night. Instead, they might be better to wear on the night of the rehearsal dinner."
Last But Not Least…
"Wedding day makeup needs to be ALL things: look natural, look good in pictures, last all night and not move anywhere when you cry or sweat. Oy vey. To keep your makeup in place and handle any touch-ups throughout the night make sure you pack the following in your purse: Tissues, Q-tips (to clean up any mascara that runs), blotting tissues, your lipstick for touchups and a translucent blotting powder."
For more tips come see Jessa Blades in person at our Soho Pop-Up!
+ Got a bridal beauty tip to share with us? Leave a comment below!
Lead photo by Matt Lien. Makeup photo by Amber Gress.