From keeping you smelling fresh to adding a little something extra to your braids…
If there was ever a time to experiment with your beauty products, a music festival would be it. I mean, they're pretty much tailor-made for experimentation, right? That said, you should make sure to pack some tried-and-trues to keep yourself looking and feeling (and smelling) as fresh as the music you're rocking out to.
So whether you're already prepping for next year, headed off to Glastonbury, Sasquatch, Bonaroo or Lollapalooza in the next few months, we've got you covered.
Beat the heat.
First thing's first when it comes to spending the day outside in the heat: SPF. Don't skip it no matter how great you think that flower crown will look against a tan. Apply first thing in the morning and if you can, try to be good about reapplying throughout the day. Trust me here, you're going to be uncomfortable enough by the end of a festival what with the less-than-ideal shower conditions and the copious amount of dirt, dust and mud everywhere, the last thing you'll want to deal with on the ride/plane/boat back home is a sunburn.
What to try: The easiest, idiot-proof way to ensure you cover all your exposed skin is with a sprayable sunscreen. With the Organic Sheer Sunscreen Mist from Soleil Toujours, even those impossible-to-reach-especially-when-lazy-or-rushing-to-a-new-stage don't stand a chance. Normally formulated with oxybenzone and octinoxate—two common sunscreen chemicals that also happen to be known endocrine disruptors and allergens—this mist instead relies on a formula of red algae, vitamin C ester, vitamin E and bisabolol, which act as a natural SPF booster and reduce UV damage. It's also water resistant for up to 80 minutes, so assuming you're not swimming laps all day, this should stand up to standard festival sweat.
And of course, with sun comes heat and with heat comes sweat. Feel free to go au natural while festival-ing, but if you do want to smell nicer than the rest of your tentmates, deodorant certainly won't hurt.
What to try: Despite being travel-sized, the Taksumi Detox Deodorant from Kaia Naturals is a potent enemy of all things body odor. The vegan, aluminum-free stick comes in three scents (variety!) and the bamboo charcoal base naturally detoxifies as it deodorizes. So watch out, all that less-than-healthy stuff you might be putting into your body!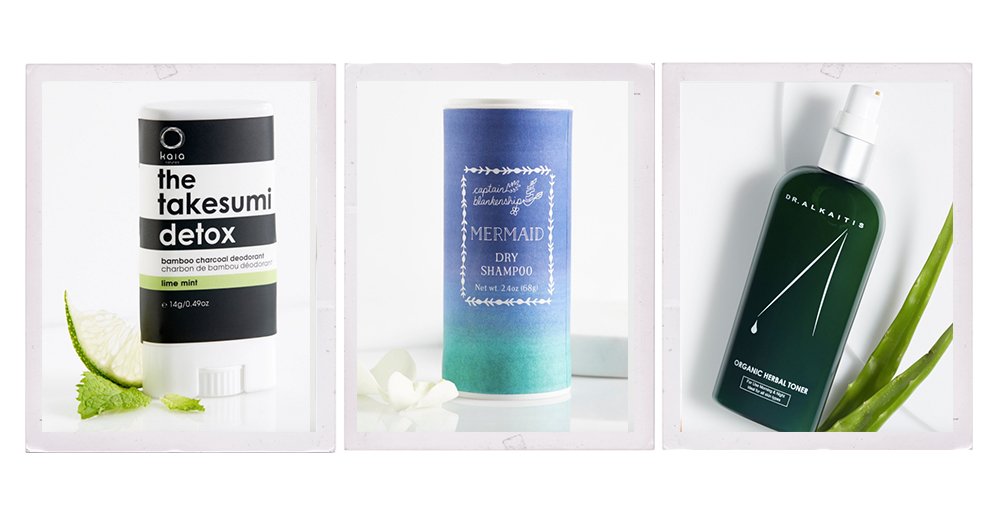 Stay (sort of) fresh and clean.
Just because you're sleeping on the ground and probably don't have access to running water doesn't mean you've got to throw your skincare routine away—just readjust to fit the surroundings. Anything you don't need a water source for is ideal (like cleansing wipes and facial mists), just be sure you take any trash with you when you leave. The local flora and fauna don't need your dirty makeup wipes.
What to try: Depending on the length of the festival and your accommodations, dry shampoo is about to become the love of your life. The Mermaid Dry Shampoo from Captain Blankenship does exactly what a dry shampoo is supposed to do in festival situations: absorb oil and keep things fresh. It doesn't add any extra grit or too much extra texture, either, which means your hair isn't weighed down after a few days of use. And if you're going to brave a brush, make sure it's a boar bristle model, like those from Mason Pearson. It'll naturally condition your hair by stimulating the scalp with each stroke and distribute oil along the whole strand so your hair is glossy, not flat and greasy.
Though your gorgeous face may have to forgo a 12-step skincare routine for a few days, you should still be removing dirt, grime, sweat and makeup every single night. Luckily, rms' individually packaged Ultimate Makeup Remover Wipes can wear several hats thanks to their infusion of antifungal, antibacterial coconut oil that also melts makeup, cleanses and moisturizes skin. AND they're 100% compostable. Festival VIP? I think so.
If you think you might need some extra oomph to get a day's worth of festival detritus off your face, look for a toner that contains witch hazel. The mild astringent—found in Dr. Alkaitis' Organic Herbal Toner and the Aloe & Rose Toner from Captain Blankenship— expertly removes stubborn sunscreen, makeup and dirt, while also soothing hot, irritated skin. And a toner like this will also provide a much-needed boost of hydration to your parched skin after a long day in the heat.
 Go bright.
Festivals are all about bright, creative makeup, so don't shy away from trying the lip color or glitter hair dust you've been eyeing.
What to try: A bright lip is a no-brainer here, but be sure to pick a formula that's as hydrating as it is pigmented, like the lipstick from Kosas. Not only does it cover all your lip color needs with its eight different shades, but it's also formulated with super-hydrating and nourishing natural oils and botanical extracts like green tea, grapeseed and rosehip oils. What's more, it'll protect your pout from UV rays so you don't have to worry about carrying an additional lip SPF around in your festival-friendly fanny pack.
If a bold eye is more your speed, you must pack these glittery temporary eye appliques from Violent Lips. Basically a temporary tattoo for your eyelid, these genius easy-to-apply babies are pretty much the ideal in festival makeup: you don't have to worry about running, smudged makeup in a sweaty mosh pit and they peel off easily, no eye makeup remover required. Plus, they're a killer sparkly pink.
And if you want to add a little something extra to those milkmaid braids or flower crown, you can always opt in for hair makeup like britelites' Hair Glitter Sticks. No bigger than a lip balm, these little pops of sparkly color go on as easily as they come off (read: no picking glitter off your scalp for weeks).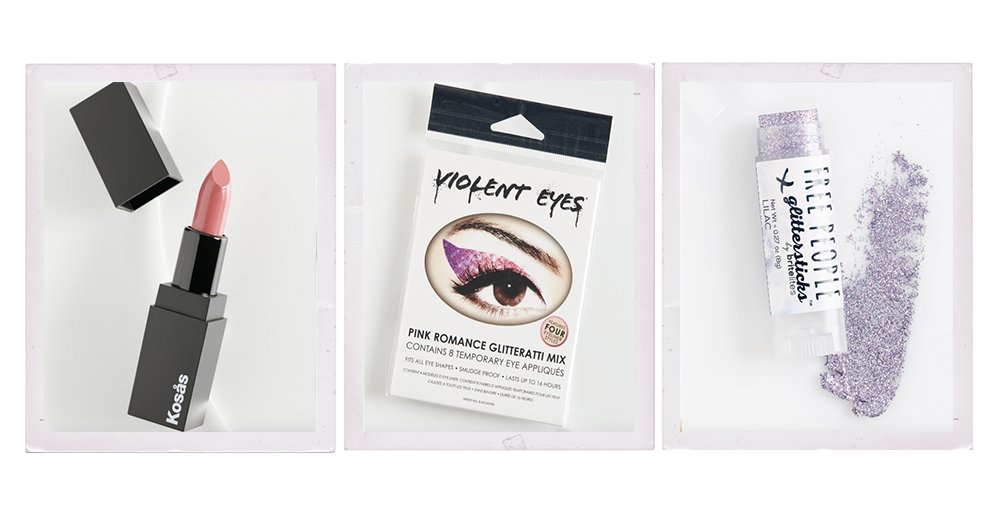 + Got your beauty routine down but still don't know what to wear? Shop all our festival favs here!