Founder Carla Oates shares with us the magic that is "Inner Glow"…and other insights she's picked up along the way…

*The Beauty Chef will be available for on-site consultations on May 6th and 13th at our Soho pop-up. Go here for more info!*
Want to glow like a flamingo? Carla can point you in the right direction. Read the below Q&A to find out why beauty does truly begin from within.
You're a big believer that "beauty begins in the belly." Tell us about this philosophy.
The first step to healthy, radiant skin is balancing digestive health. Our gut is where 70% of the immune system lies, where we metabolize hormones, where we make detoxifying enzymes and where we make nutrients, and so much of what goes on in our digestive system can impact our skin. The skin, hair and nails are the last places to receive nutrients, as they're first utilized by more important organs, so nutrition is important for glowing skin, and fermented foods give you dense, super-charged nutrition.
At The Beauty Chef, we embrace the time-honoured art of fermentation, because fermenting ingredients not only pre-digests them to make the nutrients more available for the body to use, but it creates probiotics to help balance digestion.
Why did you create The Beauty Chef products?
I had been researching plant benefits and natural biological processes (such as lacto-fermentation) for around 10 years, and was writing in the area of natural health and beauty. During this time, I made my own skincare from scratch –from plants and organic foods — and was giving them to friends and family to use. I created quite a demand, and that demand grew to include friends of friends. So it seemed a natural progression to create a brand. One thing that really stood out, too, was the difference in people's skin after eating my lacto-fermented vegetables. People were addicted to them, as well as kefir coconut water – hence why The Beauty Chef started with my lacto-fermented inner beauty superfood powder, Glow.
GLOW ADVANCED Inner Beauty Powder has just launched here in the US. What can you tell us about this advanced formulation?
I have been working on the advancement of our original GLOW formula, and privileged to do so with a team of microbiologists to boost the amount of its beneficial bacteria. We ferment with – 12 that make up our exclusive Flora Culture™ mother culture. Our unique bio-fermentation process, which has 25 years of supporting research behind it, supercharges the nutrients in the foods we include in our formula to make them easily digestible and bio-available to the body. This process also creates natural prebiotics and probiotics, which help to boost gut health, because beauty really does begin in the belly.
We have also increased the formula's levels of Dunaliella salina, a microalgae grown in Western Australia, that has the highest dietary source of skin boosting pro-vitamin A and a nutrient profile that makes it one of the most nutrient-dense foods on the planet. It contains a complete spectrum of vitamins, minerals, amino acids and essential fatty acids and contains eight times the mineral content of spirulina, twice the chlorophyll and more than 6,000 times the antioxidant content! This amazing food is what gives pink flamingos their pink hue and natural glow. Additionally, we have also increased the levels of queen garnet plum, an Australian superfood rich in skin-loving plant nutrients.
How long does someone need to be using these powders to see results in their skin, and what are the benefits?
Each Beauty Chef Inner Beauty product is formulated for different skin and health benefits, but each is designed to improve gut health and digestion, and promote healthier, glowing skin from the inside out.
It really depends on the current state of your digestive system to see and feel results. If you are really out of balance, you will likely notice results straight away, but it may take a few weeks for your tummy to settle as you load it with goodness. A change in energy levels will be noticeable straight away and, depending on your gut health, you will notice skin and nail changes within a few weeks. Over time, if you make other lifestyle changes that support good gut health, you will notice a huge difference in the way you feel, your skin and your weight.
What is the best product to start with?
I would start with GLOW Inner Beauty Powder, as it is an excellent all-around formula – for skin and health. If your gut is out of balance, start with half a dose and build up over the following weeks to a full dose. As you are suddenly putting all of this goodness into your tummy, it may take a few weeks to adjust.
How should we take them?
All our Inner Beauty products can be enjoyed with water, juice, in smoothies, sprinkled over cereal, in yogurt or in raw bars or bliss balls. You can visit our recipe page for inspiration.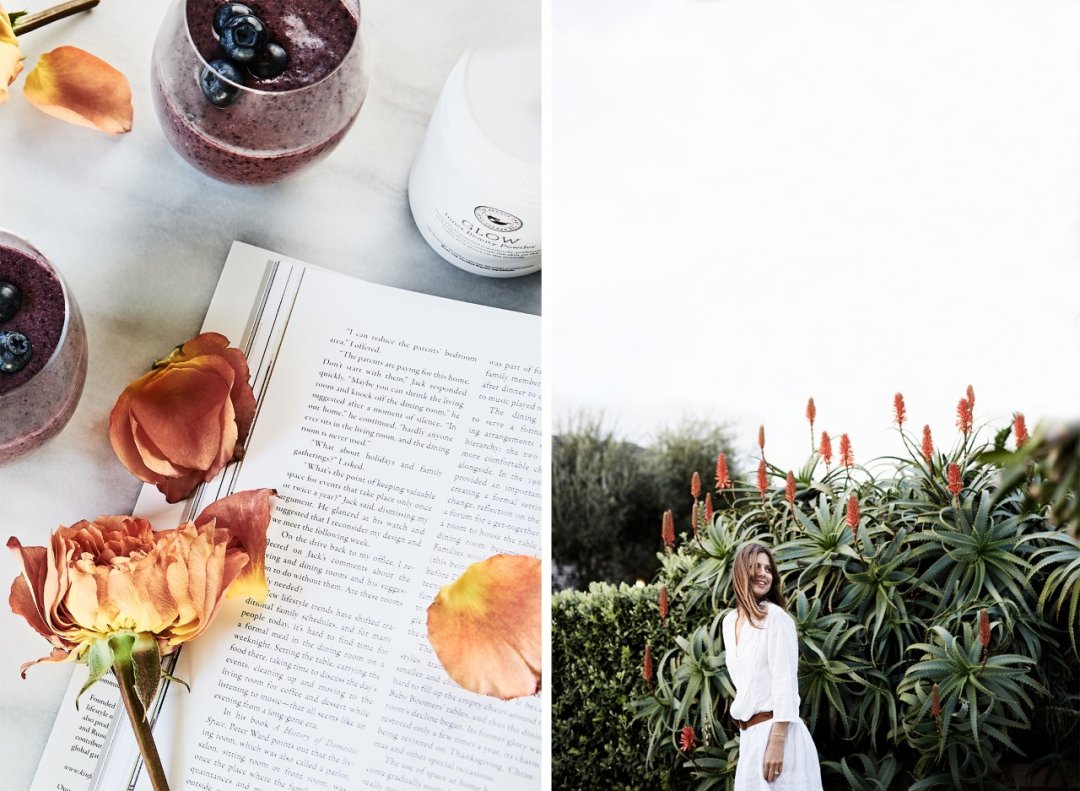 + Loving the idea of inner beauty? Check out The Beauty Chef's full line of products here!