Modern sunless-tanners are embracing a natural route to a golden glow, turning the ritual of self-tanning into an experience in health and self-care. 
Introducing our newest beauty writer, Arden Andrews. 
Gone are the days when a "healthy" sunless tan meant slathering chemicals across your bare skin, plugging your nose, and crossing your fingers in hopes that whatever shade you turned the next morning would veer closer to Golden Grahams than Cheetos Puffs. Modern versions have cast aside the old stereotypes, infusing formulas with skin-friendly ingredients, intuitive color technology, and scents that evoke a breezy beach party (rather than leaving you breathless).
For a lesson in embracing a self-care approach when practicing the art of self-tanning, we turned to Madame LA LA founder Nicole Dash Jones, who dreamt up the forward-thinking bronzing brand while lounging poolside at The Mondrian in West Hollywood (so chic!). With A-list clientele like Gigi Hadid, Olivia Palermo and Blake Lively, Madame LA LA's cruelty-free collection is on the short list of futuristic formulas putting natural ingredients in the spotlight. "Everything must be in balance when it comes to achieving a healthy glow," explains Jones. "As much as laying out in the sun is appealing, it's not going to do much good for your skin." Below, five steps to achieving UV-free, Gisele-inspired summer color:
Nourish Your Skin with Good-For-You Ingredients 
Fusing a variety of unique anti-aging and hydrating ingredients like coconut water, green tea and vitamin E with an innovative form of organic DHA, Jones created a tightly edited tanning range of complexion-perfectors in the form of body mousses and a wrinkle-fighting face serum. "When you're using a self-tanner, you don't really want to be putting harmful chemicals on your skin all the time," says Jones of her logic behind harnessing organic plant extracts that contain the caramel color that gives DHA its power. "If you can do it naturally, why not take that route?"
Polish Up Your Prep Work for Easy Application 
"Make sure to exfoliate the skin before applying," says Jones, who recommends a salt or coffee scrub to slough off dry patches, preventing any blotchiness in color. She suggests smoothing self-tan mousse directly onto freshly scrubbed skin and blending with a pair of latex-free gloves to "really make use of all the formula without it sinking into a tanning mitt."
For the West Coast face serum, Jones shares her trick to nailing down a streak-free, soft-focus glow. "Apply a pea sized amount to the forehead, cheeks and chin, then blend with a bronzing or foundation brush for a perfect finish!"
Relish The Dreamy Aroma of Old-School Sunbathing 
Put off by the "unbearable, horrific chemical smell" of other tanning formulas, Jones set out to mimic the sensory experience of sunbathing, minus the UV damage. "We wanted to have a fresh coconut scent so that you have the same sensation that you have from using a tanning lotion on the beach," she says of the line's now-iconic aroma. "It adds to the experience — you're at home, but you have this coconut fragrance drifting around that immediately makes you feel more relaxed — like an exotic holiday vibe."
Enhance Your Actual Color 
For anyone that's woken up after a professional spray tan and blushed at the shockingly dark transformation, Jones found an at-home solution via lower levels of DHA blended with natural ingredients. "It actually customizes to your complexion — as soon as it hits your skin, you know what color you're going to be." The brand's mousses and serum fully develop over just three hours, and for any fair-skinned beauties who shy away from heavy formulas, Madame LA LA Tan Light has one of the lowest tanning agents on the market. "There are no surprises! You won't wake up the next day and look like you've been to Barbados for two months."
Ease into An Iconic (and Temporary) On-The-Go Glow 
Who says a copper complexion has to come with a side of commitment? When designing the cosmetic Bronzing Ball, which adds a universal gleam to lids, cheeks, and limbs in the form of an aerodynamic highlighter, Jones drew inspiration from the pros. "I was really inspired by the glows that the Victoria's Secret models always had–like a late 90s Gisele Bundchen," she explains. "It's shimmery, but not glittery — just healthy." The dome-shaped cream formula washes off at the end of the day, and offers stress-free travel potential for a night out. "It's super easy to throw into a handbag as an alternative to breakable bronzers." The end result? "The kind of subtle, sun-kissed look you achieve in LA, without the burn!"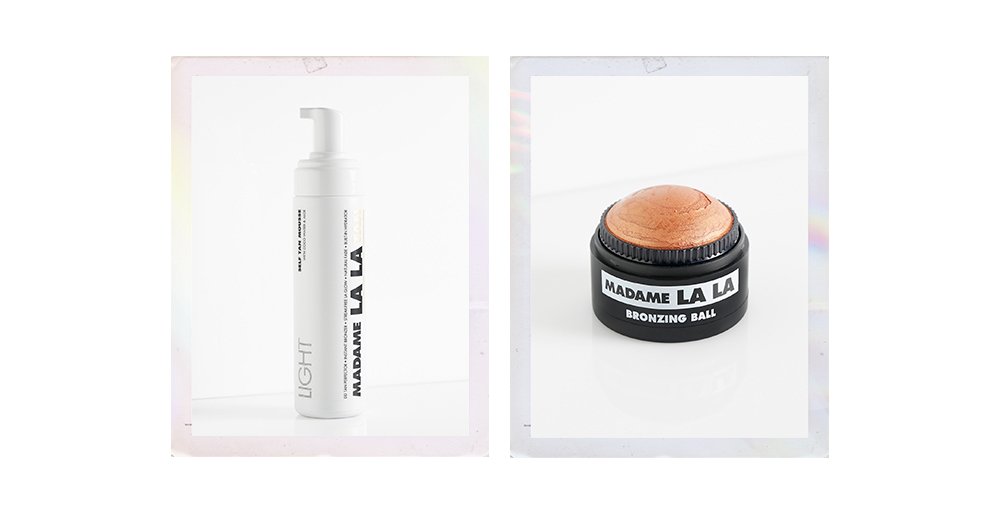 + Continue getting summer ready and check out more self -tanning tips here!