"Hula hooping has turned into such a release for me…"
Movement is more than running, yoga, pilates… movement is freedom and happiness to move in any fashion that suits you best. So when we were recently introduced Megan (who also happens to work in our Portland store!) we knew it was something special. Utilizing the practice of dance and continuous motion, her love of hula hooping was recognized when yoga wasn't yielding the mental release she craved. Read on to find out more about this #fpmovement muse.
What inspired you to start hula hooping? 
I'll never forget being in a late-night crowd and at a music festival, completely mesmerized by a girl hooping in front of me. Her movement was so freeing, she looked so happy. After that weekend, I went home and began searching for a hoop to start practicing with!
Hooping benefits… 
Hooping is great for so many reasons but, if I had to pick my favorite, it would be that it's actually an intense brain game! It exercises your reflexes an incredible amount.
How do you work hooping into your fitness routine? 
Hooping can be an intense cardio and upper arm workout, depending on the pace you set! And music is key. Nothing gets my heart racing more than old fashioned waist hooping and incorporating chest hooping. I also like to start each flow session by sitting inside my hoop and stretching it out first.
3 favorite FP movement pieces to hula hoop in… 
Kyoto Legging! The fit is so soft and comfortable and has a pocket big enough for my phone.
Tighten Up Tank! I own a few color ways — great under a piece that is secure when you get moving.
Retro Vibes Hoodie! This was my go-to piece through the rainy season here in the PNW, re: hood!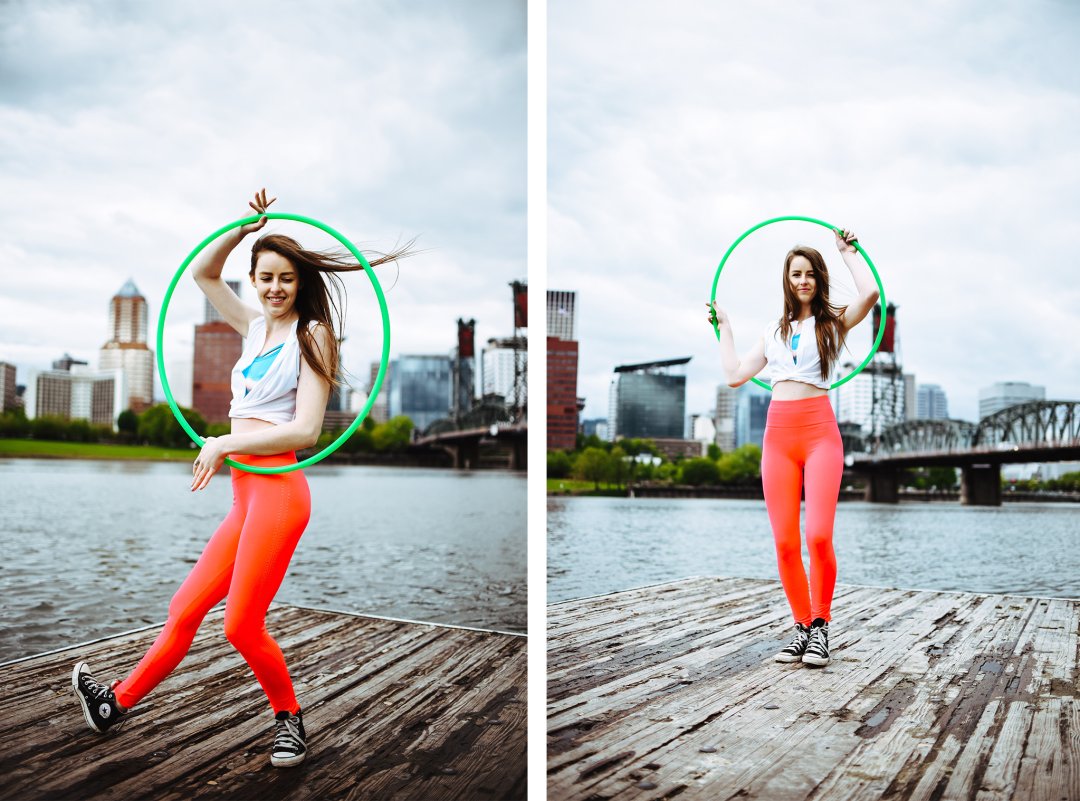 What's your spirit animal? 
A wolf! I am dependent on my immediate family, but beyond that, I am pretty introverted. A drifter of sorts, you could say.
What do you do when not hooping? 
When I'm not immersed in my hoop, you can find me with my dog/s. (I'm still getting used to saying that plurally — we just adopted a friend for our 8-year-old mutt!) They keep me on my toes. We love to be outside, exploring the greater Portland area and all the hiking it has to offer.
What motivates you to hula hoop? 
Hula hooping has turned into such a release for me. I find myself most motivated to pick up a hoop after I've had a really long day at work. I have tried several failed attempts at getting into yoga to relax and unwind, but my mind has never been still enough. I have found that there is something so meditative about stepping into that circle and focusing only on that.
Greatest hula hooping experience… (accomplishment!?) 
Unlocking chest hooping! Hooping around my chest has been the most challenging thing for me on this journey so far. It took me a solid 4 months of drilling to get it down pat. I have seen such improvement in my posture and my chest cavity feels much more open when I breathe deeply.
Your go-to for tricks? 
I am self-taught, but with the help of YouTube and Instagram. Practicing outside is ideal so I don't have to worry about breaking anything in my apartment, ha!
Is there a large hooping community in Portland? 
I am learning more and more every day about hidden hoop gems in the Portland area! There is even a Hula Hoop store in SE Portland. The flow community across the country is quite impressive!
Recommendations to starting your own hoop journey… 
If you're thinking about picking up a hoop, I recommend learning with a big one first! It allows for more reaction time when learning new things. If you can't seem to nail a trick, leave it and come back to it. Most importantly, have FUN with it!!
What does free mean to you? 
For me, being free is about doing things for myself and not having fear of the way others might perceive me.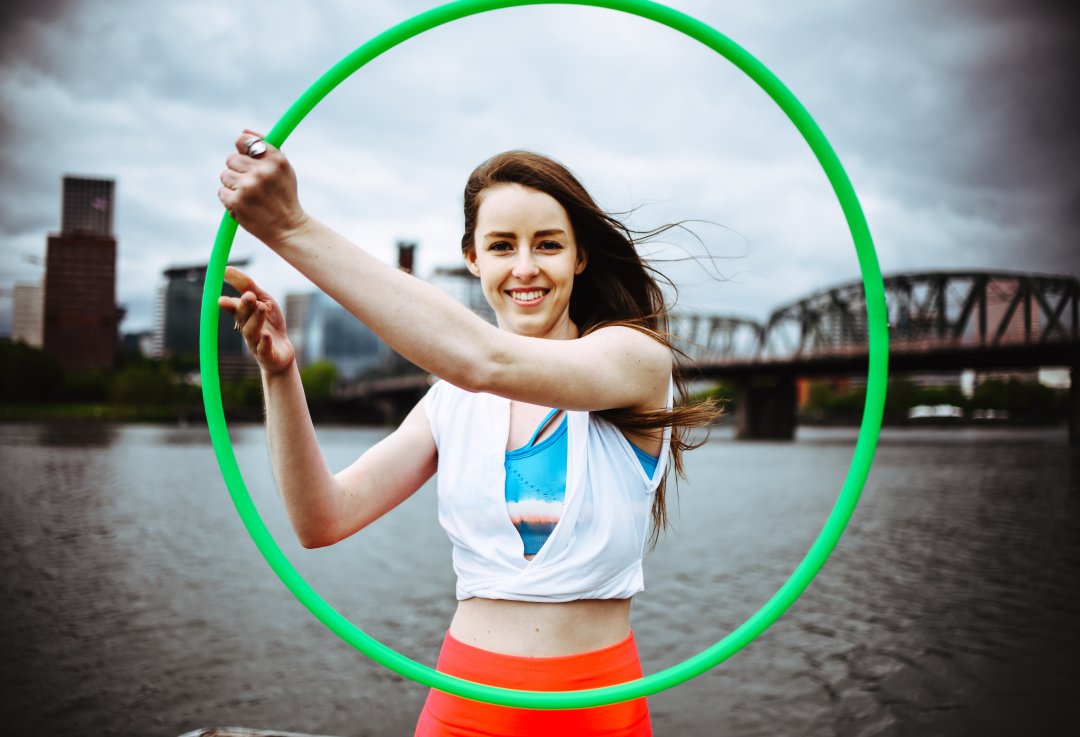 + Have an out-of-the box fitness routine yourself? Let us know in the comments below!
Photos by Megan Nanna.