A series highlighting the journeys of 3 mothers, united by and for one endless love — their children. Today, and every day, we're honoring their strength and unnerving commitment…
This is Lauren and Monroe Hastings' story.
Greatest mom moment…
My daughter being born. I was so scared — she was so early but she was perfect. She fought so hard to be here. We all fought for her to be here.
What is the best piece of advice you ever received from your mom?
My mom was there when my daughter was born. She was there with me, holding me, telling me everything was going to be okay. Her advice? "Everything is going to be okay…" And it was. And it is. That's the best advice.
One lesson Monroe has taught you (about mothering or about yourself)?
Patience. Lots of it. I didn't have a lot before, and I have a ton now. I've learned to love every little moment. To be stronger. To be more courageous. To love and understand more. To be present.
What are your hopes and dreams for Monroe?
I want Monroe to be whomever and whatever she wants to be. She's starting a Stem School in August which we're really excited about. I want her to be smart and to have every opportunity she can. I think education first ,and let the rest will fall into place.
Monroe was born at 26 weeks. What have been the challenges/rewards of this experience?
The first two years with Monroe were challenging. There were doctors' appointments every week, sometimes 3 a week. Therapy multiple times a week. There were a lot of sacrifices to be made, a lot of "what's if's" and worrying but having faith that everything was going to be okay! Having a preemie — a 26-weeker — is something I couldn't begin to describe. Thank you to The University of Utah and to her nurses and doctors that cared for her. Thank you for UCLA and her amazing doctors there. Now Monroe is 3! Mother's Day falls closely after her birthday. No more oxygen, no more feeding tube. Just a happy, healthy, courageous, beautiful girl who fought with her heart and soul to be here. I'm the proud parent of a preemie and I wouldn't have it any other way. As hard as it was and still is, I knew Monroe would defy the odds and grow to be a strong little girl.
Advice for mothers who have had premature babies…
Reach out to as many people as you can who have been through what you have. To stay Strong. To ask questions. To demand to talk to specialists and to go with your gut instinct. There is no advice, really, for having a baby born so premature. Do your kangaroo care and hold them as much as you can. Their heartbeat mimics yours. Their body temperature will warm to yours. To fight for your child — you are their only advocate. To demand the best of the doctors. And to have faith that your child will be okay. Never stop fighting for them.
Has there been a specific resource (book, friend, or social media account) that you look to for support?
Yes, I have a few close friends who had children around the same time as me… we try to see them weekly. I'm also involved with a few amazing mom groups — MxB and Fashion Mamas. Other mothers reaching out to me with children in the NICU and helping them in whatever way I can. I find that very therapeutic.
Has your beauty routine changed since having kids?
Yes! I rarely have time to put on makeup unless it's for an audition/casting. So I have a strict skincare routine I follow that allows me — for the most part — to get away makeup-free.
Quick beauty tip for the working mom…
Wash your face day/night, and follow with toner, eye cream, serum, oil and moisturizer… and don't forget your sunscreen! And, quick concealer under your eyes to hid those bags!
What does free mean to you?
Free is watching my daughter grow and shape into a beautiful little girl. Free is seeing something through the eyes of my child.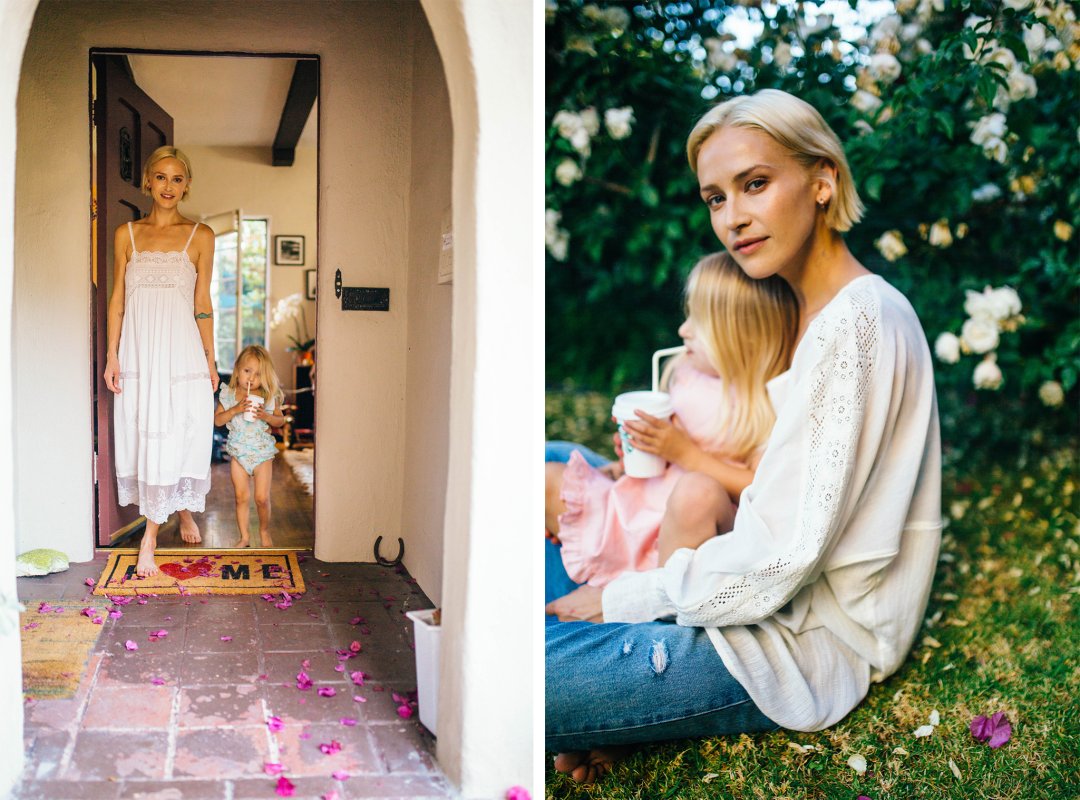 + Be sure to check out Lauren and Monroe's mommy makeover video on Instagram today!
Photos by Jana Kirn.