Designer, model and all-around sweetheart Nicole Trunfio shares the heart and inspiration behind her new high-end jewelry line, ERTH…
ERTH. Can you tell us a little bit about its evolution?
ERTH evolved after spending years in the jewelry studios and workshops in NYC. I was developing my Trunfio Universe line and wanted to make jewelry that was accessible to every woman and girl, wearable every day and also real. I don't buy too much costume jewelry myself because I like to shower and swim and sleep in my jewelry (i.e. never take it off), so I wanted to give women that quality and a low price point.
Tell us a little about your newest assortment at FP.
The ERTH selection at Free People is amazing… my favorite of the season is the convertible hoops, made from 14k gold and diamonds. The earrings literally come apart so that you can rearrange them! Make them longer or shorter to suit your vibe that day. I love jewelry that can both transform but look timeless and elegant… It's a great investment to have pieces that can adapt to any time or era.
What draws you to your signature materials – right now, they're gold and diamonds?
Gold is so valuable and diamonds hold an energetic frequency that can also be quite uplifting and healing. I am very interested in the energetic properties of metals and stones and, as most people see gold and diamonds for their superficial value, the secret value lies in what they do for you when you wear them. I love classic pieces that never go out of style, I love simple and clean lines that don't take away from the beauty and spirit of the woman wearing it.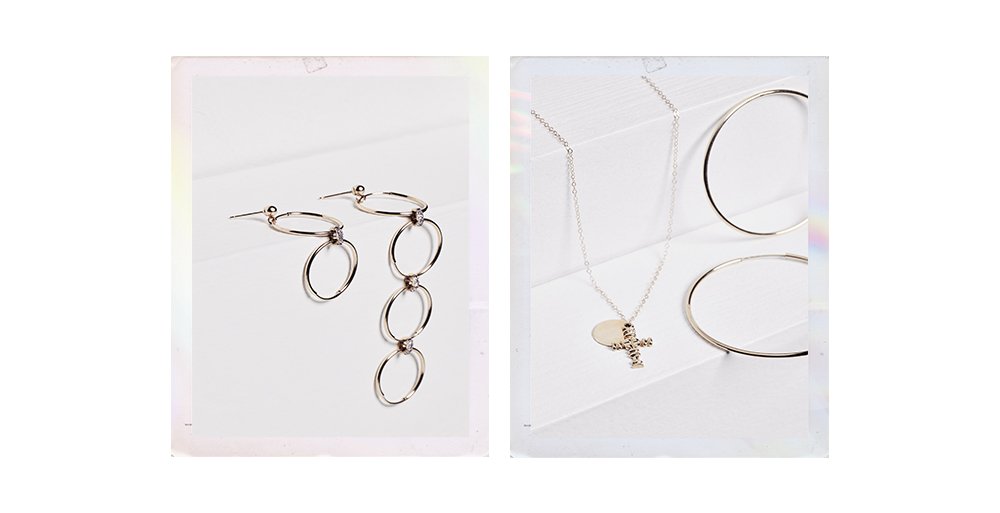 Do you draw a lot of inspiration from your trips as a model? Where do you find the most?
I found the most while working in the fashion houses during the show circuit, working in Milan with Tom Ford, Donatella Versace, the Cavalli family, the Missonis, Karl Lagerfeld in Paris and Valentino. Working with those masters, seeing the dedication and the creative process, allowed me to dream this dream that has evolved and manifested. It's an experience I could have never imagined, the most valuable school for my career as a designer and business owner.
How has your Aussie background shaped who you are and what you love to do?
Being Australian, I think we like to take risks, but growing up I think I might have taken too many with fashion. So I am pulling it back and making it universally timeless and simple, with a little unique edge that makes it truly ERTH. I am really excited about the collections to come!
I find that different occasions call for different adornments and, after traveling the world most of my life in different envirmoments and climates, I find it a really nice touch to have jewelry that can accommodate your mood.
If you were gold, would you be yellow, rose or white?
Definitely yellow, and sometimes rose…. on special occasions.
What does your creation process look like?
I love to have raw materials in hand, some tools and a mood board, and then I just go…. I'm very visual so I don't draw much. I like to create it in life, with my hands, and see the piece evolve, then and there as I am creating!
Spirit animal is…