"Living with the tides and stars, with the smell of the oceans and forests, is medicine for the body and spirit."
This post comes to you from beauty contributor, Kari Molvar.
Inspired by summers spent in the wilds of Maine, Captain Blankenship is a line of organic scents, hair, skin and body products. Since launching in 2009, it's built a steady following with its all-natural formulas, which are blended with a holistic, whimsical spirit. Founder Jana Blankenship is particularly into cold-pressed organic plant oils, flowers, seaweed extracts and other botanicals you'd expect to find foraging in the fields and ocean. Here, she chats about making the leap from art curator to beauty entrepreneur, the raw power of scents, and her favorite wellness rituals, including her genius breakfast oatmeal hack.
Where did you grow up, and did you ever think you'd start a beauty brand?
I was born and raised in Cambridge, MA. I was the kid who made potions infusing rose petals and pine needles. This evolved into mixing my mom's perfumes together to make signature scents. It was the 1980s and the perfumes were all toxic — I ended up developing an ongoing allergy to synthetic scents. My love of natural scents persisted, but I never imagined how my passion would manifest itself.
Where in Maine did you spend your summers and why do you think these trips had such a lasting impact on you?
My family had been going to the town of Sorrento for the past 115 years. I spent summers there a kid running barefoot through the woods and learning how to sail. The smell of the sea and seaweed is ever present. I learned to have a deep reverence for nature and its rhythms. Living with the tides and stars, with the smell of the oceans and forests, is medicine for the body and spirit. We go back every summer and now I get to watch my own kids run through the woods and fields.
What were you doing before you launched your brand?
I worked as a curator of contemporary art at the Wattis Institute in San Francisco. I loved my job and getting to work directly with artists. I am also a painter and artist, which works its way into a lot of our packaging design.
Your packaging is so beautiful. Did you design it all?
The first packaging was all handwritten and, for years, the labels were made of scans of my handwriting and drawings. The logo, some of the imagery and the watercolor gradation on our boxes all came from my hand. I recently started collaborating with the incredible illustrator Liza Corsillo who drew the beautiful botanical drawings on our boxes and some other new nautical drawings that we are starting to use.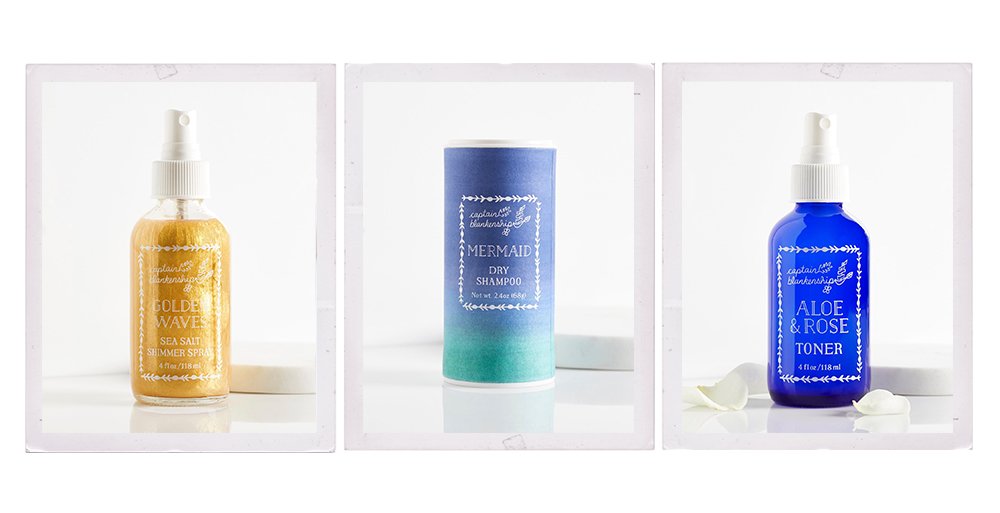 What was your "aha" moment for creating Captain Blankenship?
I walked into a friend's store in Berkeley and smelled this incredible solid perfume by the incredible natural perfumer Mandy Aftel. It smelled of jasmine, blood orange and grapefruit. It smelled like the hills in North Berkeley where I lived. I started study natural perfumery with Mandy Aftel and found this unbelievably rich palette to work with. It all just grew from there.
How did you get from San Francisco to the Hudson Valley where your brand is now based?
I loved living in the Bay Area and it will always be a second home. Both my husband's family and mine are on the east coast, though, so when we decided to try to have children we wanted to be back near family. We fell in love with the Hudson Valley — the community, the farms, the mountains, the waterfalls; there is so much beauty here and it felt like the perfect place to raise our family. I have 2 children. Mila is almost 4 and Caspian is 1 1/2. And my furry kids are Vuka, a 7-year-old Siberian Husky and Siga, a 10-year-old cat.
What makes Captain Blankenship different from the other natural brands?
Our motto at Captain Blankenship is Beauty Wild with Nature. Captain Blankenship was born out of my desire to create organic beauty products that create a direct link with nature. We use ingredients like cold pressed organic plant oils, flowers, seaweeds, sea salt and organic essential oils that bring us back to the primacy of experience with the land and sea. I think something that sets our products apart is the integrity and efficacy of the ingredients coupled with unusual and experiential essential oil based scents. Natural perfume is where the brand grew out of, so scent is still at the heart of the products.
What product are people really obsessed with?
Our Golden Waves Sea Salt Shimmer Spray is our most popular product right now. It is an organic sea salt hair spray that adds texture but also has natural gold mica added for subtle shimmer and shine. It works on all hair colors. We like to think it makes your hair look like you walked through a sunbeam.
Which product is your personal favorite and the one you use most often?
I live by our Mermaid Dry Shampoo. I use it every morning and often sprinkle it in my hair with a baby under one arm. It is a lifesaver. It really works to mask grease and add volume to hair, plus I love the smell of organic rose geranium and palmarosa essential oils. It smells like wild roses on the beach.
Do you grow the ingredients in your products?
We don't grow any of the ingredients ourselves. It takes 60 roses to make one drop of essential oil. The best organic rose essential oil in the world comes from Bulgaria and this is from where we source our oil (find it in our Aloe & Rose Toner!). We take this approach with all of our ingredients. We only work with suppliers we trust and only use ingredients that are certified organic or wild-harvested.
Tell us about your own wellness routine: What does it involve? Any favorite tips or DIY recipes you use daily?
We live in the Hudson River Valley and I try to spend as much time outside in nature as possible. Most days, I'll go walking on running on the rail trail near our house with my Siberian Husky while pushing my son in a jogging stroller. Every weekend, we try to take a family hike in the mountains. I am also trying to get back into my yoga practice after a long break and try to go to classes whenever I can or do a little practice at home, even if it is just a few minutes.
I love to cook, but with kids I have never have much time to do it…But I am a huge believer in breakfast. Most mornings I'll prepare oatmeal with goji berries and organic maple syrup from down the road. I'll throw in organic frozen fruit at the end to cool it down for the kids, one of my favorite secrets.
Where does the "Captain" in your brand name come from?
Blankenship is my husband's last name and I just fell in love with it (and him!). When I was getting married, my friend Rachel joked that I was going to be the Captain of the Blankenship. When I started the company, it was the only name I considered. It embodies the spirit of adventure, whimsy and deep connection to, and exploration of, nature that is at the heart of the brand.
+ Shop and discover Captain Blankenship products here!