Gearing you up for our next wellness retreat…
The countdown has begun — packing our bags, prepping those out-of-office emails and setting our mental compasses for adventure — to San Juan Del Sur, Nicaragua, to be exact. With that, here's a list of our travel must-haves for all things surf, yoga and bungalow hangs. Read below to see what we're bringing… and don't feel guilty taking those vacation days — we'll be waiting!
Morning Yoga
Infinity Bra– American made Picot Performance sports bra in a soft, activewear fabric, and lined in power mesh. Strappy T-back design with modern strap detailing below bust, creating a coveted cutout effect.
Infinity Legging– So-soft cropped activewear leggings with Picot Performance cutouts in an infinity design. Features Performance Seaming and a reflective logo for early morning yoga sessions.
Home Run Tank– Easy, relaxed tank featuring sporty mesh details at the front and back for breathable style.
Pisa Birkenstock– Slip-on Birks featuring an asymmetrical woven design with an adjustable strap.
Schmidt's Deodorant Stick–  Crafted from all-natural ingredients in Portland, OR, this certified vegan deodorant provides all-day odor protection and wetness relief.
Spirit Dust by Moon Juice– Promote awareness, creativity and joy. Created from wild-crafted herbs, plants and minerals, this energy-promoting potion uses alchemized elements to holistically feed the physical body and unite the heart and spirit for enhanced mindfulness.
Power Dust by Moon Juice– Support personal success and performance during the most demanding physical feats. Created from wild-crafted herbs, plants and minerals, this powerful potion uses ancient alchemized elements to holistically support stamina and longevity while enhancing the body's energy and metabolic function to protect against stress and injury.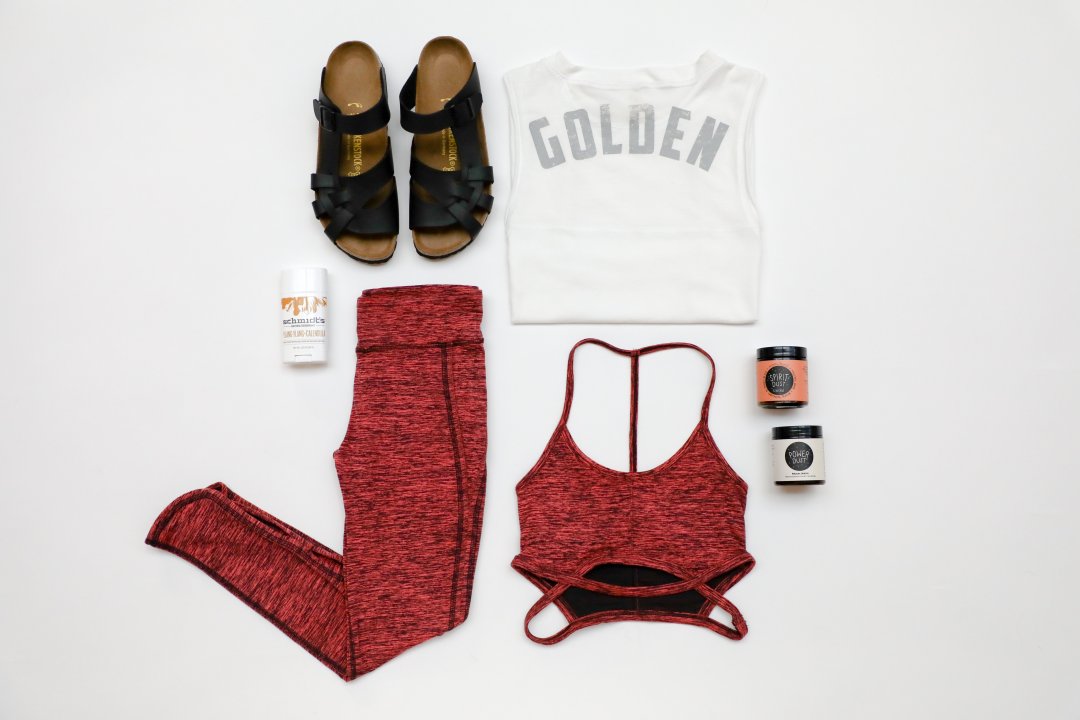 Bungalow Hangs
Bondi Beach Strip Shorts– The perfect lightweight linen shorts that you can easily take from day to night!
Best of Me Top– Lightweight and semi-sheer cotton buttondown in an oversized slouchy fit. Exaggerated high low hem with a raw, unfinished trim.
Arizona Metallic Birkenstock– High-shine Birkenstocks with metallic leather straps and monochromatic buckles. Soft footbed design features an added layer of foam on top of the signature contoured cork footbed for extra cushioning.
Palm Pocket Belt– Carry your essentials in effortless styling with this pocket belt featuring a tropical-inspired palm print and a convenient zip closure.
Organic Insect Repellent– Enjoy the outdoors without worry about the stress of pesky insects when using this 100% organic insect repellant. Botanical oils keep bugs at bay while skin stays nourished with essential oils that add a nice scent. Comes in a convenient travel size.
Club Master Sunnies– Classic clubmaster-style sunnies with a bold retro-inspired cat eye detail featuring small cutouts. These mirrored color lenses have metal trim, bridge, and arms with nose pads for a more comfortable fit.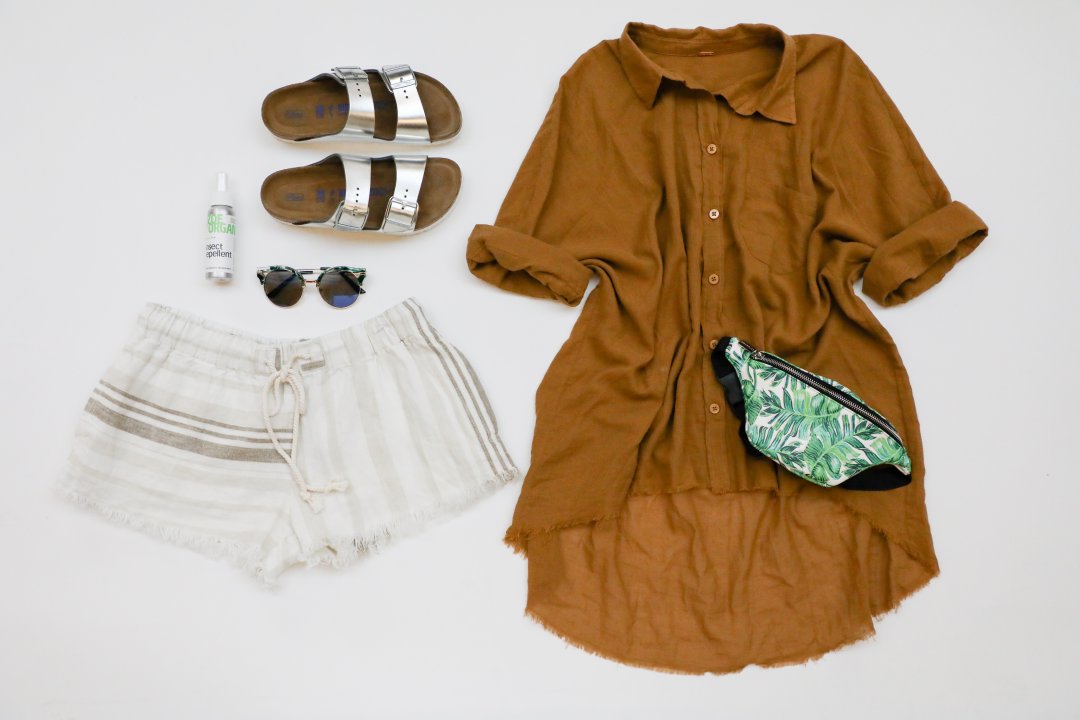 Surf Vibes
Nalu Crop Vest– Perfect for surfing, wakeboarding, and other water sports, this neoprene swim vest features colorblocking and the perfect protection from the sun and underwater rocks!
Keia High Rise Bottoms– Complete the set with the matching colorblocked bottoms!
Far West Hoodie– Sport-inspired sleeveless hoodie featuring ultra cool fashion elements with netted side details, contrast front pocket and adjustable cords at the waistband.
Ventura Washed Visor– Washed cotton visor with an adjustable knot tie elastic band in back for an easy fit.
Snake Birkenstock– Classic two-strap fully adjustable synthetic leather Birkenstocks in a super cool, modern and shiny snake skin inspired design.
ECO- LUX Sport SPF 50– Protect your skin against the power of the sun with this unscented broad spectrum high-performance sunscreen spray. Crafted from organic antioxidant-infused ingredients, this water-resistant, long-lasting formula reflects UVA and UVB rays to defend skin against premature aging.
Coconut Cleansing Oil– Rid your skin of pesky dirt, makeup and impurities with this ultra gentle cleansing oil that leaves your face feeling nothing but smooth, clean and refreshed. Crafted with a natural antioxidant-filled formula, this lightweight product can also double as a clearing makeup remover.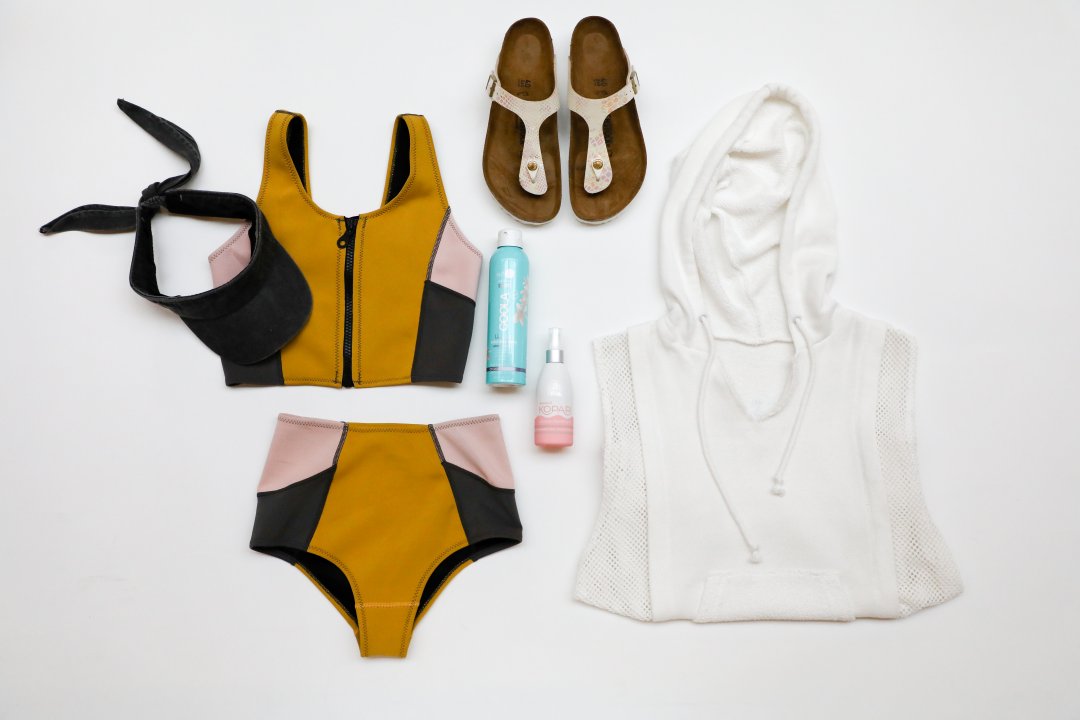 + It's not too late!! Book now to join us for our June 11th – 17th Nicaragua Escape presented by BIRKENSTOCK, and check out all of this year's FP Escapes here!   
Follow April on Instagram.