A quick how-to for getting that perfect 'Wash and Wear' hair…
AQUIS founder Britta Cox recently gave us the inside scoop on what inspired her creation of the perfect hair accessory. Hair needs tender care, just like your hands and your heart. In fact, hair is at its most delicate and vulnerable when wet! So, for the shiniest and healthiest locks, we decided it only befitting to break it down for you, to ensure you're getting the most out of your AQUIS towel or turban. After all, your drying technique is key to maintaining your hair's integrity.
Towel vs. Turban
The general steps between the towel and turban are basically the same: be sure to pat hair, do not rub. To make sure you are gathering all of your hair, lean forward so your hair falls in front of your face. If using the towel, wrap and twist the towel gently around your hair, then tuck the end into the back or side so it does not fall off. If using the turban, place the button fastener at the base of your skull. Twist the turban gently until desired fit is achieved, then fasten the loop around the button. Now turn up those tunes, pour yourself some coffee and let AQUIS take care of the rest!
All About the Timing 
The amount of time your want to leave on your AQUIS towel or turban varies based on the hair type. People with curly hair generally don't have to wear it as long as those with straight hair. Rule of thumb: Remove the towel or turban when hair feels damp. Be sure to keep on until the heavy drippy water is out of the hair, and the strands open up!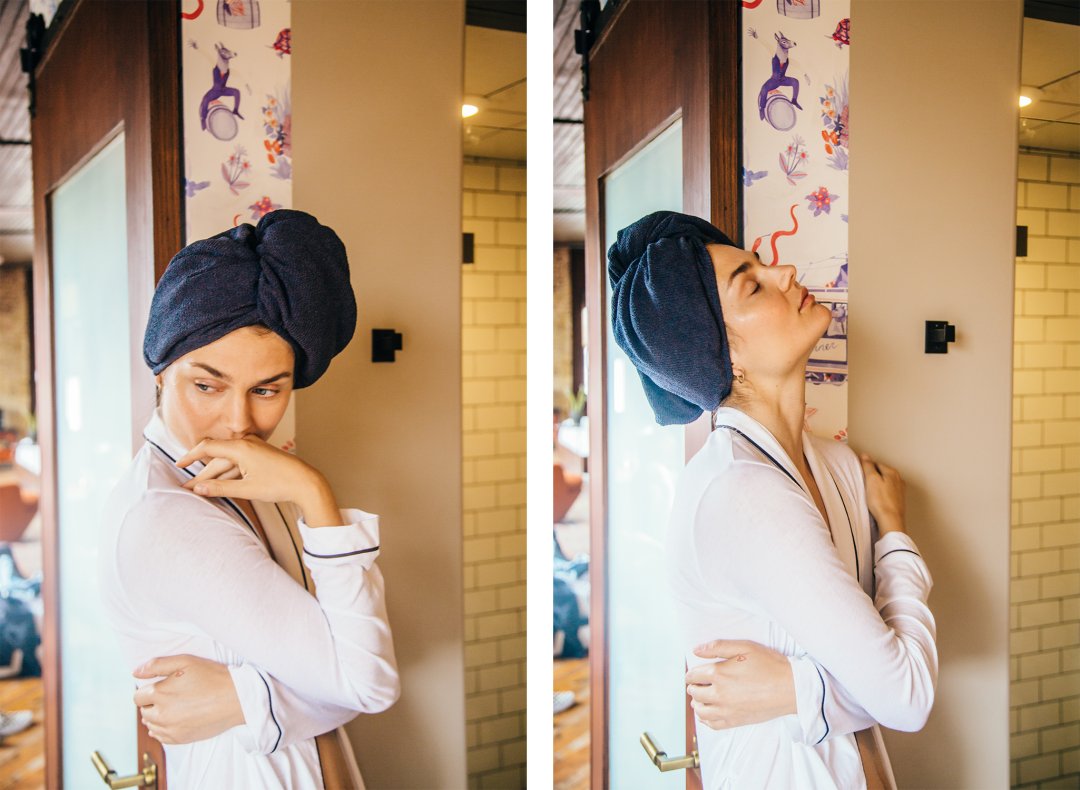 + Ready for some amazing hair that takes half the time to dry? Check out AQUIS's full line of products here! 
Photos by Jana Kirn.