KIKI Health founder Cary Kikis explains what you need, why you need it, and how to use it…
At this point, we all know that the key to a balanced beauty routine is curating what goes into our bodies with the same attention that we give our skin care regimen — but navigating the waters of endless capsules, juices and cleanses can be a task so overwhelming it's tempting to skip it altogether. What are the rules for stirring, swallowing and spraying our way to wellness? Rather than curling up into a ball when faced with a library of supplements, we turned to KIKI Health, the powerhouse brand that's streamlining the superfood beauty game with simplified options wrapped in sleek, photo-worthy packaging.
Cary Kikis launched the brand almost two decades ago after falling ill and finding that incorporating a clean lifestyle and pure supplements into his diet helped cure the same ailments that doctors were unable to remedy. Inspired to share the benefits, he created the natural, cruelty-free line of best-sellers by incorporating pure ingredients that deliver a beauty-packed punch. From energizing Maca Powder to cleansing Aloe Pure gel, Cary guides us through the WHAT, WHY and HOW of the wellness essentials designed to take your summer beauty game to a deeper level:
MOOD & IMMUNE-BOOSTING: Body Biotics Capsules
WHAT: "This is the ultimate immune system wellbeing and vitality booster. Our probiotics are made from soil-based organisms that prevent bacterial and fungal overgrowth, and provide the same health benefits we used to enjoy before the introduction of harsh chemicals into our farming world in the mid-50s."
WHY: "A healthy gut can have phenomenal health and wellbeing benefits… Aside from digesting our food, our gut also has a role to play in hormone balance, detoxification, and elimination, energy and vitality, immunity and believe it or not, our mood! They help to replenish your natural friendly flora and restore a healthy balance between "friendly versus unfriendly" gut bacteria. This rebalancing supports better digestion, improves nutritional absorption, and enhances the immune system."
HOW: "It's best to take them on an empty stomach 30 minutes before a meal and not with anything hot. During Week One, take one capsule a day, 30 minutes before food with juice or pure water. During Week Two, take one capsule twice a day, and during Week Three, take one capsule three times a day. Maintain six capsules per day for six months (or longer), at which point you can reduce to two or three capsules daily."
CLEANSING & PURIFYING: Aloe Pure Capsules
WHAT: "The yellow gel contained on the inside of the aloe leaf has been used for centuries as a natural, safe, non-addicting internal cleanse."
WHY: "We all need to cleanse our bodies at some time, and what better way to do it than with pure aloe from the potent aloe ferox plant. The leaf contains active enzymes to help break down and dissolve foods."
HOW: "Just one potent capsule will help relieve the body of toxic waste build-up which is essential in today's environment. Take one capsule with an evening meal for two to four days, then use as needed."
WHAT: "Maca is a robust vegetable root that grows in four different colour ranges — red, yellow, purple and black, each with their own unique properties. Ours is a blend of all, encompassing their benefits and offering you a unique nutritional profile."
WHY: "The vitamins and minerals in this powerful Peruvian root will help boost your immune system, stimulate energy, improve fertility, balance hormones, increase libido, and provide a nourishing boost."
HOW: "Used for centuries by the indigenous people of the Andes as a warrior food, the Inca warriors used it in preparation for battles to increase strength and endurance. But it's not just because I want to be a warrior that I love it! It also tastes great in smoothies, adding a delicious caramel and nutty flavour with an array of pure vitamins and minerals. Drop a teaspoon into your smoothie or use as a sweetener for healthy treats."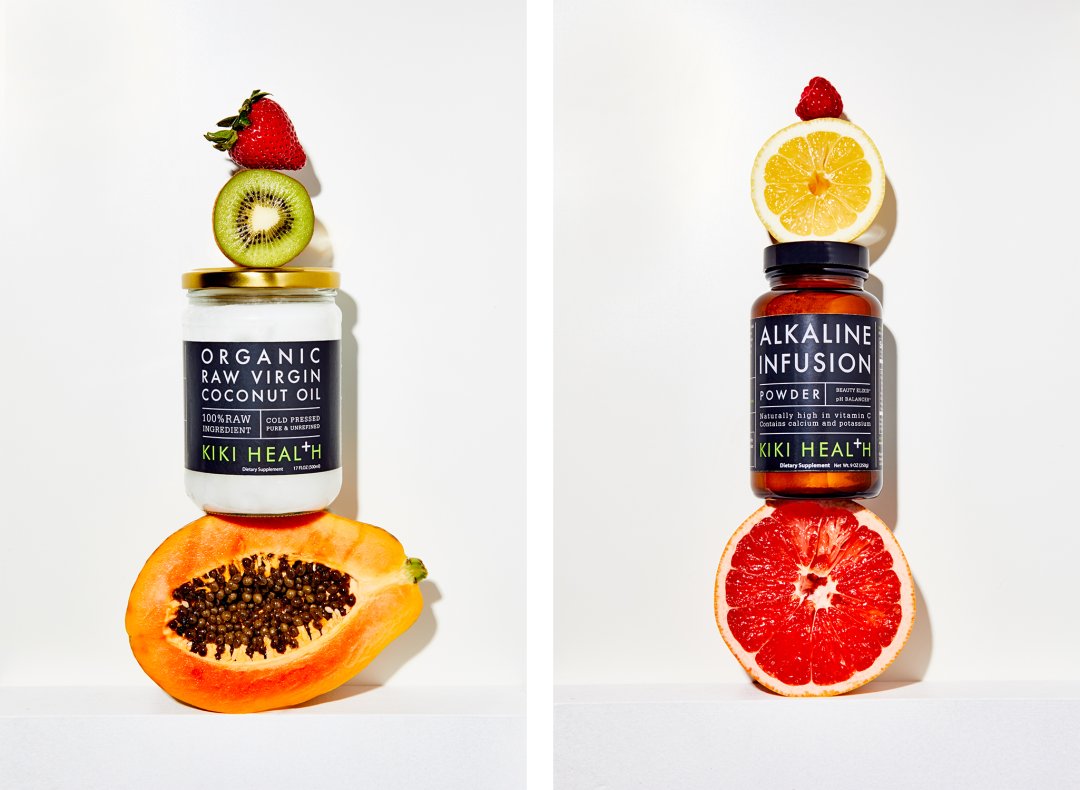 WHAT: "We searched high and low for a really amazing coconut oil that was full in flavour, whilst pure and unaltered — this is cold-pressed, organic, virgin oil."
WHY: "When heating oils for cooking, they become oxidised and release dangerous toxic chemicals. Coconut oil is one of the safest oils available, with so many benefits that range from both internal and external."
HOW: "I love to cook with it, add it to my smoothies, and use as a skin and hair oil! As a beauty aid, you can use it to moisturise skin, lips, remove eye makeup, and it's even known to remove grey hair! Try mixing 1:1 with organic turmeric powder to form a paste and brush teeth for two minutes. Not only will this naturally whiten your teeth, but it is excellent for the health of your gums and protection against cavities."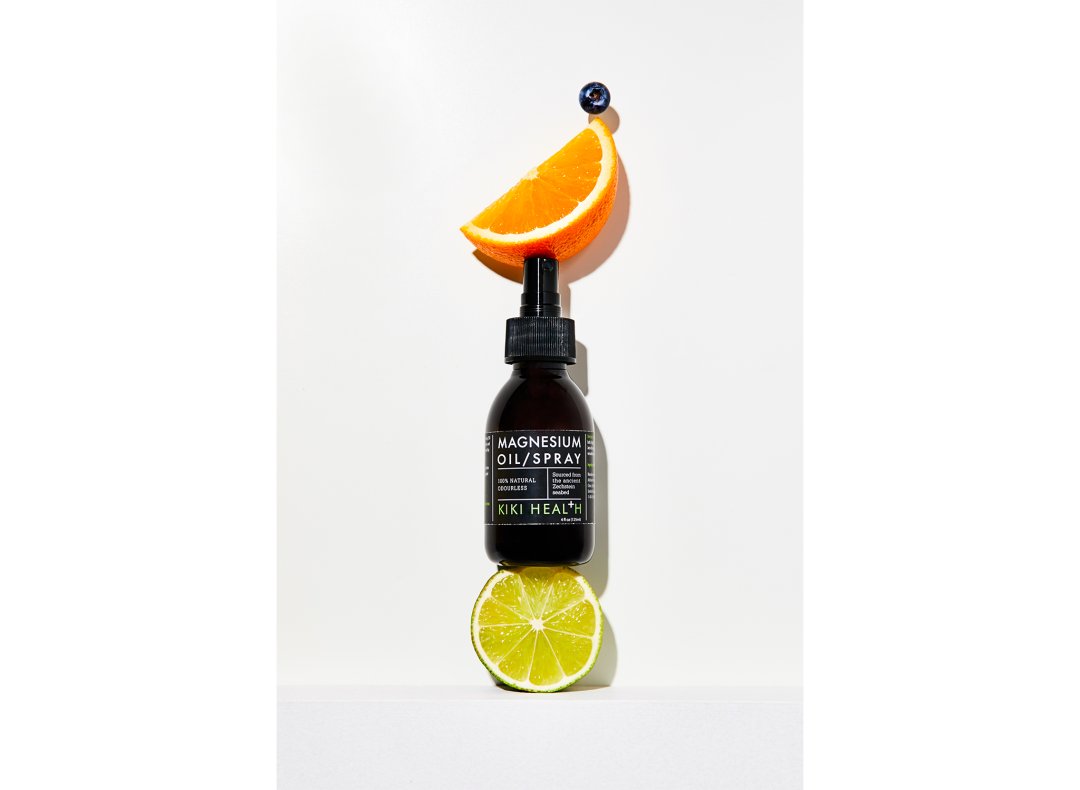 WHAT: Magnesium is a mineral that is often overlooked, even though it plays an essential role for over 300 enzymes in the human body."
WHY: "This mineral helps to promote overall wellbeing and relaxation. If the body has the correct level of magnesium, skin will feel more supple, you'll be less likely to feel tired, and your muscles will repair themselves more efficiently (especially after exercise). It helps to relax and de-stress, and therefore aids in a more restful sleep."
HOW: "Our Magnesium Oil Spray is a lot more absorbable when sprayed directly on the skin as opposed to taking it orally, as it bypasses the digestive system where some nutrients are not absorbed. It can be used directly on problem areas, such as cramping and stiffness in muscles and joints. After showering, when the pores are more open, spray and massage well into the skin."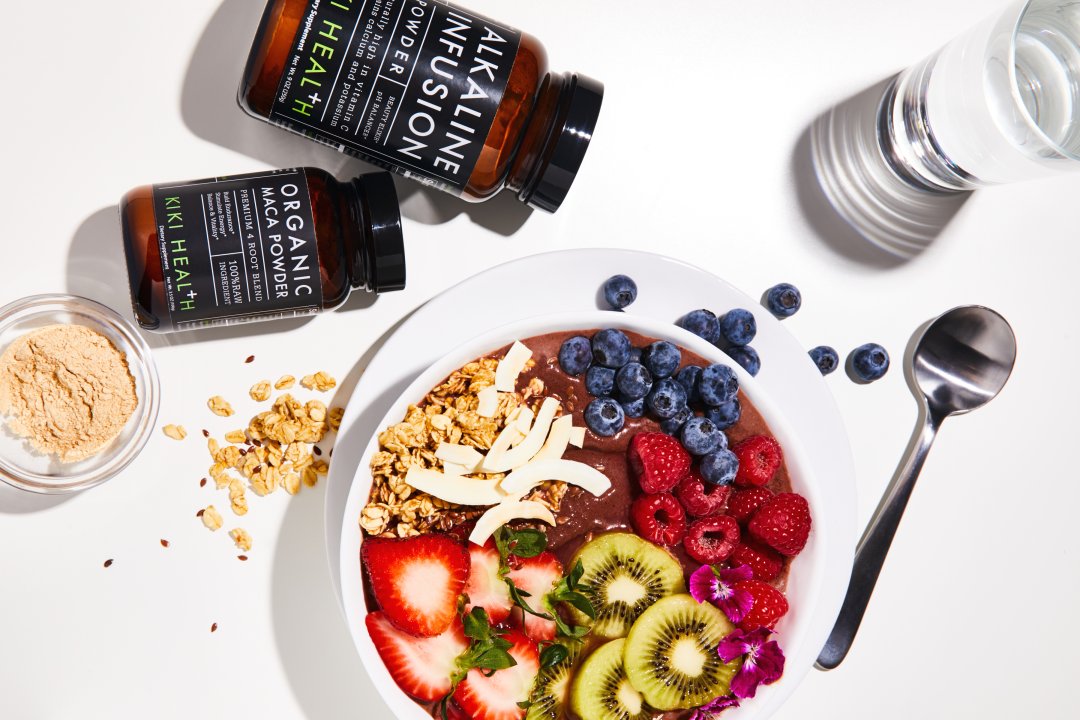 WHAT: "Jam-packed with nine powerful ingredients that help establish balance and enhance immunity, this blend can help the body to rebalance pH levels and neutralize acid. Alkalizing minerals, calcium, potassium and magnesium balance pH while acerola cherry boosts essential collagen for skin elasticity and bamboo powder strengthens hair and nails."
WHY: "In a fast-changing world, we can easily consume too much food and drink that make our bodies acidic. Balancing the acid/alkaline pH levels in the body is one of the most crucial metabolic functions required to sustain long-term health. An acidic body can be a haven for unwanted viruses and bacteria which can mutate into more serious illnesses and diseases."
HOW: "I use it as my very own beauty elixir! It has a refreshingly citrus sherbet taste that is a sweet treat for fruity lovers alike. Stir 2 teaspoons into water and drink, or try mixing into green powdered smoothies and juices to sweeten and add an extra zing!"
+ Check out the full line of Kiki Health here!