A quick guide to the flowers you'll likely come across in self-care products and the good they can do for your whole body…

Few things in nature have the same hold over us mere mortals as flowers. (Well, except maybe baby animals, but that's neither here nor there.) From their beautiful, alluring colors to the way they make an otherwise drab table pop to their beguiling scents, flowers are borderline magical. But despite their aesthetic and olfactory powers, flowers are more than just a pretty face and nice smell. In fact, flowers have been used in the healing arts for centuries as everything from infection fighters to stomach soothers to skin healers.
This ability should come as no surprise if you've ever used a beauty product…ever. True, some conventional brands will tout the inclusion of a flower when they're really only offering a bastardized version of the scent, but there are products out there that truly harness the power of these beautiful little petals-full-of-skin-and-hair-and-body magic.
Not sure where to start? Here's a quick guide to the flowers you'll likely come across in self-care products and the good they can do for your whole bod.
CHAMOMILE
What it does: Lightening, brightening, clarifying, inflammation- and puffiness-fighting, chamomile is a champion of skin rejuvenation. As a vasoconstrictor — something that constricts blood vessels, which increases blood flow (sadly not the name of a new dinosaur) — chamomile has the ability to strengthen capillaries and decrease redness in the skin. It's also high in azulene, a naturally occurring chemical that fights inflammation and infection. Since inflammation is often the number one cause of many skin ailments and hair loss, chamomile is great for angry skin and a scalp in need of some help.
Where you can find it: Any product that claims to calm anything is likely to contain chamomile. From Pai's Calming Day Cream — whose chamomile-and-rosehip combo are powerfully soothing for red and inflamed skin — to the scalp-friendly Nourish Conditioner from Josh Rosebrook to the perfect-for-sensitive-skin Organic Soothing Gel from Dr. Alkaitis, chamomile is easy to come by in green products, and for good reason.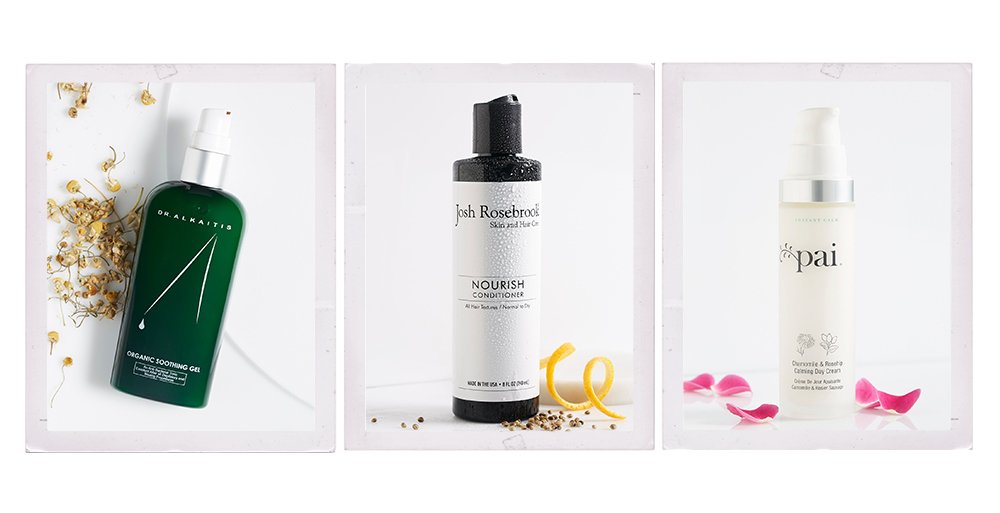 LAVENDER
What it does: As relaxing for your skin as it is your mind, lavender is an antiseptic, anti-inflammatory powerhouse that will soothe irritated, inflamed skin (think dermatitis, eczema, etc.). It's also fairly mild as far as essential oils go, so it's great at helping to normalize skin (particularly the oily kind) by balancing sebum production. This little purple gem has also been shown to speed up the healing process when it comes to cuts and burns, so look for products that contain lavender if you've got abrasions — like if you just couldn't help yourself and picked at your face.
Where you can find it: If you're a nighttime shower-er, Lulu Organics' Soap will help you unwind before bed and clarify skin with a lavender/oatmeal formula. For a more targeted approach to lavender, the Clear Skin Spot Treatment from Province Apothecary holistically heals blemishes and soothes scars by combining lavender with carrot seed oil.
CALENDULA
What it does: With crazy-high levels of carotenoids, flavonoids and phenolic acid  (powerful antioxidants, all), it's no surprise calendula (aka marigold) can help with everything from chapped lips to aging skin. Those antioxidants? They work overtime to protect skin cells from free radicals, plump skin via hydration and improved circulation, help wounds heal faster and prevent unwanted inflammation aka it's great as a spot treatment for zits.
Where you can find it: For the healthiest, most soothed skin of your life, opt for RMS' Beauty Oil. The luxurious blend pairs calendula with a host of other gorgeous ingredients to promote healthy tissue growth. The Nutrient Moisturizer from Juice Beauty works similar magic in cream form, and the Bright Eye Serum from Root Science lets the extra-sensitive skin around your eyes in on the glory of calendula as well.
HIBISCUS
What it does: Used in Ayurvedic medicine in the quest for thicker, faster-growing hair, hibiscus is your scalp's best friend. Thanks to its high concentration of mucilage polysaccharides — a thick, gooey substance naturally produced by plants to help with water and food storage and the thickening of cell membranes — hibiscus helps dry, damaged hair and stressed out skin retain much-needed moisture.
Where you can find it: Since hibiscus is also known to aid in preserving hair color, it's no surprise that it features prominently in Rahua's Color Full Shampoo, resulting in serious shine and strand health. You can also drink the flower via Anima Mundi's Mangosteen Hibiscus Beauty Tonic or Nicole Granato's Hibiscus Tea, both of which use the flower to boost hydrating for healthy skin and hair.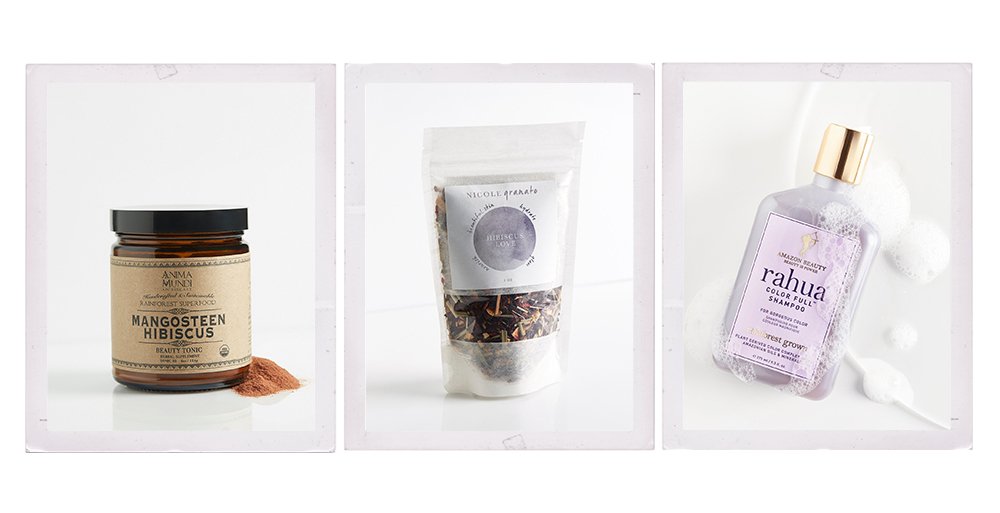 SUNFLOWER
What it does: You may only be familiar with the excellent snack sunflower seeds make, but their oil is also a great topical treatment. With impressive amounts of vitamin E, sterols and squalene — all of which are vital for healthy skin and hair — sunflower oil is an inexpensive yet effective way to pack a seriously moisturizing punch. What's more, the oil also acts as a barrier when applied topically, meaning it locks moisture in without keeping much-needed oxygen out.
Where you can find it: With sunflower oil as its base, the Detoxing Body Oil from Flora Remedia is a lightweight, super-hydrating formula that helps skin retain the water it needs to be healthy and happy. And RMS' Lip & Skin Balm uses the same thinking to lock in moisture for parched, patched lips.
ROSE
What it does: Sure, you probably only think about roses in mid-February, but don't discount these prickly beauties when it comes to self-care. Scatter some petals into a soothing bath, spritz its water on your face or massage its oil into your skin — any way you use rose is a good way. Antibacterial, antioxidant, anti-inflammatory, rose is uber-hydrating and conditioning. What's more, rose is packed with vitamin C that's often less harsh than the kind found in citrus, making it perfect for light exfoliation without residual redness.
Where you can find it: In its simplest form, rose water makes for a great mild astringent and toner, perfect for skin that's on the dryer side. The Aloe & Rose Toner from Captain Blankenship combines rose water with another powerful hydrator to leave skin soothed and refreshed. If soaking is more your style, adding rose to a bath — like with Moon River Naturals' Rose and Geranium Soak — offers whole-body hydration and exfoliation. And for a serious glow, rose oil like that found in the RoseGlow Serum from Living Libations plays nice with all skin types and leaves smooth, hydrated, luminous skin in its wake.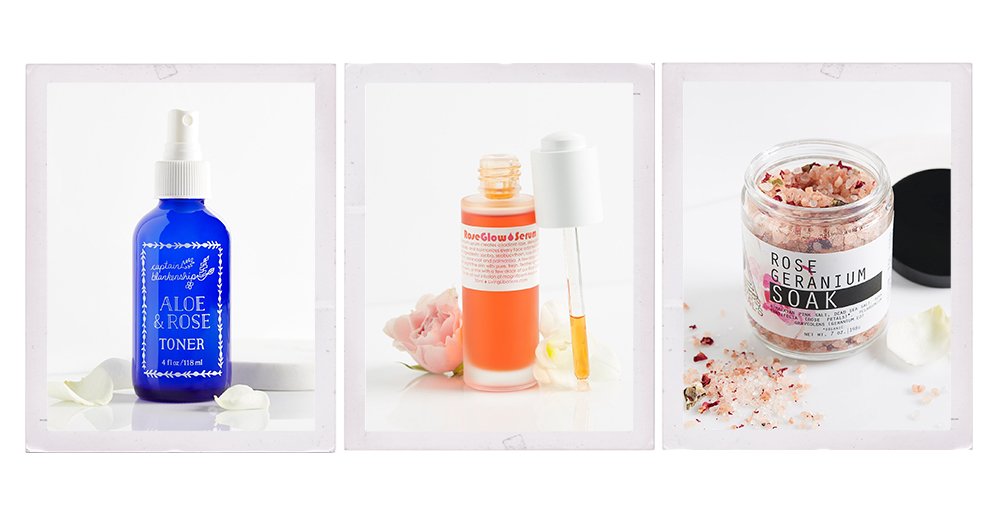 + What is your flower of choice?