Believe it or not, your skin isn't the only thing that can fall prey to the sun…
You already know what to pack in your bag for a day at the beach. But what about taking care of your skin and hair AFTER you leave the sun, sand and surf behind? Post-beach care is almost as important as the products you use before and during your time near the waves because it ensures that all the prep you did doesn't go to waste and it'll help you skin and hair bounce back quicker from any damage.
FACE
The very first thing you'll want to do post-beach is make sure you remove everything that's stuck to your face. Aside from the sunscreen that always find a way into the deep crevices of your pores, all that sweat, salt water and sand is sitting on top of your skin just begging you to forget it's there so it can wreak beachy havoc. If ever there was a time for double (or triple) cleansing, now is it.
First, use an oil cleanser or cleansing balm to make sure you're removing the top layers of whatever is sitting on your skin. The olive, aloe vera and seabuckthorn oils in Wilde Gathering's Kumari Cleansing Oil will grab onto that grime while also being kind to your skin. Follow it with a gentle daily cleanser to be doubly sure you're detoxifying. The Oxygen Cleanser from O.R.G Skincare is perfect for this second cleanse since it's packed with skin-plumping collagen and free of alcohol, meaning it won't dry out your skin any more than the sun and salt water may have.
Speaking of sun and salt water…if you were a little lax on the sunscreen, pop on a calming mask to deal with redness or inflammation. Not that it should come as a surprise given its very apt name, but the Daily Wonders Too Much Fun In The Sun? Mask is packed with soothing ingredients like chamomile, olive leaf, aloe, arnica (the stuff you're supposed to use to treat gnarly purple bruises) and aloe. For good measure, keep skin extra happy and nourished with a facial mist. Ingredients like rose, aloe and geranium oil—all conveniently found in Ebb & Flow's Run for the Roses After Sun Mist—will help to reduce any inflammation caused by sun exposure while also depositing serious moisture.
And if you're really feeling the literal heat (you know that thing when you get too much sun and your skin actually feels hot for hours after?), look for products meant for sensitive skin. Formulas crafted with reactive, sensitive skin in mind take the utmost care in choosing ingredients that are gentle, soothing and will do the opposite of making skin freak out. Case in point: Dr. Alkaitis' Organic Soothing Gel, whose aloe, nettle, chamomile, myrrh, kelp and fennel are like a health-boosting salad for an angry face. Pro tip: Throw this in the fridge before you head to the beach so it's nice and cool and refreshing when you do apply it.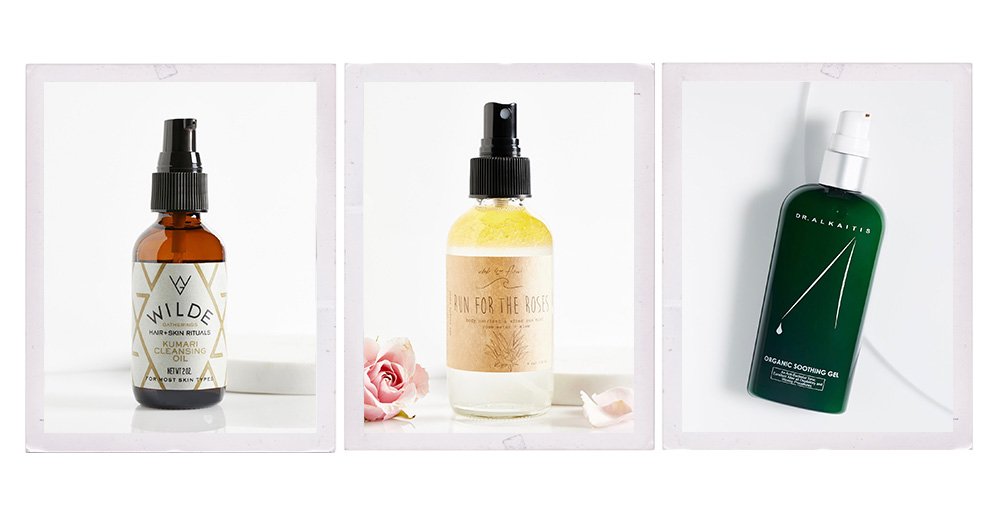 BODY
If you're anything like me, sometimes even the best of intentions (ie — pre-beach sunscreen application in front of a mirror, hourly reapplication, sitting under a large umbrella, wearing long sleeves and pants, never letting the sun touch my skin) don't ensure a burn-free day at the beach. So if you find that you're a wee bit pink, the best thing you can do to treat that sunburn is to soothe it ASAP. Since most burns come with a side of swelling, a cool shower or bath can help keep inflammation at bay (hot water will only further dry out the skin, sapping much-need moisture). Opt for a soothing oatmeal- or soy-based soap, like the bar from Lulu Organics. Not only is oatmeal a natural moisturizer, it also helps protect and repair the skin barrier.
Milk is also a hero when it comes to sunburnt skin. The lactic acid found in milk is gently exfoliating without being abrasive to help remove dead skin cells. It's also full of proteins and vitamins A, D and E, so it's super soothing, and the fat works as an anti-inflammatory. You can simply pour some whole milk into a bath or soak a washcloth in the stuff, but you can also turn your tub into a giant cup of milk tea to soak in with the Milk Bath Brew from Page Thirty Three.
Post-soak, you'll want to make sure your skin is getting as much hydration as possible. The Organic Aloe Antioxidant Calming Mist from Soleil Toujours is the ultimate in skin pampering thanks to the aloe leaf juice that will replenish your skin's moisture levels and fight off any irritation or potential swelling, and a combination of red algae, vitamin C and E work in tandem to reduce free radical damage and brighten skin. Then lock it all off with a gentle-yet-nourishing cream. Lano's Everywhere Multi Cream is super-rich, highly moisturized and leaves skin ultra-smooth and hydrated. This stuff also contains grapeseed oil, which is known for its anti-inflammatory and antioxidant properties, and shea butter, which soothes and heals burns so fast, the Mayo Clinic uses it on burn victims.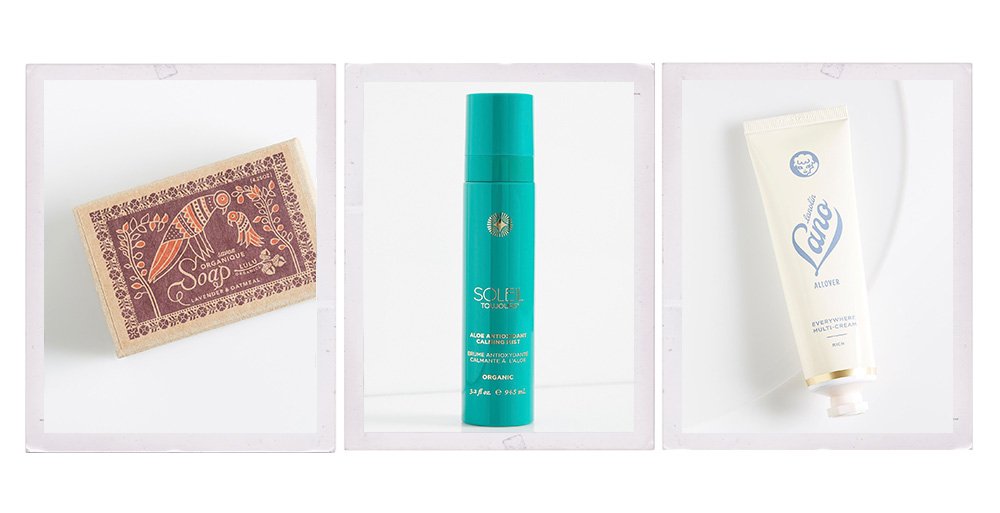 HAIR
Believe it or not, your skin isn't the only thing that can fall prey to the sun—hair is also at its mercy. And when you combine that with the drying effects of salt water, it's important that you don't forget about treating your hair right after a day at the beach. Yes, beachy mermaid hair looks good for a few hours, but inevitably you'll have to shower. And when you do, make sure you're using the right products.
If you feel like your scalp got sunburned, opt for a gentle, hydrating shampoo while your scalp is healing. The marula oil and murumuru butter in Rare El'ements' Pure Shampoo will work wonders on a parched scalp and locks while being gentle enough to not cause any irritation.
Don't forget that your hair is also subject to the perils of the beach: strong rays sun can lead to faded color (both artificial and natural) due to oxidation and dehydration, and wind and salt water can produce free radicals that attack hair fiber. So be extra nice to your locks post-beach with a hydrating mask like this one from Haconut. The coconut, macadamia and almond oils work together to replenish moisture and revitalize dull, dry tresses, deeply hydrating  hair so it looks and feels healthy. For a daily treatment, Yarok's Feed Your Sunshine Hair Serum will help to treat sun damage with a protective blend of vitamins, minerals and antioxidants.
And please please please step away from your heat styling tools for a few days. That blow dryer you think you can't live without? It'll only cause more irritation and longer healing time. Instead, let the wide-tooth comb be your friend. Not only will it help to distribute natural oils through your hair, it's also gentle enough to detangle any sea salt knots without pulling, stretching or breaking strands.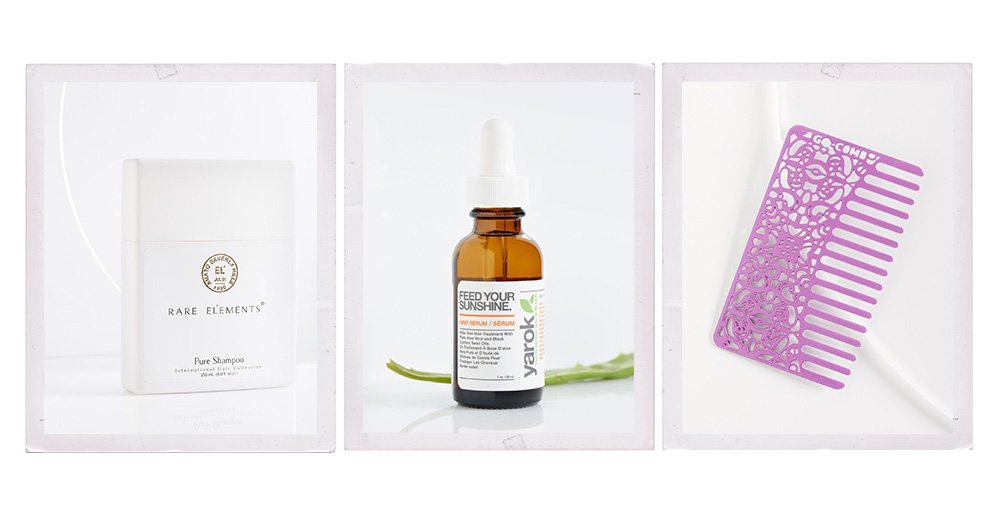 + What are some of your post-beach essentials? Let us know in the comments below! 
Lead photo by Jana Kirn.