In an effort to cut back on gratuitous products and free up some desperately-needed space…
Hi, I'm Allie and I'm a skincare and makeup addict. I love the stuff. I can't get enough. The minute I read or hear about a new product, I drop everything and start Googling. It doesn't matter if I already own (and barely use) dozens of similar products; once the itch starts, I can't stop until I've researched enough to know I'm not interested or, more likely, have become the proud owner of the product.
And while I love each and every one of my beauty products like a proud mom (I know it's weird, just let me have it), every once in awhile, I find myself digging through drawers and bins and cabinets full of creams and palettes and serums and sprays and masks, looking for that ONE THING I KNOW IS IN THERE SOMEWHERE but continues to elude my grasp. Then I think to myself, "Allie, wouldn't it just be easier with fewer products?"
The answer, obviously, is yes. We are a world of consumers—many of us, present company included, over consumers. And while it's certainly a nice luxury to be able to perfectly match my bronzer to my skin after a few hours in the sun and also after a week in the sun because I have both shades, it's all a bit unnecessary, don't you think?
So in an effort to cut back on gratuitous products and free up some desperately-needed space in my apartment, I'm adopting what I like to think of as a streamlined approach to beauty.
What does this mean? It means that instead of bringing an extra overnight bag on a weekend trip to accommodate any product I might need, I fit the essentials  into a standard-issue makeup bag. It means instead of insisting on having dozens of lipsticks and stains, I only have a few that I can play with to produce whatever shades I'm missing (and even use some as blush!). It means that instead of bracing myself against the potential avalanche of products that might tumble out upon opening my bathroom cabinet, I can swing that mirror open with confidence knowing I am safe from cascading makeup.
And it means I'm going to tell you how to do it for yourself if you're sick of stubbing your toe on plastic crate full of lipstick that's sticking out from under your bed when you get up to use the bathroom in the middle of the night.
Hack #1: "Foundation" 
Given that summer is just getting started, it's probably time to lighten up on makeup for the sake of your skin. So instead of reaching for foundation every morning, let your cover up pull double duty as a lightweight tint by combining it with your favorite face oil or serum. The viscosity of the serum will help the small amount of cover up spread thinly and evenly, offering a beautiful light layer of coverage and skin benefits at the same time.
How: Scoop a small amount of RMS Beauty's Un Cover-Up onto your fingertips. The amount will depend on how much coverage you're after, but I find a half-pea is perfect for a sheer wash that also lets skin breath. Add a 2-3 drops of your favorite oil-based face serum (I like Maya Chia's The Super Couple Face Oil Serum) and warm everything up between your fingers. Then apply in a gentle, upward motion as if you're putting on moisturizer. Rub in where necessary, and you've got beautiful sheer, breathable coverage for your whole face. Then if you need it, go back in with the Un Cover-Up and add a little extra wherever you'd like. The nice thing about using an oil serum as the base here is 1) you likely won't need to apply moisturizer first since the oil will cover you on the hydration front, and 2) you'll get a gorgeous, subtle glow from the revitalizing oil.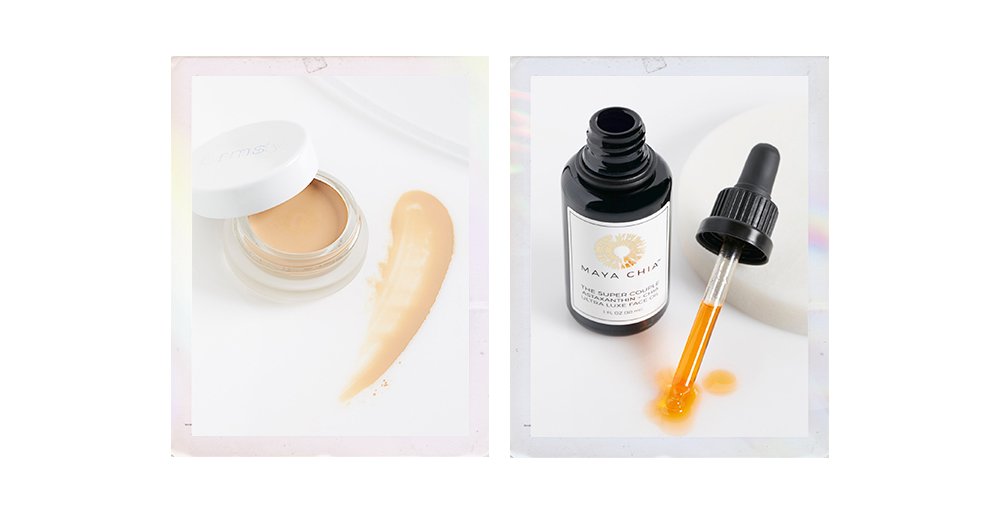 Hack #2: Lip Stain
When you want some color on your lips but can't be bothered with reapplying full lipstick, a lip stain is where it's at. The color gives you that "I just ate a popsicle" look and you don't have to worry about it fading or running to find a mirror to reapply. If you're really crafty, you can whip up a to-go batch of this stuff so you can always have it handy.
How: If you're really ambitious, exfoliate your lips a bit before applying a colorless lip balm like Lano's Multipurpose Superbalm or good old coconut oil. Let the balm/oil sink in for a few seconds, then dab a bright lipstick into the center of your bottom lip. Pick a shade and formula that's vibrant and highly pigmented so the color dilutes easily—I like Kosas' lipstick in Thrillest. Once you've built up a bit of color on that bottom lip, gently spread it out with your ring finger, blotting your lips together as you go. The balm/oil will help the color spread without sinking into any cracks or lines, and it'll diffuse the pigment into a lovely stain.
Hack #3: Body Bronzer 
I'm speaking for myself for, but I am very pale. Like, the first time I wear a skirt or dress after the long winter months, it's almost blinding. I also don't tan well…at all. So faking it is really the only way to ensure I don't stop traffic and cause harm when not wearing pants in public. Luckily, the bronzer I use on my (pale) face can cleverly double as a body bronzer.
How: You'll need a liquid or cream bronzer for this (or use a tinted moisturizer/foundation you may have bought on a whim after you booked your last beach trip) and some body lotion. To start, take a pea-sized amount of bronzer into your palm—both RMS' Buriti Bronzer and Contour Bronze work perfectly, though the second has an added shimmer if you're into that—and warm it up a bit. Then add a dime-sized amount of body lotion to your palms and work the two together between your hands. Apply the mixture to your legs and arms, blending as needed, until you've got a pretty faux tan. The Skin Tight Body Lotion from PRTTY PEAUSHUN is great for this since it comes in a variety of "glow" levels, letting your customize how dark the color is and how glow-y your skin becomes.
HACK #4: Highlighter 
I mean, who doesn't love a good highlighter? And while there are a lot of excellent ones on the market—looking at you, Vapour Organics and RMS Beauty—if you own an eyeshadow pallet and some eye cream or serum, you're covered in the luminzer department.
How: Find that eyeshadow palette you only ever use one color of and locate the lightest, most peaches-and-cream color. (In Smith & Cult's Book of Eyes Quad Palette, it's the top left color.) If you plan to use the shade as a shadow in the future, pick up some color with your finger and deposit it on the back of your opposite hand, near the base of your thumb. Add one small drop of eye serum to shadow and blend together with the same finger you used to pick up the color. (You can also add the serum directly to the palette, but you likely won't be able to use it as a straight shadow anymore.) Once it's blended, pick up the mixture with that same finger and gently dab it on as you would a highlighter: hit the top of your cheekbone, under your brow bone, the center of your eyelid, the inner corner of your eye, etc. The nice thing about using an eye serum here is that it's specifically designed for the delicate, thinner parts of your skin where you apply highlighter, so it won't cause irritation or congestion and it'll deposit skin-friendly nutrients.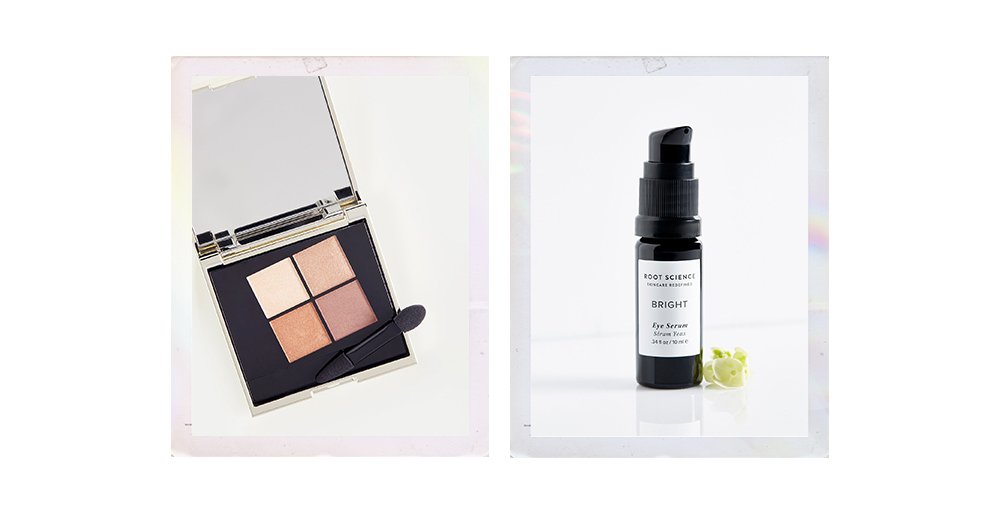 +Read more from Allie here and be sure to check out our full beauty collection, online and in stores!