A one-of-a-kind look behind the lens of the man who inspired our latest shoot — portrait photographer, Baron Wolman…
In the mid- to late-60s, Baron Wolman changed the face of portrait photography, capturing the spirit and soul of those people making moves in music through his work at Rolling Stone magazine. Elevating groupies to the same category of the performers they followed, the American-born Wolman documented his subjects with a fervor not seen before him. It is his honest eye and raw style that inspired our Summer of Love lookbook, and we are fortunate to share with you a few candid stories behind some of his iconic images that we're selling here…
In the studio I photographed fashionista and funk singer, Betty Davis for our short-lived but very influential counterculture fashion magazine, RAGS. We called it "the Rolling Stone of fashion!" The late sixties changes in society that we could hear we published in Rolling Stone. The changes in style and dress that we could see, we published in Rags. From her globe-size afro to her free-form poses in the most exciting and compelling clothes, I made a series of absolutely compelling fashion photos. Betty was fiercely independent and extraordinarily creative, writing and playing music, becoming the muse to many. Vogue wrote that the former fashion model "introduced her husband Miles to her rumored flame, Jimi Hendrix, and her friend Sly Stone. Their relationship and work together helped catapult Mile's sound into a freer, more experimental phrase, eventually spawning Davis' now classic album, Bitches Brew." A couple of years ago, Betty Davis' albums were rereleased to significant acclaim, but for reasons known only to Betty herself, she has gone underground, difficult to contact and giving no interviews, in spite of a documentary in the works about her colorful, extraordinary life.
I met the Sanchez Twins – Lynn and Laura – in the late sixties, probably backstage at a Fillmore Auditorium concert in San Francisco. Their mother ran a popular breakfast-lunch type restaurant in the glorious North Beach district of San Francisco. It was, and still is, called "Mama's On Washington Square." In addition to their young and compelling beauty (they were 17 at the time), the twins got along well which made photographing them together a delight. And they were willing participants in our photographic adventures. Our shoots were always fun, be they in my studio or in the Hall of Flowers in Golden Gate Park. On their 18th birthday, when they became "alcohol legal," I treated the three of us to dinner…with wine. I have only the fondest recollections of the Sanchez Twins, and lots of lovely photos to underscore the memories…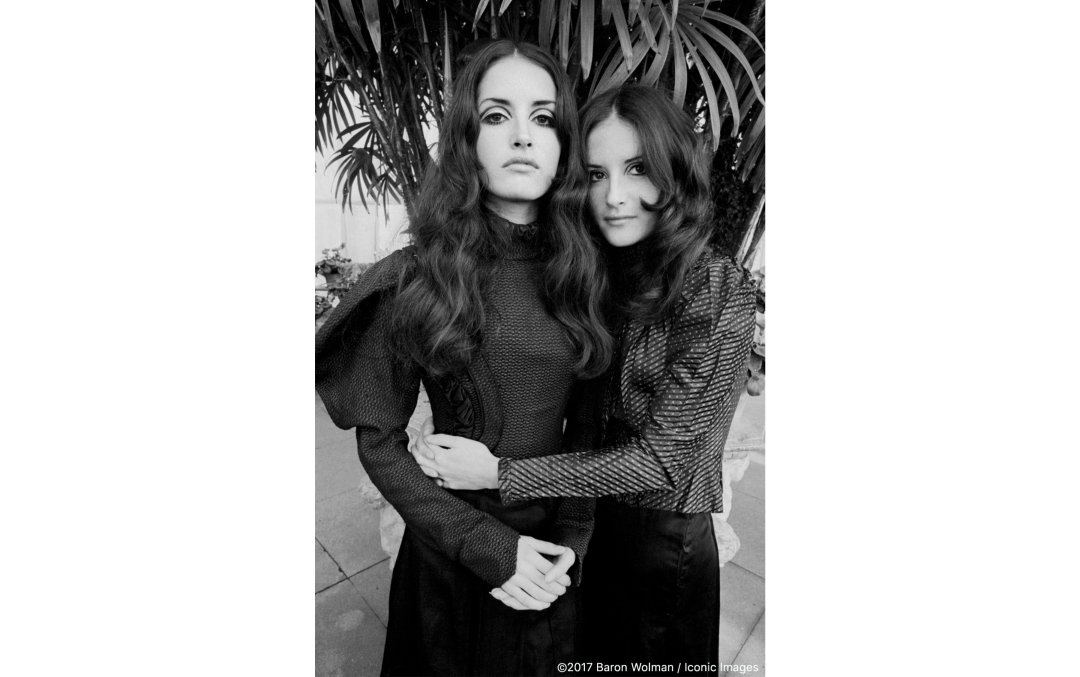 Just as it's impossible for any parent to choose his or her favorite child, so it is for me to choose my favorite groupie. Miss Sparky (Linda Sue Parker), however, would certainly rank high on any list of groupies I loved. She was an intelligent and "sparkling" member of the GTO's, always smiling and exuberant. I remember the day I and the GTO's went into the borrowed photo studio of A&M Records in LA for our photo shoot for the Rolling Stone Groupie issue (#27) which was published on February 15, 1969. What a great afternoon! Each of the six GTO's in attendance presented herself differently, from her unique make-up to her distinctive clothes. No two women were alike, nor would I have expected them to be. In the true sixties interpretation of fashion, each put herself together from her own personal idea of style, how she felt she looked best. And each did look fabulous!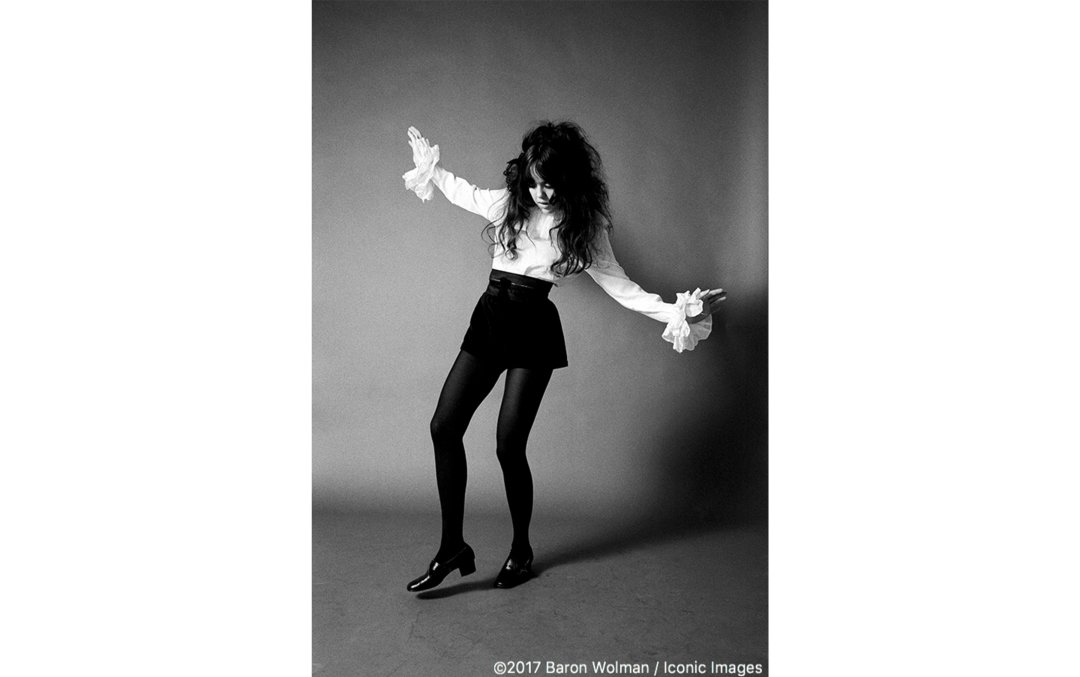 I lived walking distance from Janis Joplin's flat in the Haight-Ashbury district of San Francisco. More than once I visited her to make pictures of one of my most beloved female musicians of the sixties. At this particular session I noticed a wall of new "Janis" posters decorating her bedroom. "Hey, Baron, dig it. I'm the first hippie pin-up girl!" The posters were for sale in head shops around the country and they featured a charming semi-nude image of Janis made by my photographer friend, Bob Seidemann. Because I knew that Janis had both a light and a dark side to her, I usually urged the light side forward when I photographed her; after all, she was still a 24 year old young girl becoming a woman in 1967, experienced but still filled with the joy of the possibilities ahead. Anyhow, for this photo I decided to try and mirror her look in her pin-up poster, so I allowed her to be somewhat more serious and somber. Later on, Seidemann and I traded signed photo prints; I framed the one I took next to Bob's original, respectfully sexy shot. I sure do miss Janis.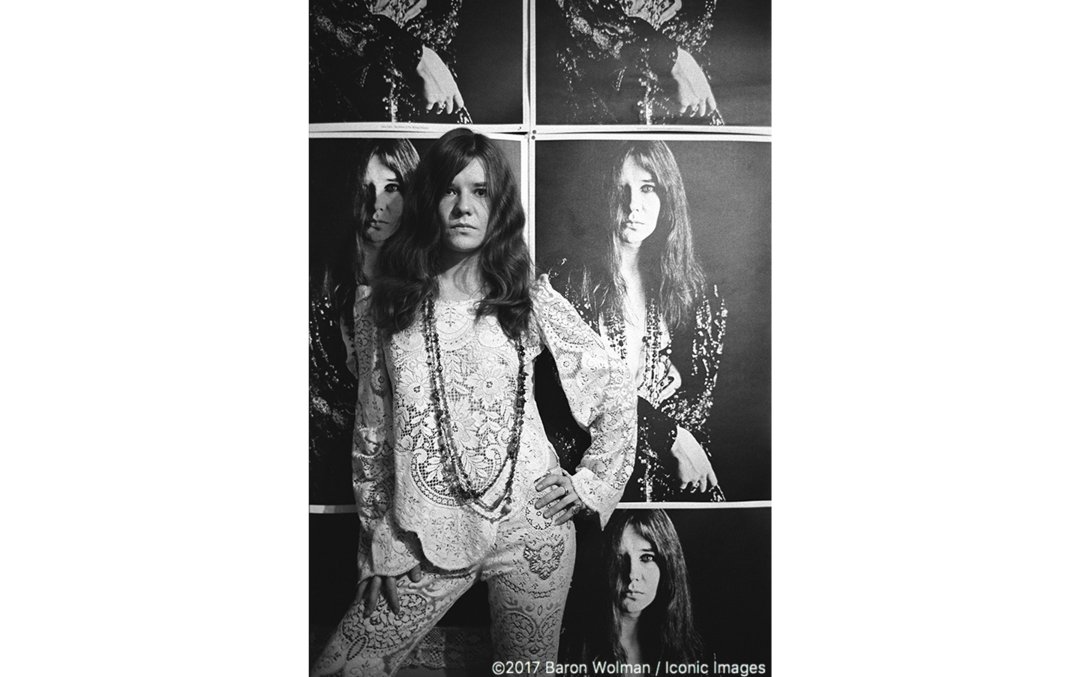 Joni Mitchell was 25 when I photographed her at home in Laurel Canyon in Los Angeles. Actually, I wasn't there on assignment for Rolling Stone, rather I had been hired by a glossy upstart counterculture magazine called EYE and published by the Hearst group, one of the country's largest magazine publishers. The Hearst people recognized that the counterculture represented a growing market and they wanted to speak (and sell) to it. They offered many Rolling Stone staffers well-paid freelance assignments (I was still working for free at Rolling Stone), and I was one of them. The Joni Mitchell shoot was unique in many ways. First, it was in color, and color was impossible to print in the pages of Rolling Stone back then so most of my work until then had been in black & white. Secondly, I brought along my medium format Hasselblad camera which produced razor sharp large negatives and color transparencies. One Eye's dime, I also used the opportunity to shoot some 35mm black and white for Rolling Stone; I knew they would like having the pictures, and in fact, one of those shots subsequently became a Rolling Stone cover! After the shoot, Joni and I sat around, drank tea, and probably discussed everything from love to relationships to politics; I don't really remember what we talked about, only that Joni and I had a wonderful afternoon together. If you haven't guessed already, the location of the shoot was the subject of the song, "Our House," written when Graham Nash and Joni were living together in that very home…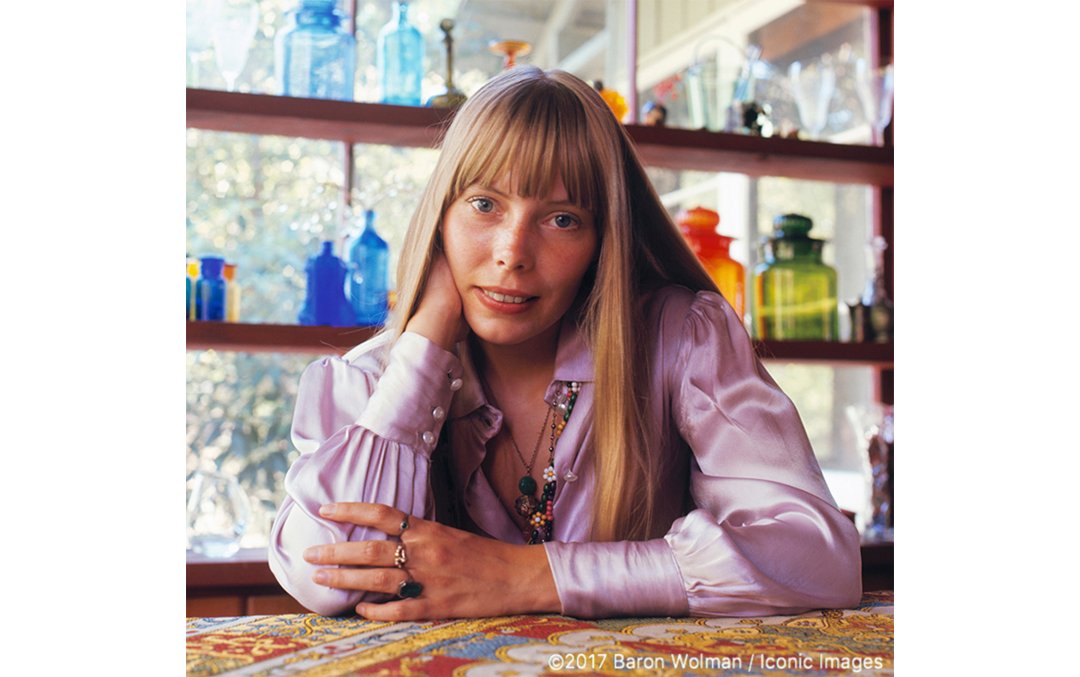 Here's why I loved Grace Slick. She was smart, she was beautiful, she was talented, she was decidedly anti-establishment and she had a mouth on her. Have you read her autobiography? The colorful Girl Scout vest she wore the day we made this photos (again, for both EYE and Rolling Stone) was more of an in your face fashion statement than the proud wearing of her uniform. Looking at her and focusing through the portrait lens I was captivated by her "liquid lips," as smitten me calls them. To my eyes, Grace, not yet 30 at the time, was the consummate rebel woman. I mean how could you not love somebody who came a hair's breadth away from dosing the punch at a Nixon White House gathering. Her music career spanned four decades, and involved the Great Society, Jefferson Airplane, Jefferson Starship, and Starship, and she provided vocals on several iconic songs including "White Rabbit" and "Somebody to Love." After her retirement – "All rock-and-rollers over the age of 50 look stupid and should retire." – she started painting, usually visual interpretations of her music industry colleagues and various iterations of "White Rabbit." We should all be so gifted and clever. We should all think, dress and live so independently and creatively, forever marching to the beat of our own drum…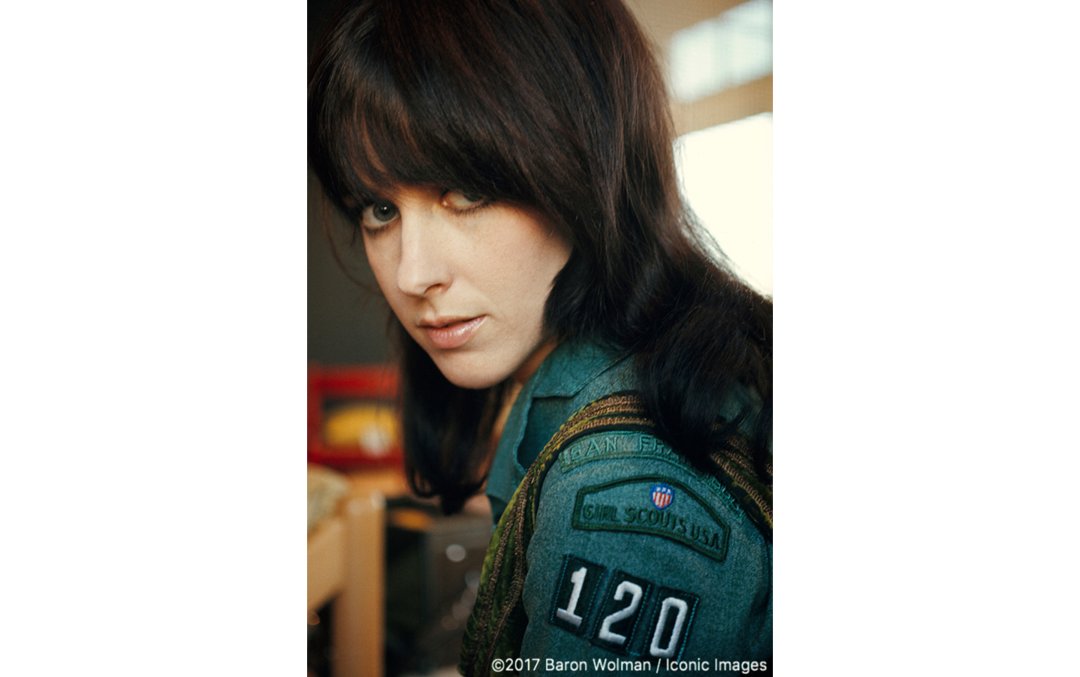 I came upon Woodstock twice. First in the endless line of cars on highway 17-B through Bethel and on to the festival grounds; I got stuck in that line. Worried that I'd miss the beginning of the festival, I pulled out my AAA map (no Google maps or GPS in those days) and found a "blue" road that paralleled 17-B. Fortunately, it was clear – didn't everybody carry AAA maps in those days? Anyhow, I quickly traveled that road that took me almost directly to the stage area. I parked my car, grabbed my cameras and trotted in the direction of the music, climbed up onto the stage and looked out upon the hundreds of thousands of fans who were already in place waiting for the music to begin. Frankly, I was stunned. I had never, ever seen so many people in one place at one time, all facing the stage, all facing me and my camera. It was a scene I'll never forget. This particular Woodstock photo has always puzzled me. The couple is dancing, joyously, I presume. But why aren't the others dancing, too? Why aren't they smiling? Where was the spirit of peace, love and music? I dunno; maybe it was the heat and humidity, maybe they were already exhausted. Anyhow, as I wrote on the back cover of my book called "Woodstock:" "Woodstock showed the world how things could have been, and for this reason it's important that we never forget the experience, the place, the time, and the dream that came true, if only for three days…"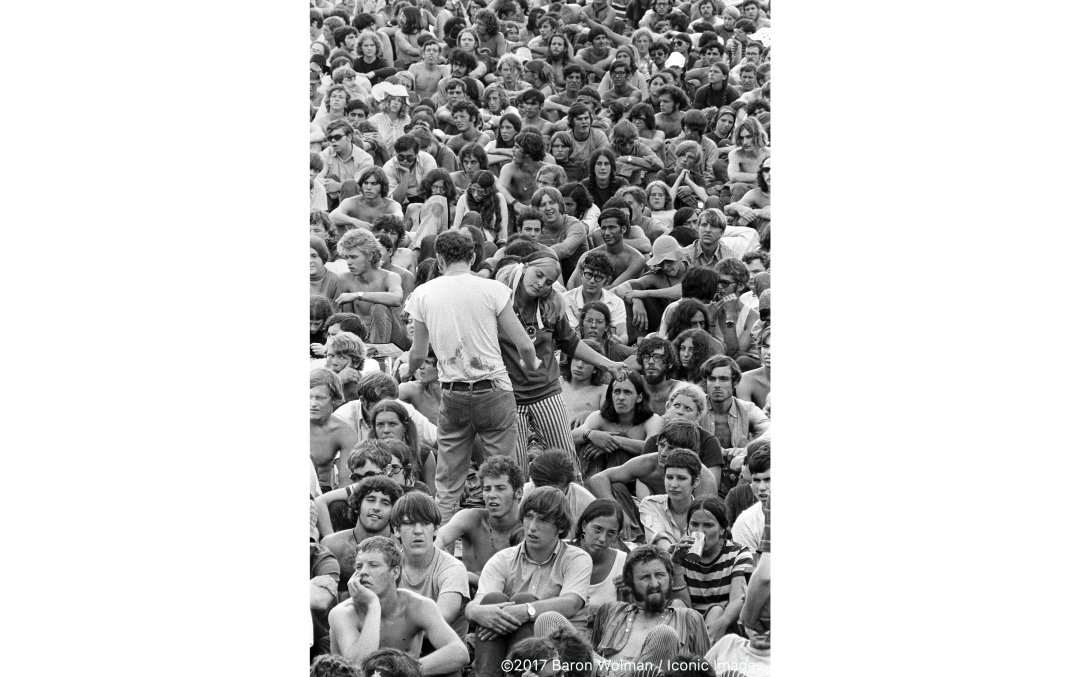 Sally Mann – the groupie, not the photographer – is a perfect example of why I was smitten by the groupies. She was lovely to look at, quick-witted, and super-intelligent with a knife-sharp sense of humor. In January, 1970, Sally married Spencer Dryden of the Jefferson Airplane, with whom they had a son, Jesse. I guess we can therefore call her a "successful" groupie? In her own words: "Immediate mutual attraction notwithstanding, the course of true love never did run smooth, at least in my case, and before I could seal the deal with Spencer, I faced the daunting challenge of sweeping up the sticky-sweet residue left behind in his heart by my predecessor, the formidable Grace Slick—an undertaking made appreciably easier by Grace's waning interest in Spencer and growing interest in Paul Kantner, Jefferson Airplane's kamikaze rhythm guitarist." Super-groupie Pamela des Barres rose to fame on the back of her book, "I'm With The Band." Sally's own reminiscences will soon appear in book form with the determined title of "The Band Is With Me!"  She is so cool…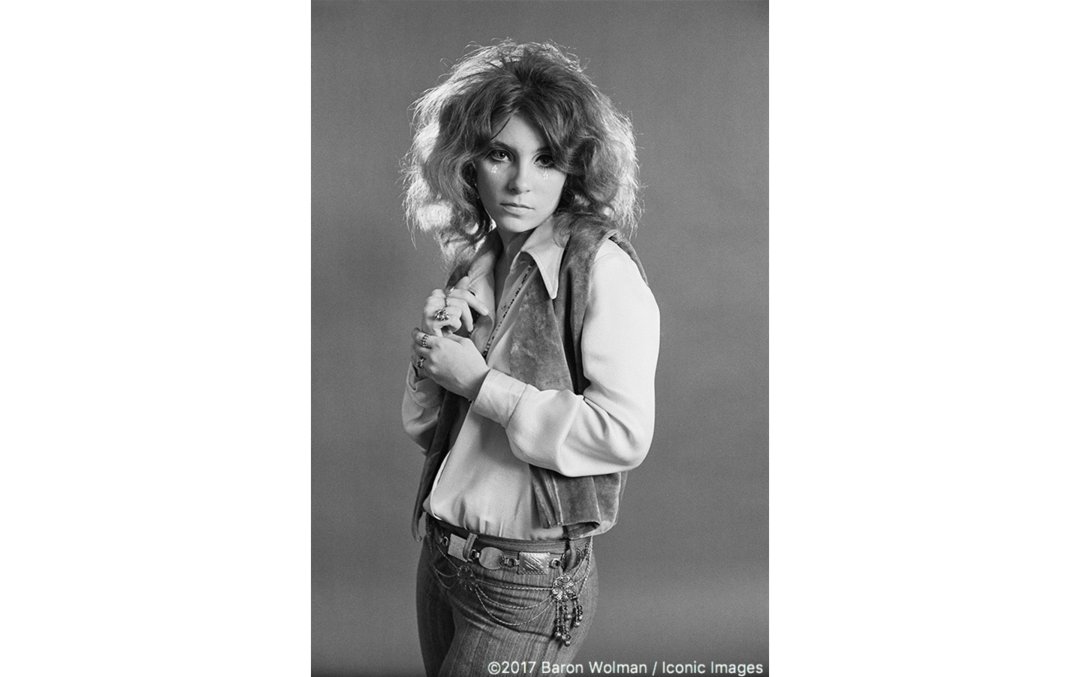 Each of the images featured here are currently available via our site, with each one signed by Baron himself, and limited to 150 prints per picture.
B&W prints are silver gelatin on fibre-based paper. Color prints are C-types printed on Lambda printers.
NOTE: Prints are not sold with frames. Available within the U.S. only.
+ Be sure to check out the full Summer of Love Collection. You can also consider taking a bit of Baron with you via his book!
Big love and thank you to Baron and Iconic Images for partnering with us to curate this fine art gallery!