The pro tricks to making it to that summer soiree without missing a beat…
The summer social hour is in full swing, which means no more hibernating at home after a long day — these warm weeks are primed for out-of-office action. Whether you're headed straight to a sunset cocktail hour or a sultry dancefloor sweat session, getting in the party mood doesn't have to require a glam squad — a few clever tricks from the pros will have you camera-ready in less time than your Lyft ride.
IT STARTS WITH SKIN
"With early mornings turning into late nights, the last thing you want to wonder is, 'is this going to break me out?''
Prepping an after-hours makeup moment starts with a healthy canvas—especially now that skin-care-conscious beauty looks require showing off your immaculate complexion more than ever.
QUICK MIST
"I always encourage people to carry a little bottle of rose water spray in their bag," says facialist and natural beauty trailblazer Joanna Vargas, sought after by celebs like Emma Roberts and Naomi Watts for her complexion-perfecting techniques. "Rose is awesome for hydrating skin when mixed with water, and feels incredible when you are getting sticky from walking around outside," explains Joanna. If you're looking for a remedy for sun-scorched summer skin, Joanna suggests a more calming formula: "This aloe soothing mist is a great way to combat pollution and stressed out skin throughout the day!"
SPOT MOISTURIZE
Everything depends on a healthy canvas of smooth, moisturized skin. "If you develop dry patches during the day, I recommend my own Rejuvenating Serum," says Joanna, whose eponymous product line is known for its futuristic use of plant-based ingredients. Dab a bit over any dull bits to prep your face for foundation or tinted moisturizer. "It's great for dry patchy skin because it contains good fats like olive oil that both soothe the skin and hydrate the skin from the inside."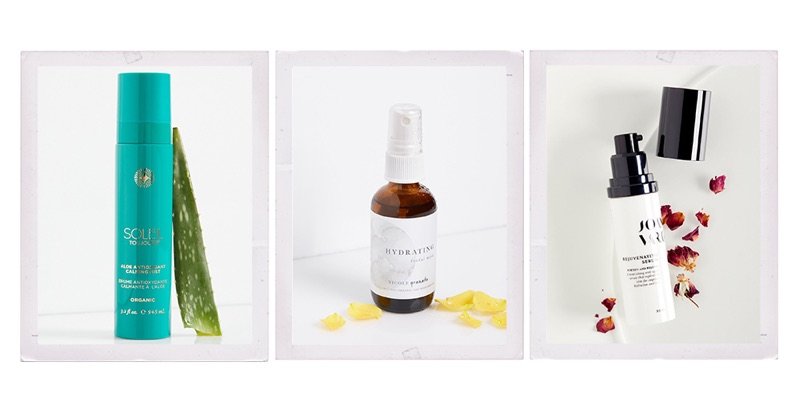 MASTERING MINDFUL MAKEUP
"I always keep a nude lip in my purse"
"Rushing out of the office straight to an event is something we all have to do," says makeup artist Elena Miglino, who's perfected on-the-go beauty looks for clients like pop music prodigy Daya and actress Jackie Cruz. "Skin is so important," Elena emphasizes, touting the importance of natural cosmetics in the summer layering game. "With early mornings turning into late nights, the last thing you want to wonder is, 'is this going to break me out?' Using products that don't contain harmful ingredients allows you to add on, worry-free."
LAYER A NATURAL BASE
To even out your complexion without adding weight, Elena loves Alima Pure's Liquid Silk Foundation. "It's light and buildable with a flawless finish," she explains, noting that applying with a beauty blending sponge  is the real "game changer" for last-minute touch-ups. "Start by wetting a sponge, dabbing it into your foundation, and gently pressing it into the skin. This will help add a little more coverage and even out the tone."
PACK A PORTABLE GLOW
To quickly define features in lower lighting, a sheer (and subtly shimmering) contouring tool is key. "I would throw a product like Lilah B.'s Bronzed Beauty Bronzer in Sunkissed into your makeup bag," says Elena, who recommends its luminous formula, not to mention near-unbreakable packaging. Sweep it along the highs of your cheekbones and temples for a flattering faux glow.
FOCUS ON THE EYES
"I usually have about 15 minutes to run to the bathroom and get myself ready before walking a red carpet or sitting in an audience with one of my celeb clients, so having a go-to look is so important." says Elena, who has mastered the art of a quick-change beauty moment. Her favorite trick revolves around a portable shadow palette and a plan:
SUN-UP
"I would begin the day with Smith & Cult's Book of Eyes Quad in Soft Shock by applying the khaki color all over the lid with a fluffy brush, then applying the darkest color with a tiny brush close to the top lash line," Elena explains in detail, approving a coat or two of a flexible mascara like Smith & Cult's Lash Dance (since you'll be adding more later). "This leaves you with fresh, bright-eyed daytime look."
SUN-DOWN
To amp up the volume on your way to the party, pull out your same palette and bump up the color. "Start by taking that darkest shadow and adding it onto the corners of the eye, making a sideways V (>) starting at the lash line and into the crease," says Elena. "Use your same fluffy brush to blend it out, then press the shimmery silver shade gently into the middle of the eye, right on top of the khaki color, sweeping it under the bottom lash line for extra sparkle." Want to amp up the sooty impact? "Add eye kohl all over!" Elena enthuses. "I like Alima Pure's Natural Defintion Eye Pencil in Ink. It's gentle on the eyes and long lasting. Apply that to your top and bottom water lines, then add a few more coats of mascara."
SEAL IT WITH A KISS
"I always keep a nude lip in my purse," says Elena, who approves of red lipstick for night as well, but leans toward the ease of a buff hue. Try a soft mauve cream formula like Vapour's Siren Lipstick in Chere or glossy finish like Smith & Cult's The Shining Lip Lacquer in Now Kith as your final touch before you step out of your ride. "It's a lip that you can put on in the car — no mirror necessary!"