Once you know, you know…
There are certain beauty-centric questions that I hear nearly every day — the easy ones, like "what is dry shampoo ?" or "does a waterproof mascara that won't leak onto my eyelids when I sweat even exist?" And then there are the more complex ones, like "when do I put on a serum?" and "what's the point of double cleansing?" that really give my life meaning.
The tricky part of layering skincare is that with every expert and derm you ask, you'll get a different answer. Instead of losing time over details that won't wreck your face, we've put together a list of the can't-miss steps to help nourish healthy skin — and the easiest order to execute them.
Start by removing the stickiest layers of makeup with a super-slick blend of oils (like the organic sweet almond and blue chamomile options in this one), which will keep you from tugging and scrubbing at your eyes, not to mention the rest of your features. It seems like "hey, no big deal! It's just for a second!" until you add up all of the times you've done it in a week, a year, a lifetime — and subsequently lost lashes or worse, stretched delicate skin that may not just snap back like a rubber band, eventually.
Cleansing wipes are the easiest way to get into the crevices of your face that need to be swept clean with a bit more oomph than just the soft palms of your hands. Glide one around in gentle, circular motions to get the blood flowing to the surface, which is its own mini-step toward a brighter complexion. The bamboo water and argan oil in these won't rid your skin of essential moisture as you prepare to double cleanse.
Double cleansing is easily one of the most confusing topics for beauty babes that don't quite get what the point of an extra step is in an already tedious routine — "it looks pretty spotless already!" you'd think. But the fact is, there's still a thin film of dirt and pollution lurking that can mysteriously end up on your pillowcase, or just creeping inside of your pores. Taking the time to double cleanse with a vitamin-rich, moisturizing wash will bring you one step further away from those tiny, pesky surface bumps that you see in a brightly lit mirror and wonder "why?"
Very light-handed, consistent exfoliation is key for smooth, glowing skin, but it's important to find a product that isn't going to strip the natural barrier that your complexion needs for protection. The pineapple fruit extract and kaolin clay in this water-activated, superfine scrub help gently remove dead cells without drying, and can even be used as a luminizing mask when you have extra time in the tub or shower.
Toner is one of those products that seems so neutral, you think you can skip it — but without it, you may lose the value of each superstar product you subsequently apply to your face. Toner's role is to balance the pH of your skin so that it's able to properly absorb, instead of clash with, the ingredients in your skincare. Plus, the easy spray bottle packaging of this one means you don't even need to worry about stocking up on cotton balls to use it.
After all of the necessary cleansing and exfoliating, your complexion is thirsty for a drink of restorative, soothing moisture. The rose otto and geranium oils in this serum create a healing elixir for even the most sensitive skin, along with a lit-from-within glow without the grease. Tap a few drops onto your face, neck, and even eyelids while you breathe in the soft floral scent and make your next moves.
As we discussed in Step 1, the delicate skin around your eyes needs tender love and care, which means giving your lids their own specialized form of protection. The certified vegan, all-natural blend of botanicals in this eye cream go on in an imperceptible veil that won't pill away when you start to apply your makeup. Tap a small pump onto top and bottom lids, basically over any area that your pool goggles would cover.
Seal in your hard work with a no-brainer, multitasking moisturizer. If we've learned anything in the last few years, it's that it seems that (nearly) everything fermented is packed with some kind of beauty benefit. The naturally-fermented ceremides in this cream help repair damaged skin without breaking you out. Follow with a mineral sunscreen if you're about to head out into the bright light of day.
I could go on and on about my love for silk, especially when it's woven into anything that's touching my face. Polished, pure silk fibers won't tug on your eyes like even the smoothest cotton could, plus sleeping with an eye mask keeps you from squinting yourself to sleep, preventing crows feet and fine lines in the long run. Tinted soft pinks and caramels with non-toxic dyes, these have just enough give in their elastic to stay on through the night (plus block out the light when you want to sleep in) without feeling uncomfortably tight.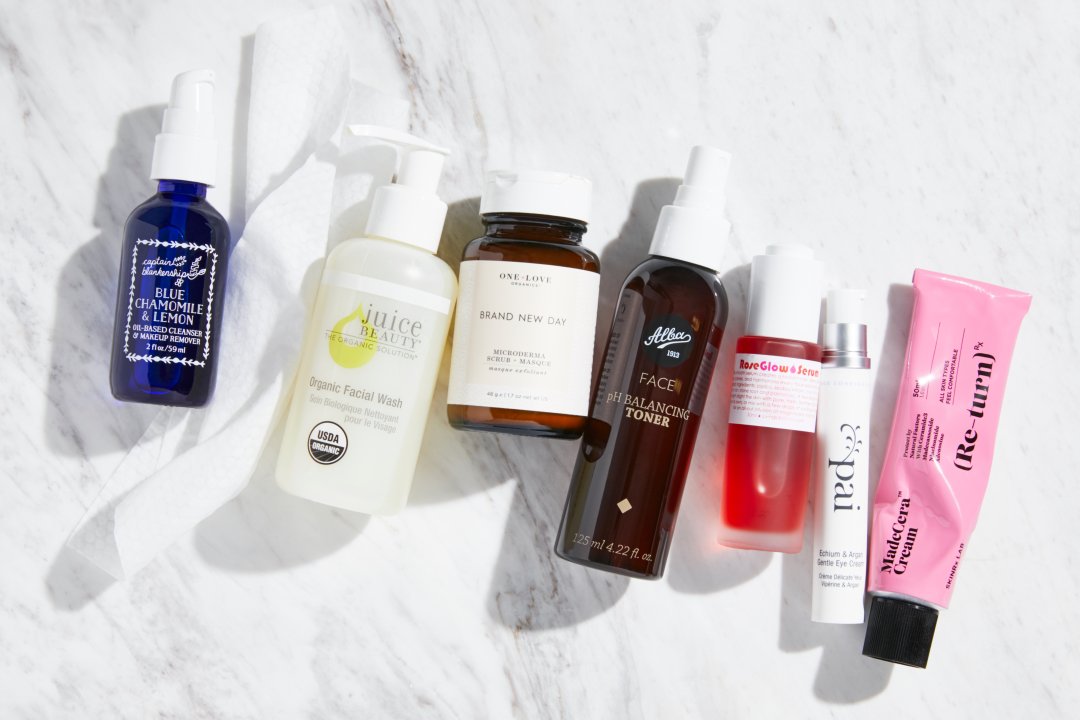 +Skincare 101 starts here…