Lisa Frank has nothing on Body Vibes…
All of the buzz around energetic medicine may sound fantastical (oh, how they laugh!) when packaged with hippie bundles of sage atop a pile of crystals, but whether you're ready to believe it or not, it's happening. Science is now backing infrared light, magnets, and yes, frequency stickers as experimental forms of energy healing that could eventually shift the go-to methods for treating certain sleep, pain, and mood disorders away from pill-popping. And for that, we're willing to listen…
If this all sounds verrryyyy L.A., it'll come as no surprise that the City of Angels is, in fact, the birthplace of the concept behind Body Vibes — the colorful frequency stickers that It-Girls like Caroline Vreeland and musicians like Lizzo can't stop reapplying. The brand was founded by Leslie Kritzer and Madison De Clercq after Leslie witnessed the positive effects of some energy patches her husband's naturopathic doctor gave him for a painful arthritis flair-up that, up until that point, nothing had helped. "Immediately I needed to know everything about this technology," says Leslie, who began using a one for anxiety and one for focusing (she still wears the brand's new versions of each during our interview). "I have ADD, and to be honest it's hard to even get through this sentence," Leslie laughs. She was so impressed with her personal results that she teamed up with Madison and "stalked" down biological engineer Richard Eaton to help develop the stickers into a lifestyle brand.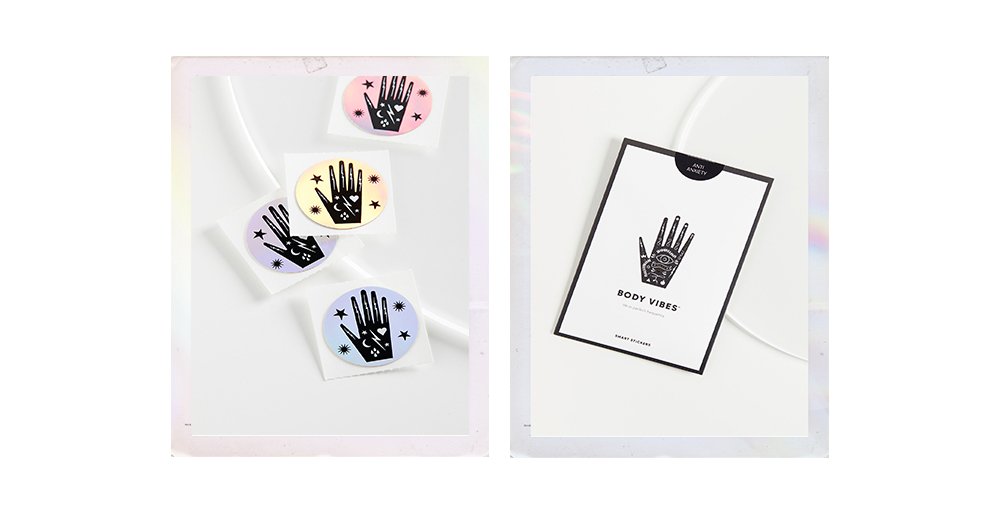 BUT WHY WOULD YOU WANT THEM?
Your body may be slightly out of tune in a way that you can't visibly see, yet you feel consistently "off" in different ways — exhausted, achy, anxious, etc. "It's theorized that when a system becomes weakened, it may lose the ability to produce the full array of essential vibratory energies," Leslie explains. "The smart stickers deliver essential vibratory frequencies and patterns that may be missing or deficient in our body."
BUT HOW DOES IT WORK?
Known as bio-energy synthesis technology (B.E.S.T), layers of mylar that make up the Body Vibes stickers are programmed with specific frequencies by an accelerated frequency generator machine. "The technology was developed by a group of homeopathic doctors and engineers who had previously worked on ultrasonic weaponry and began investigating the possibility of using the frequencies to heal the body rather than harm it," Madison explains of the heartwarming twist of fate. "They succeeded in their mission and discovered a way to help restore deficiencies and rebalance the human body to function more optimally." After Madison and Leslie stylized the stickers with colorful artwork and narrowed the categories into essentials like Anti-Anxiety, Focus, and Self-Love, Body Vibes was born.
BUT HOW DO YOU WEAR THEM?
The process is simple enough — pick your intention (like Focus, for example, which this writer tried and immediately became a believer in…), peel the sticker off and apply to clean skin ideally near your heart on the left side of your body, though sensitive types can try other areas like the wrist or back on their right side. "We highly recommend 'cocktailing' Body Vibes to achieve synergistic effects," says Madison of applying two or more stickers at the same time. "Some of our favorite combinations include Beauty and At The Beach, Self Love and Energy, and Anti-Anxiety and Mental Focus." Remove the stickers after three days, then reapply as needed.
BUT WHY JUST THREE DAYS?
The urge to stretch the life of a sticker is natural once they start to kick in, but there's logic behind the system. "We recommend three days for use because the skin under the sticker needs to breath," says Leslie. "After 72 hours of no oxygen to the skin, the skin can become itchy and red." To avoid any irritation, the team suggests switching out the sticker and applying a fresh one at least 1 inch away from the previous location. The adhesive is FDA approved, which makes allergic reactions unlikely, but if you see any signs of irritation, simply remove it.
BUT WHAT DO THEY EACH DO?
THE RELEASE: Anti-Anxiety (Frequency 396hz.)
Currently the brand's best-seller, it's meant to liberate guilt and fear and has been said to release feelings of anxiety or nervous tension. "The Anti-Anxiety sticker is a god send for me, it quiets the mind from being so reactive," Leslie enthuses. "It feels like it creates some space inside your head — so you are not overwhelmed. It's subtle and it's not sedating. In fact, it may be someone else who points out to you that you seem less on edge and more relaxed."
THE POWERHOUSE: Energy (Frequency 417hz.)
Meant to facilitate change, this frequency is believed to assist with endurance and empowerment. "The Energy sticker is designed to prompt the body to feel a boost in mood and endurance," says Madison, whose mom is "obsessed" with its stimulating kick.
THE MIRACLE WORKER: Self-Love (Frequency 528 hz.)
Second only to Anti-Anxiety in popularity, this is meant to assist with transformation and miracles. The "love" frequency is believed to spread love, peace and self-compassion. "The self-love sticker is designed to energetically prompt the brain to respond to feelings of grieving, heartache, or low self-esteem with more optimistic feelings of self-compassion and positivity," Madison says of the shimmering golden heart patch. "It's a real conversation starter!"
THE SOCIAL BUTTERFLY: At The Beach (Frequency 639 hz.)
Meant to harmonize relationships, this frequency is said to heal conflict and to connect us to others. "At The Beach is exactly what is sounds like… It's a soothing and cleansing experience that allows you to feel refreshed and therefore more able to show up for others without resentment," Leslie explains. "It's very restorative and balancing. I find that it inspires a deeper connection with the self and others."
THE WORKHORSE: Focus (Frequency 741 hz)
Like drinking the most impressive iced coffee of your life, this is meant to increase productivity with a frequency thought to enhance creativity, communication, and mental acuity. "Focus is truly amazing, it makes me feel like a rock star and like I can get anything done!" gushes Leslie. "Our customers have coined it as the healthy 'energy' equivalent of Adderall. I kept a voice message from a client singing its praises on how she was able to get so much work accomplished that had been piling up for weeks. She was terrified when she thought about what was ahead of her, so I gave her a focus to try. Needless to say she has been hooked ever since."
THE SKIN FIX: Beauty (Frequency 852hz.)
Beloved by adoring fans for its skin-friendly results, this is meant to restore spiritual order and said to bring inner peace, strength, and to reflect light and beauty. Designed to prompt the body to heal itself through energy, particularly the cell rejuvenation process, Madison and Leslie both swear its complexion-enhancing abilities. "I personally struggle with rosacea and I notice a huge difference in my skin when wearing the unicorn sticker," Madison shares. "Needless to say, I wear it daily!" Leslie backs the experience, noting that even to her, its powers are still a bit of a mystery. "Beauty blows my mind. I still don't fully understand how it works…but it stops me from breaking out and keeps my skin looking fresh — it also makes me feel pretty on the inside."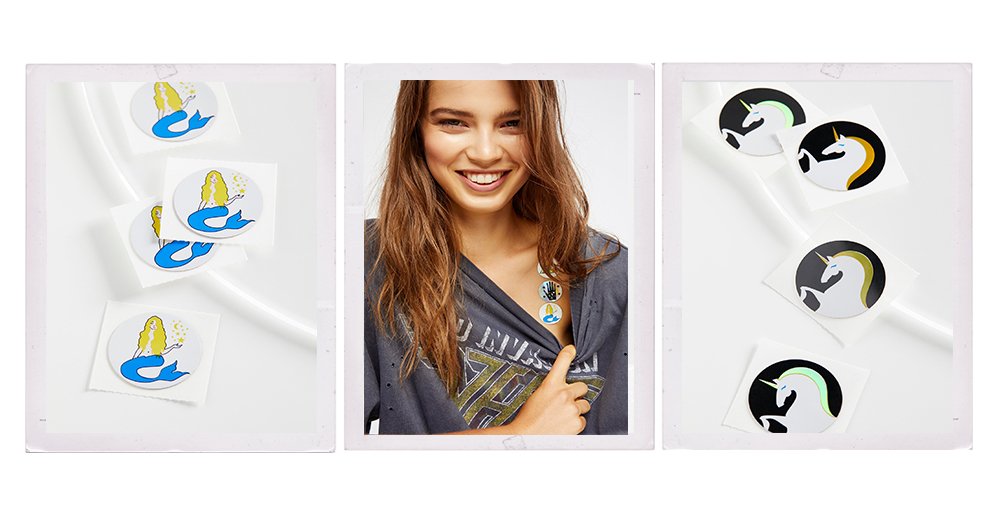 +Ready to get your vibes on? Shop the full collection of Body Vibes here!