Complexion perfection is just a swipe away…
Not that long ago, "nude" makeup meant a handful of tan shades that only matched a few skintones. Many dark (and light) complexions were often left out of the spectrum. Thankfully, the makeup scene has evolved and become more inclusive lately. Case in point: Vapour Organic Beauty's Atmosphere Luminous Foundation, which comes in 12 diverse shades. This stick formula blends in remarkably well, contains antioxidant-rich botanicals (sunflower oil, lotus extract) and actually lets your skin breathe underneath. The foundation is not so much about covering up your face as it enhancing your look naturally so your real skin still shines through.
Want to give it a whirl? Here, we asked New York City makeup artist Julia Jovone for a primer on how to find your perfect shade — from the full spectrum of options.
Why are you such a fan of the Atmosphere foundation?
It's super easy to use and when you put it on your skin, it gives a satin finish, enhancing your natural radiance. I'm so in love with it.
What's the trick for finding your right shade?
I would suggest taking a selfie of yourself without any makeup on and then holding that selfie next to the color swatches online. Choose the two closest colors that match you skin. I always say two because I love to blend colors to get an exact match.
What exactly is an "undertone" and why is knowing this important to makeup selection?
I tend to get that question a lot. I always tell my clients that you can have the same skin as someone else and yet you will always have a different undertone. They are many different undertones; they range from cool (red, pink and bluish) warm (peachy, yellow, golden) and neutral (a mixture of warm and cool undertones). The best way to tell your undertone is to remove makeup and pull your hair back. Look in the mirror under natural light. If your skin has more warm and golden undertones then select a shade that has more yellow or gold in it. If your skin has pink or cool undertones, then select a shade that has more pink in it.
Another trick is to take a really good look at your veins on your wrist. This will also help reveal how warm, cool, or neutral your skin really is and which foundation will work best.
How do you apply a stick foundation like Atmosphere? Where on the face do you swipe? 
I apply it to the t-zone area of the face and on the neck and begin to blend all over.
You know you've wearing the right shade when ________ (fill in the blank).
When your foundation matches your neck and the glow is beyond perfection!
+ Shop all of Vapour Organic Beauty products here!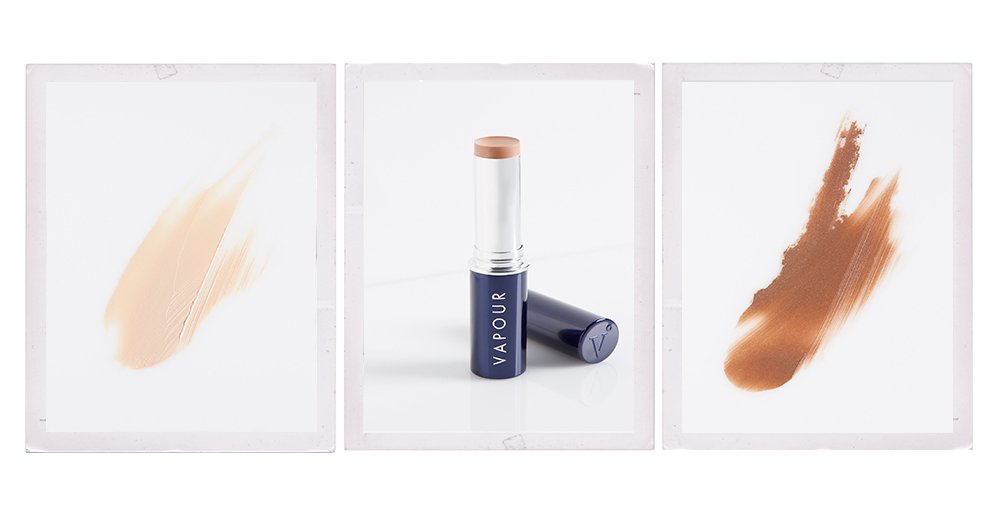 Photo by Jana Kirn.