It is a truth well known — a woman with straight hair must be in want of curly hair, and vice-versa. Tela just might change that way of thinking…
Or at least that is how I have lived my life amongst the curly-headed sirens that seem to surround me wherever I turn, taunting me with their spiraled, bouncing strands.
You see, my hair is straight-ish. If I do things exactly right, I can tease a little wave out of it that barely lasts until lunch and it's only with the combined firepower of a curling iron, styling paste and salt spray. And so it was that I found myself bemoaning my plight over dinner with a friend whose hair was so curly, so gorgeously lush with coils that I could not help myself and reached out to lightly touch the springs. (It wasn't weird, I promise. We're really close.)
She leaned her curl-strewn head back and laughed heartily, regaining her composure only to tell me how easy I had it. How difficult it is to tame and take care of curly hair without drying it out or creating a large ball of frizz or frying it to death with heat tools. "I love my hair," she sighed,
"but it is a blessing as much as a curse. Sometimes I wish I could have your hair. My life would be much easier."
Shocked to hear that her serpentine hair caused her such ire, I begged her to continue. "What else of this hard hair life do you speak of?"
As it turns out, having curly hair is not as fun as I assumed it was, nor was it easy to tame and care for. It required just the right haircut, the willpower to not constantly touch post-wash, quite a bit of finessing, a lifelong search for the right combination of products, and a ton of moisture but not so much that it weighed the curls down.
Which is why — despite having nary a natural curl on my head — I imagine the full line of Tela products is such a revelation for those of winding hair. You see, curl-specific hair care is nothing new; it's been done before and done often. But from what I've heard (and based on the aforementioned lifelong search for the right products), it's never as good as you want it to be. The conditioner is too heavy or the control spray doesn't actually keep frizz at bay. The shampoo strips too much moisture or the masque is incredibly high maintenance. It's a real Goldilocks conundrum, one Tela is here to solve with a full line of curly hair care that's, dare I say, just right.
The major complaint I hear from curly-headed ladies is that their hair is constantly dehydrated so they need to cut back on the shampooing and up the conditioning. But after a few days of conditioning, residue and gunk is bound to build up and weigh down curls (not to mention clog the pores on your scalp and trap dead skin cells up there) which sort of means you have to shampoo. It's a vicious cycle, really. And if they want to shampoo and condition organically? Forget it.
But with Tela's Curly Shampoo and Conditioner, you can wash and hydrate those curls to your heart's content. The combo leaves hair shiny and clean with no residue, and the shampoo isn't drying so, if you want to wash every day, go for it. (But maybe stick to every other day to be safe?)
Thanks to a blend of Solomon's Seal (an herb used in traditional Chinese medicine for its moistening properties), plantain, marshmallow root and reishi mushroom, the duo works to soothe and strengthen curly hair while also revitalizing and restoring shine. And in case that wasn't enough, Tela has gone ahead and replaced water in the formula with oolong, green and white teas for an antioxidant boost.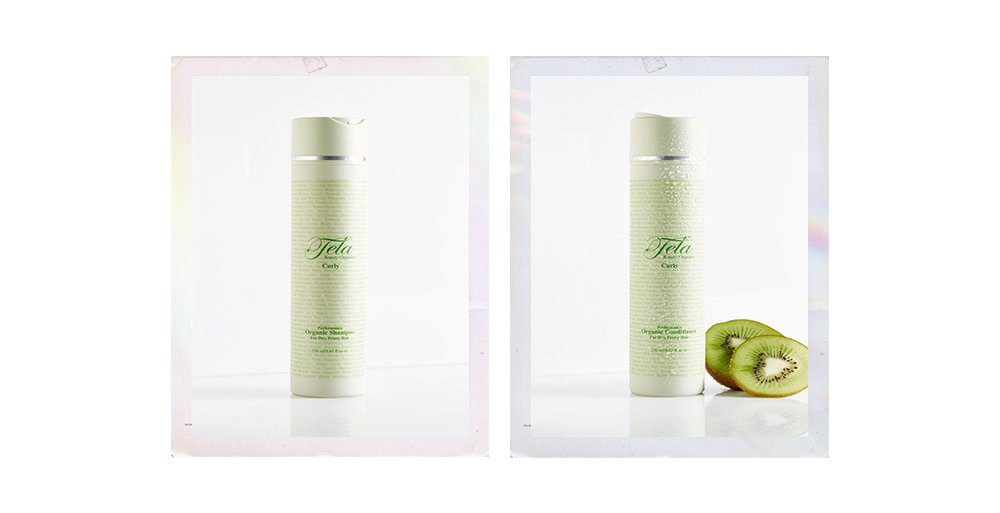 If your curls still need more of a moisturizing kick, or you want to add a layer of protection against heat styling, a conditioning treatment is where it's at. And true to its name, Tela's Healer will do just that. It's multipurpose, too, so you can use it as a heavy-duty masque, a daily detangler, a heat protectant or all of them at once.
With an ingredient deck that reads like the most nutritious salad you've ever eaten, it should come as no surprise that the highly concentrated (so it'll last a while) Healer Conditioning Treatment features antioxidant-rich components that are all meant to strengthen hair while adding texture and shine.
For collagen synthesis and a healthy scalp, there's pomegranate. Then we've got apricot to help the hair shaft maintain moisture and act as a detangler. Burdock root helps tame hard-to-handle-hair while carrot strengthens strands with its large amounts of vitamins A, C and E. Rounding out the hair salad are celery water, which adds weightless moisture to the hair, and tomato, which is packed with strengthening minerals like calcium, iron, potassium and zinc. Basically, everything you're supposed to be feeding your body every day via food can be found in this conditioning treatment. It's a shame you can't find it in digestible capsule form.
Not just a complaint of curly-haired folks, but certainly one they're prone to what with the directionality of their hair and the constant need for moisture, frizz is no joke. Since frizz is a result of a protein/water imbalance, a surefire way to beat it is to add protein to the mix in the form of nutrient-rich oils and ceramides, both of which happen to be in Tela's Frizz Buster spray. Quinoa, boabaob, sunflower and lavender seed oils lock in moisture and nutrients without weighing hair down, keeping frizz at bay even in the least hair-friendly conditions.
And if a few spritzes of Frizz Buster still aren't doing the trick, consider the holy grail of curl products: Curl of My Dreams. Toss the conventional hair gel that you've resigned yourself to using for its taming properties even though it leaves your curls crunchy and hard and sort of wet-looking. This Tela elixir enhances natural texture, reduces frizz and results in effortless-yet-long-lasting, shiny curls thanks to the inclusion of quinoa protein, which restores shine and adds bounce back to previously gel-coated locks.
So now that I know the less universally acknowledged truth about what it takes to maintain a gorgeous head of curly hair, am I still so keen on the idea of swapping my wash-and-go wavy mane for something more high maintenance and also more luxurious and bouncy? Abso-curl-utely.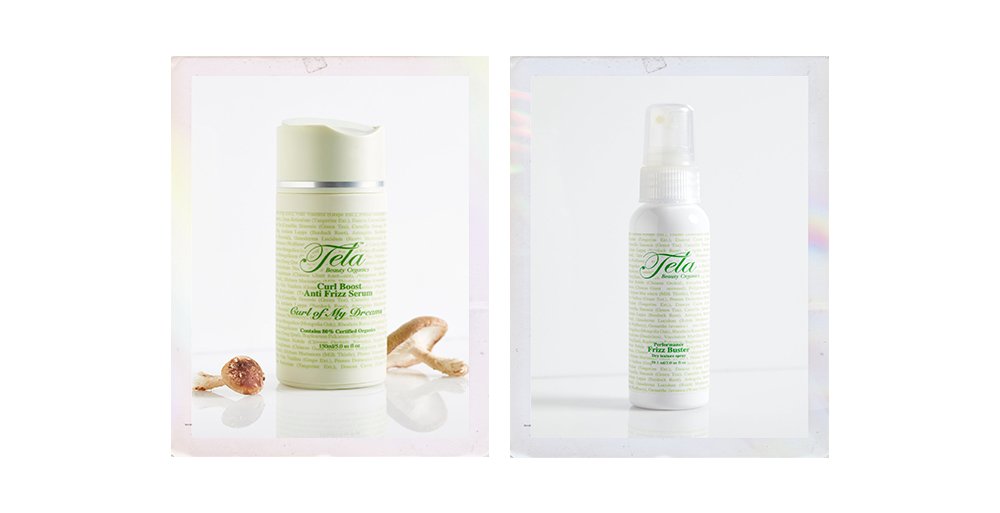 +Loving Tela? Shop the full collection here!