Combat the toxins you face with these next-level bath soaks from Pursoma…
Shannon Vaughn has been way ahead of the curve when it comes to detoxing. The former model and mother has been bathing away toxins since 2014 — and has the radiant skin and relaxed body to prove it. After dealing with major career stress and being diagnosed with an ovarian cyst, Vaughn started to seek out homeopathic treatments, Ayurvedic medicine and alternative therapies to combat daily exposure to radiation and environmental chemicals. The fastest route to feeling better, she soon realized? Healing her largest organ — her skin.
So Vaughn teamed up with biochemists and began formulating bath remedies with potent, natural and organic ingredients that would trigger cellular renewal, detoxification and full-body rejuvenation — and actually make you sweat, like you'd run five miles. When Pursoma — meaning pure ("pur") in French and body ("soma") in Greek — launched, it immediately caught on, and calmed the zeitgeist-y anxiety that comes from being hooked up to our devices and connected 24/7.
So how do these next-level soaks work exactly? Each blend has science-backed formulations to pinpoint specific issues. Digital Detox fights the "tired and wired" feeling from tech overuse; it's loaded with alkalizing French green clay, which is rich in ionic trace minerals, and hand-harvested sea salt to replenish electrolytes and draw out impurities. Hot Tub, meanwhile, relieves aches and pains, improves circulation and helps decongest sinuses with invigorating ginger root powder. And Resurrection ups energy levels with hydrating seaweed and vitamin-packed green algae.
To maximize the benefits, Vaughn created a mini bathing ritual, which we excerpted here, to encourage your body to release all the negative stuff in your body faster. Think of this as your detox workout:
Disconnect.
Put your devices in airplane mode and put them in a drawer or out of sight. As for setting the mood? Vaughn says, "Some people like to light candles, play music, read books, or try to solve their problems during their bath but these can often be distractions. Even 'happy thoughts' can sometimes lead astray (you start off on a tropical beach…10 minutes later you're thinking about cellulite and bills.) We suggest: to truly disconnect during your bath experience, you think about nothing."
Hydrate.
Drink eight to 16 ounces of water before the bath, and another eight to 16 ounces afterward. "Hydration is a critical part of any detoxification treatment," says Vaughn. In fact, "drinking warm water before the bath actually helps lower blood pressure, dilutes blood sodium, and will help prevent dizziness or overheating."
Pour.
Don't hold back. "You've seen your tub. You've seen your body. While using one little scoop per bath may be more economical, you know that's not going to cut it! The entire contents of your Pursoma bath is a dose determined through research to be ideal for achieving detoxification in the average volume range of bath water," explains Vaughn. "So yes, USE THE WHOLE BAG!"
Soak.
Do it for 20 to 30 minutes. Why that exact time? Vaughn worked with a leading detox expert to determine this number. It's "where toxins are released from the body, but not re-absorbed, and essential minerals are allowed to penetrate. Less time and you may not experience the full benefits. More and you may have negative side effects from water loss or re-absorption of the toxins drawn out, being held by the salt and clay."
Sweat + Rest.
Important! "As you exit the bath, don't rinse. You'll want the vitamins and minerals to continue to nourish you and the salt to continue to respirate the skin," says Vaughn. Instead, immediately wrap yourself in a towel and relax under a warm blanket for 15 to 30 minutes as your body continues to detoxify and sweat. "If you're not sweating, try a blanket over the towel, or try switching to a fresh dry towel that doesn't have cooling water."
Then you're done. So how should you feel post-soak? Vaughn says the ritual will help you sleep better and as for the mental break you've taken from your devices? "Well, that's another miracle in itself."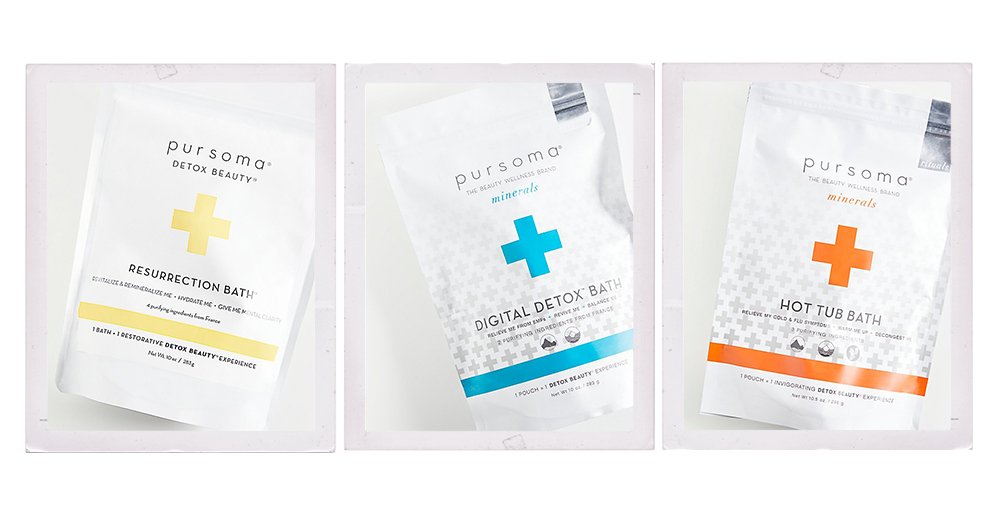 Shop and discover more about Pursoma here!