You've got a trip coming up and it's time to pack… consider some of these tried-and-true go-to's for that overnight bag…
Whether you're out of space in your bag (you just need that fifth pair of shoes) or you just can't be bothered to schlep your whole beauty-and-wellness routine, we've rounded up some of the best on-the-go products to take with you. Happy travels!
Spending a lot of time in nature?
Ah, the great outdoors: Excellent for reconnecting with nature and getting off the grid, not so great when it comes to access to the running water you need to wash your face every night. If you want to go full primal, by all means… but if you'd rather stick to some sort of skincare routine on the trail, cleansing cloths are your best bet.
Juicy Bamboo's Natural Facial Cleansing Cloths are ideal here because they cleanse and wipe away a day's worth of sweat, bug spray and mountain dirt while also depositing essential oils and vitamins to keep skin nourished. (Just remember to take the used cloths and packets with you — not littering!)
Getting on a plane, train or bus?
When you're packed into a small space with a bunch of strangers for a prolonged period of times, germs are pretty much inevitable. So if you're flying, busing or training your way anywhere, make sure you load up on vitamins and minerals to keep your immune system in tip-top shape.
Luckily, the 8 Greens tablets make it incredibly easy to treat your body right on the go. Crammed with a nourishing blend of spirulina, kale, spinach, chlorella, wheatgrass, barley grass, aloe vera and blue green algae, they pack a nourishing punch of antioxidants, vitamins and minerals — and all you have to do is drop one a day into your water bottle.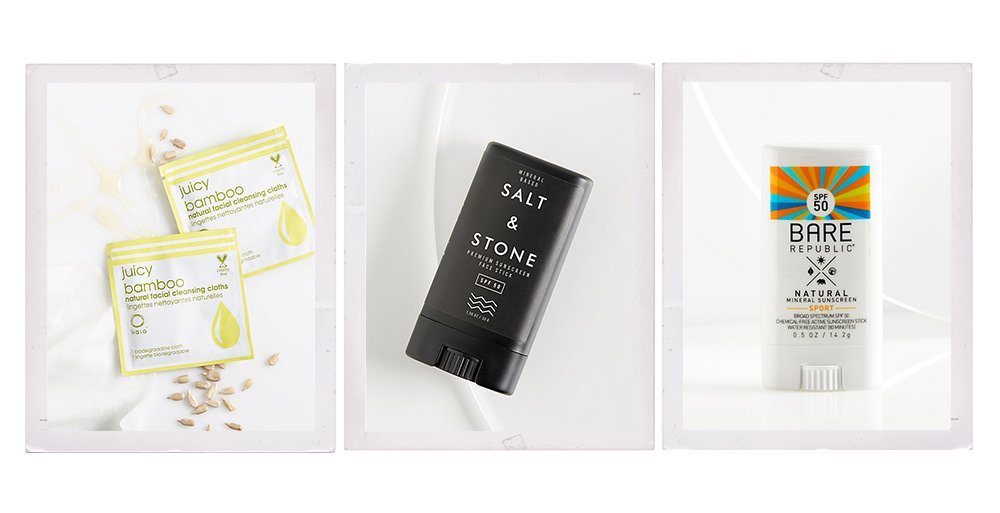 Relaxing on a beach?
First and foremost, make sure sunscreen has a place in your bag. You don't want to fry on the first day of your trip and be miserable and burnt and peeling for the rest of the vacation. For travel purposes, opt for the ease of an SPF stick like Salt And Stone's Face SPF 50 or Bare Republic's Mineral SPF 50 Sport Sunscreen Stick. They're easy to toss in a bag, take up almost no space and are a breeze to apply.
When you're done on the sand, you'll want to be sure you totally remove the sunscreen from your skin, which is where an oil cleanser (like the one the one in this Face the Day skincare kit from Kopari) comes in handy. The toner will also help to reduce any accidental redness and the face cream makes sure your sun-kissed skin stays well-hydrated.
Sightseeing in a big city?
Cities are great for the culture they offer, the never-ending list of possible things to do and see, and of course, the food. And while that last one is no doubt delicious, vacation eating can sometimes send your digestive system into a tailspin. So if you know you're on your way to a food mecca, make sure to toss a few packets of The Super Elixir Alkalizing Greens Sachets in your bag. The blend of omegas, fiber, vitamins and minerals will help restore your body's pH balance and promote digestion, even if you're eating eight meals a day (no judgement –vacation food is the best food).