Designed to give you a glow on the go….
"No girl wants clunky vitamins or busted powder packs gunking up their vintage Chanel bag." This was the inspiration for models Chrissy Blair and Jayla Harnwell to launch Kalumi Beauty Food, a new line of protein bars with super tasty flavors, cool packaging and good-for-you ingredients that will keep you going on non-stop days.
Before dreaming up the brand, co-founders Blair and Harnwell dealt with their fair share of "inner and outer" ailments. They were tired of covering up beauty problems with makeup and hair extensions, and grabbing whatever sugar-y, low-nutrient snacks they could find in airports and random stores while rushing in between casting calls.
So the duo cooked up an alternative in their tiny New York City apartment: nutrient-rich bars packed with marine collagen peptides to build healthy hair, skin and nails — plus beauty superfoods like vitamin-rich sweet potatoes and coconut. In place of fake sugars, they rely on organic, fair-trade yacon syrup sourced from Peru. The result: a protein bar that actually tastes good (read: no weird aftertaste!) and balances your body so you can stay energized for hours, the natural way.
The three flavor options includes Sweetie Pie, with coconut, vanilla and cinnamon; Lemon Love with rosemary, zesty lemon and sea salt; and Cocoa Kiss with cocoa butter, cacao nibs and sweet potato. Everything is GMO-, gluten-, dairy- and soy-free. Consider these your much, much healthier version of a brownie — and one that you can eat every day for optimal beauty.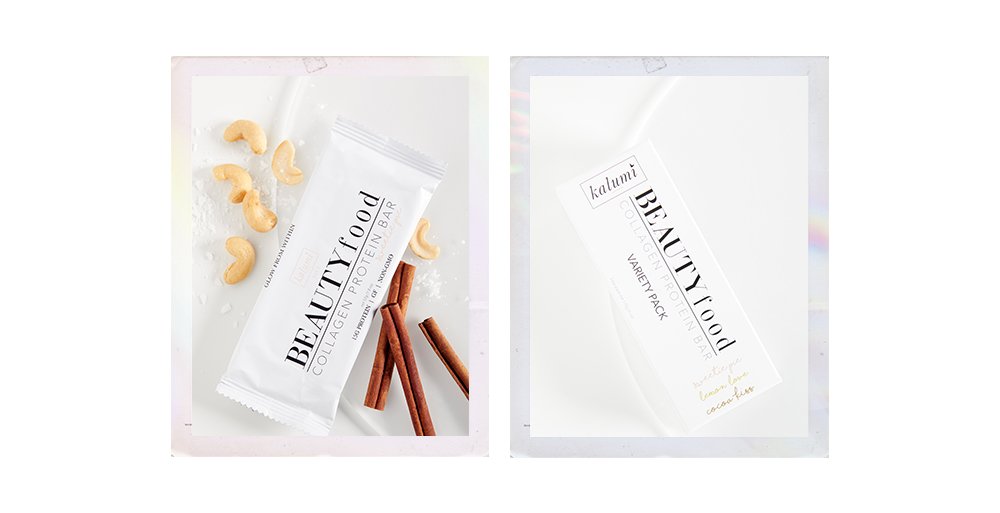 + Click here to shop all of Kalumi Beauty Food!