This light-catching snowflake obsidian tower is your ticket to supercharged hydration…
"Recognizing beauty is an essential part of the healing process; if you can find the beauty in something imperfect, it allows you to see from a whole new perspective," says Sharon Leslie of the light-grabbing, naturally flawed-yet-mesmerizing stones that stand like castles inside of Glacce's newest vessel, the Snowflake Obsidian Bottle.
Leslie created the brand's Crystal Elixir Water Bottles with Julia Schoen (her friend since kindergarten), just a couple of years ago when the idea came to her in a dream. "When you add a crystal to water, you are creating a Crystal Elixir — the best way to absorb perfect crystal energy," Leslie explains of the alternative concept behind the now-sought-after design, which fast became a wellness insider obsession.
The newest iteration of the power duo's offerings, which range from loving rose quartz towers to creativity-boosting amethysts, is meant to transform negativity into positivity. "This particular stone is all about recognizing old patterns that no longer serve us so that we can begin to make positive changes," Schoen explains of its black and white "snowflake" flecked crystal. "We carry with us emotions from every stage of our life and development. Sometimes this baggage can get in the way, so having a tool that helps shine a light on these feelings seemed like a really wonderful and exciting thing for us to provide." It's sure to be a welcome concept as an already intense year gives way to emotion-sparking holidays and a need for stylish-yet-rich-with-meaning gifts. Even a non-believer could appreciate the inherent appeal of gazing at an ethereally suspended jewel on their desk — especially when setting a new tone for the day might be as simple as taking a refreshing sip of hyper-purified H2O.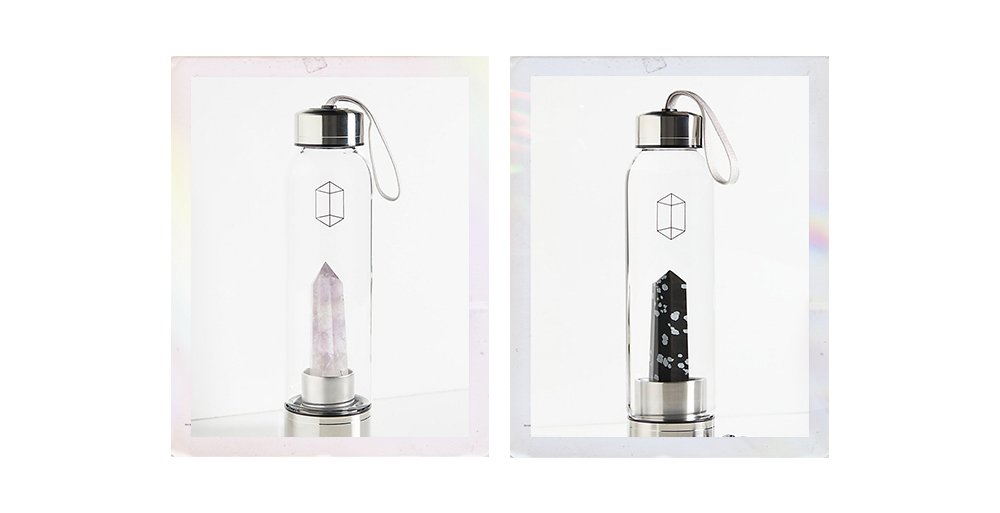 +Promote positivity and purification in your daily routine with Glacce bottles… Shop here!