Switch up your wellness routine by enjoying a cup (or three) of this Blooming Tea from Lovewild Design…
I am a self-professed tea enthusiast. To me, there is nothing as soothing as a cup of black tea on a slow Sunday morning or a big mug of chamomile at the end of the night. When I first heard of a "blooming tea" that emulates a flower in bloom as it steeps, I knew I had to examine the phenomenon that is this beverage further.
Enter Lovewild Design – a Brooklyn-based, sustainable, female-run family business that sells their own beautifully packaged Blooming Tea. I took a minute to speak to Lovewild Design's founder, Sierra, who filled me in on the concept behind this miraculous brew and the business she started herself.
"When we founded Lovewild, we wanted everything to be handmade in the US – and it is, with the exception of blooming tea buds! We made an exception for these teas because it's not as though they're an American product that is outsourced to China. Rather, it comes from the Chinese tradition of shaping tea that is believed to have been started in the 10th century."  
"At the time, we could only find overpriced buds in plastic packaging, so we took it upon ourselves to make a sustainable version that's as good as a gift as it is on your kitchen counter! We worked with tea experts to perfect our product and it quickly become one of our most popular gifts."
An ideal gift for a loved one or special treat for yourself, each comes in a glass jar containing hand-sewn buds of Peach Green Tea, Jasmine Green Tea and Chrysanthemum Green Tea.  Sipping green tea provides many benefits – offering high levels of antioxidants, providing a gentle energy boost and improving brain function are a few of the many.  Each blooming tea bundle is handmade by skilled Chinese artisans and comes carefully sewn as a bud that blossoms into a flower once steeped. The infusion process is unique with each bundle and the floral display is truly stunning to watch. Take the time to meditate or take a few deep breaths before you enjoy your beverage.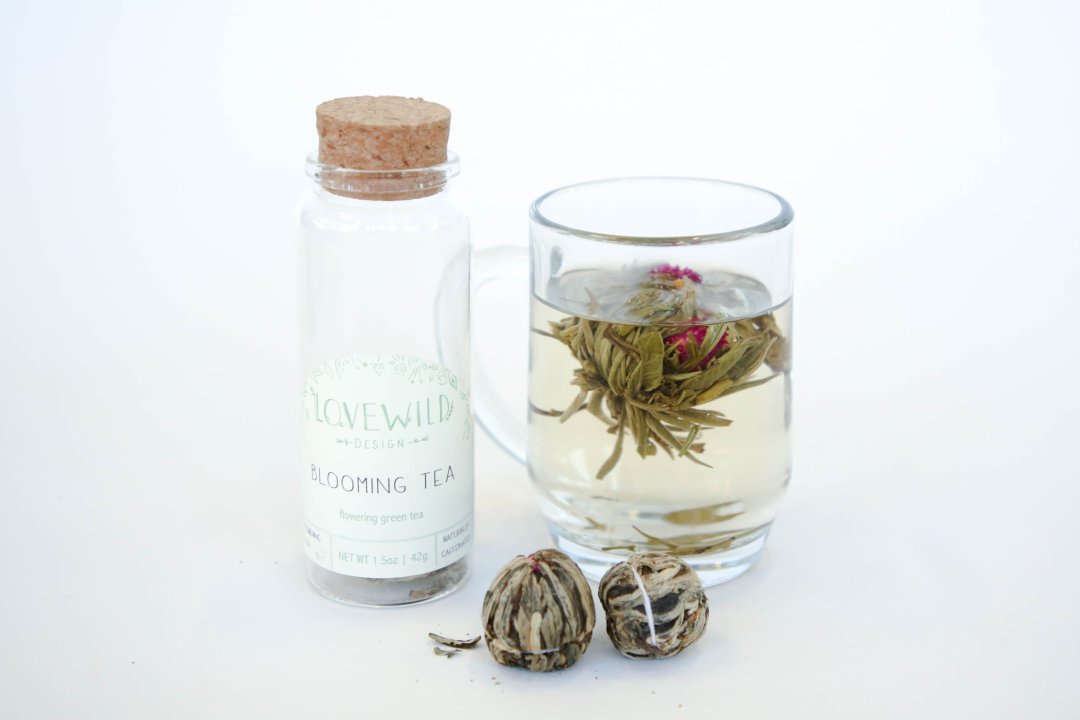 + Shop Lovewild Design's Blooming Tea here!
Follow Taylor on Instagram.