This fairytale spin on the sock-meets-shoe trend is Fall's coolest styling choice…
Fashion's universal, non-ironic acceptance of fairytale-darling socks as the day-to-night accessory worth investing in has become the unexpected trend I cannot get enough of — and its success is already skipping the streets on models' feet. The fall runways were dotted with clever combinations of gauzy stockings and sandals, offering up an adorable alternative to past season's peep-toe-booties in the form of a delicate, light-hearted little sister.
Forever a fan of the look's off-duty-schoolgirl styling, I acquired a few shades of Larika Matoshi's Stars in Her Eyes anklet stockings — their sheer mesh and glittering embellishments luring me like a moth to the flame — and soon realized that I was going to be hard-pressed to find an ensemble that they didn't charmingly upgrade. Every adaptation had potential — the shimmering black version peeking out of a combat boot, the pink sparkling against a ladylike heel, silver bringing new life to a pair of Old Skool Vans, and gold adding another dose of hilarious luxury to the fuzziest of slippers.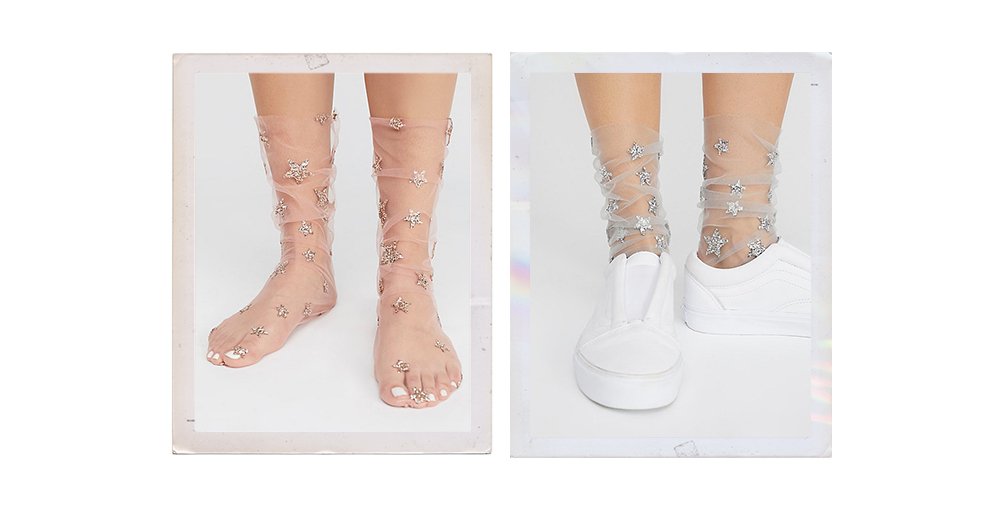 Even worn alone, pitter-pattering around the house with the posture of a reigning queen, I realized that the dreamy styles' greatest asset may be a natural ability to camouflage the subtle flaws of so-so DIY pedicure (an increasingly common occurrence as temps drop) with their flirtatious, I'm-still-making-an-effort-even-in-pajamas good time. And with Spring 18 runways showcasing its own round of sweet socks-love-shoes variations, next season is already primed for another hot streak of perfectly-dressed, twinkling toes worth the hype.