Consider Harper & Ari your sampler for perfectly soft skin (get it before it's gone!)
If you're the type that likes to sample and test out your products before you commit to anything, then beauty kits are the way to go this season. Think of them as expertly curated mix tapes, filled with selections that you've been curious to try or might not stumble on otherwise. And if de-cluttering your bathroom is a NYE #goal of yours, these streamlined packs offer you a chance to figure out exactly what's best for your skin, hair or body without having to buy a ton of individual bottles and jars to find the answers.
This holiday is peak kit time, with plenty of options dancing before your eyes. A standout to put on your list: the Harper + Ari Exfoliation Discovery Kit — which not only looks insanely pretty but is also everything your winter skin needs right now.
A quick recap on Harper + Ari: the brand launched last summer with Instagram-worthy jars of handmade sugar "cubes" that come in six beautifully aromatic versions: coconut, peach, lemon, tangerine, apricot, and blue raspberry. Each little square is paraben- and sulfate-free and packed with moisturizing shea butter and aloe vera sourced from Aruba. To use, break apart the cube and mix with a bit of water in the shower, then gently rub the crystals over your body to buff away dead skin and flaky patches.
If you're staring a shelf with these botanical confections lined up, it's really hard to choose just one — which is why the Discovery Kit makes so much sense. Now you can sniff, scrub and sample one of each variety, all packaged like bonbons in an adorable tray. Whether you gift this to yourself or to a sister, friend, co-worker, the kit will quickly be put to good use — with soft skin being everyone's new commitment for 2018.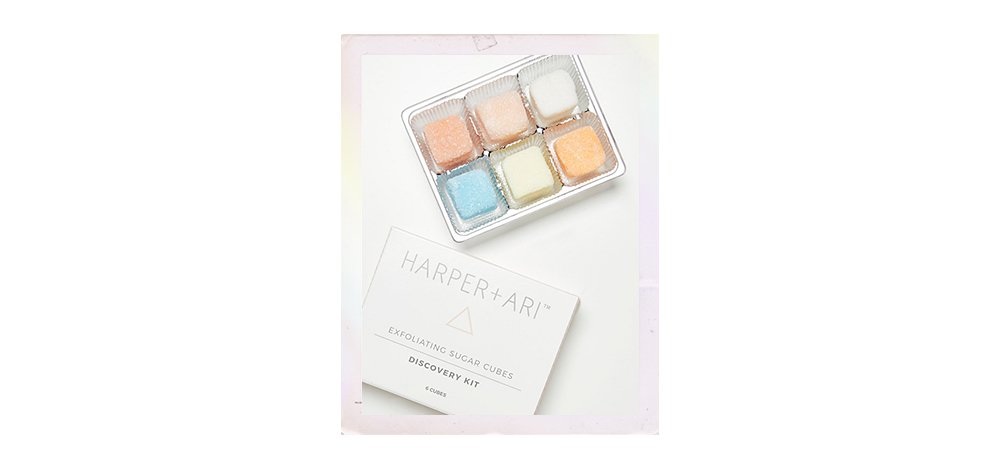 + Shop all Harper + Ari products here!