Just in time for the holiday party rotation…
This post comes to you from contributor, Katheryn Erickson.
If you ask me, there aren't enough opportunities built into the year to go all out with your makeup. This very fact is one of the main reasons why holiday party season is so amazingly great (well, that, and eggnog — but that's a discussion for another time). Once December rolls around, the decision to dig out a sparkly eyeliner, pair it with a shiny red lip, and devote an hour to getting ready doesn't seem like such a bad idea. In fact, the result is pretty awesome. The good news: the more is more approach works all the way through New Year's Eve.
When it comes to getting glam, though, the end result is always so much better when you start out with a plan — and a little inspiration. My personal favorite for the latter is and will always be the glam ladies of the '70s: Cher, Bianca, Donna, Diane, Jerry. Sure, my best friend's White Elephant party is a far cry from Studio 54, but I'm not going to let that hold me back.
With disco-themed beauty on my mind, I asked natural makeup artist Jessa Blades and celebrity hair stylist Matt Fugate for a little advice on how to do the glam vibe without going too costume party. Read up, and — most importantly — have fun with it!
Step 1: Bring Out Your Cheekbones
When it comes to contouring, things have gotten admittedly crazy in the past few years. But that doesn't mean the art should be forever ruined — contouring doesn't need to be as difficult as it is on Youtube. Apply your favorite base (foundation or tinted moisturizer), and then start by using a cream bronzer, like Vapour Organic Beauty Solar Translucent Bronzer, as you would blush. "If you use a bronzer as a brown blush it gives a really beautiful sexy natural cheek," Blades says. "Place it on the apples of your cheeks and then blend it back like a triangle — the point being on your cheek and the base being back towards your ear." Next, add some glow. "Highlighting relieves a bit of the pressure of getting a perfect contour — and gives a pretty disco ball effect on cheekbones." Take a creamy highlighter (like RMS Beauty Magic Luminizer, a more golden version of the cult Living Luminizer), and "use your ring finger to tap it on above the bronzer." Swipe any excess left on your finger on your brow bones, cupid's bow, the inner corners of your eyes, and down the bridge of your nose, blending well. "The number one mistake I see on the street is that no one blends their highlighter! Check it by changing your lighting and moving your head while you look in the mirror." Skip blush altogether to keep it modern. "At a certain point there's too much happening on the face."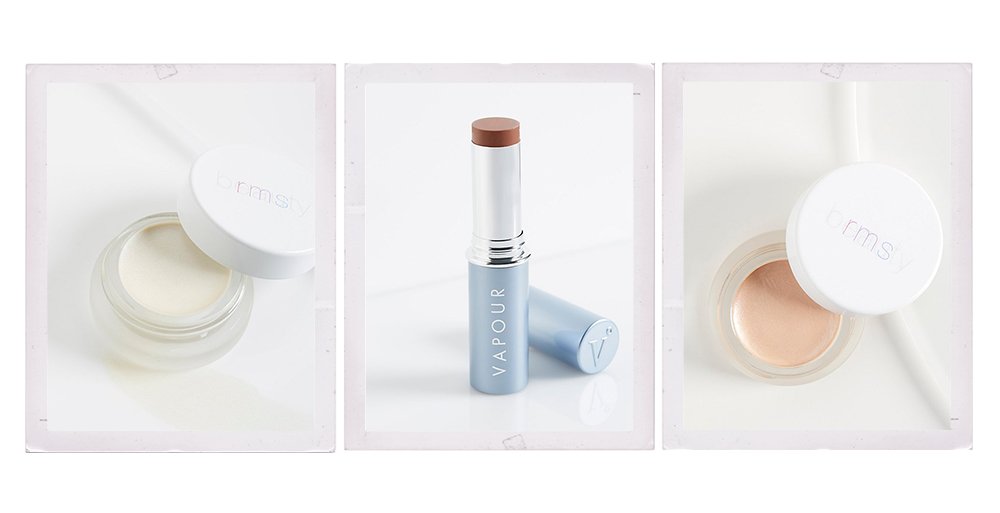 Step 2: Add Some Color to Your Lids
It's impossible to channel Cher without shimmery eye shadow. The smoky shade that flatters all skin tones: RMS Beauty Swift Shadow in Enchanting Moonlight Em-61, a plummy taupe. "Take a flat eye shadow brush, and dip it in the tiniest bit of water, so it's wet but not dripping," Blades says. "Dip that into the powder and apply it right on your lids, stopping before you get to your crease — otherwise you'll look like a lion. Add a small amount of the same color along the lower lash line." (Take a dry, clean brush or your finger to soften any hard lines remaining at the crease.) Finish with a little extra highlighter on the inner corners of your eyes.
Craving a smidge more drama? Add a tap of lilac shadow (Enchanting Moonlight EM-68) at the center of lids.
Step 3: Bring On The Lashes
This is a moment for major fringe, but how much mascara is too much mascara? Curl your lashes, then "keep it to two or three coats," Blades says. "And make sure your mascara isn't old, which can go clumpy and make lashes fall flat." A pro tip: "Don't be afraid to clean any excess off the wand with a tissue," she says. "Women are terrified of wasting product, but it will make your lashes look a lot better." One rule to remember when it comes to choosing a mascara: The bigger the brush, the bigger the result, and this look calls for the perfectly-named Eyeko Fat Brush Mascara.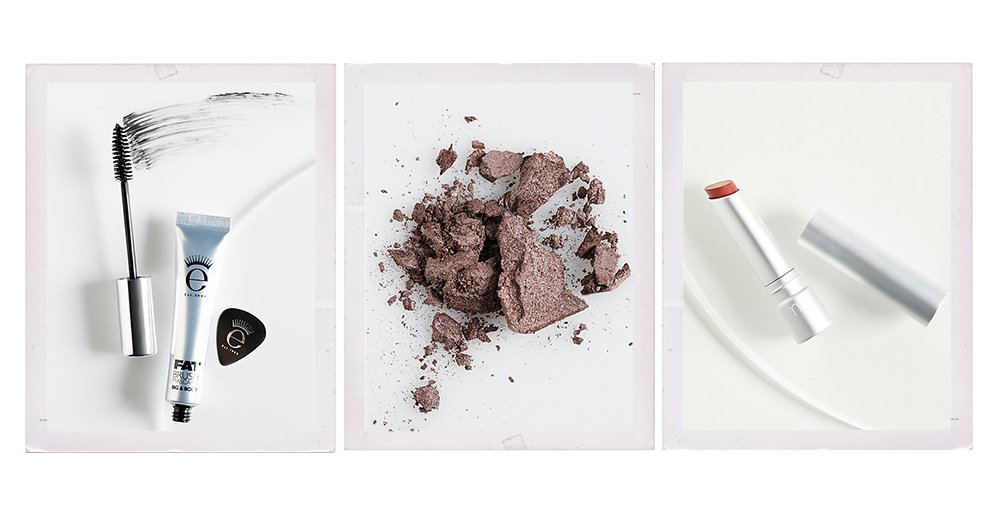 Step 4: Make Your Lipstick Last
Bold color looks and wears best on moisturized, smooth lips. Massage a small amount of the sugar-based Henne Organics Rose Lip Exfoliator with your ring finger, then wipe clean with a tissue to create the perfect base. Next, try Blades tip for making lipstick last until the last dance. Take RMS Beauty Wild with Desire Lipstick in Rapture (a bricky, very Bianca-Worthy shade), and apply it like a stain. "It can be time consuming to constantly be touching up a really intentional lip," Blades says. "I'll take lipstick, fill in my whole lips, press them together, blot them with a tissue, then add lipstick again. This way, you're sort of staining the lip so it stays on."
Step 5: Add curls. Lots and lots of curls.
If there was ever a time to abandon your usual air-dried vibe, this is it. ""For big glam viva romantic curls, you want to rock the hot rollers," Fugate says. Apply Yarok Feed Your Roots Mousse to damp hair to add grip, then rough-dry your hair. "It doesn't need to be blown out smooth — you don't want to pull the life out of your hair," Fugate says. Brush to remove any knots, then "set your hair around small hot rollers, and wait for them to totally cool." After that, flip your hair over and shake it out (I suggest listening to Diana Ross's "Upside Down" during this step). "Lightly brush your hair out in sections, teasing it a bit at the roots," he says. "You want to create this smooth cotton candy effect." Finish with a small amount of hair spray (too much will weigh hair down). Finally: receive compliments.