"Free People is so unlike any other brand out there. We are forever evolving and creating new and inspiring design work and I feel so unbelievably lucky to be a part of that…"
Your position at Free People…
Assistant Graphic Designer.
Describe your personal style…
My personal style is forever evolving with the most current trends. I'm always looking at the new and now, what's hot this month, and how I can put my own flair into that. Since I started working at Free People, my personal style has also been greatly influenced by the styles of others in the office. I'll pass by someone wearing the most INCREDIBLE wide leg pants and I'm immediately on my computer hunting for a pair! My wardrobe is filled with very light and flowy pieces, and almost everything in my closet is white (it's becoming a problem). I have also recently become a jumpsuit hoarder. Not only do I think they're super fun and flattering, but what's easier than a jumpsuit?! Just slip one on and BAM – there's your whole outfit!
Who is your style icon?
Right now, it's Julie Sariñana, more commonly known on Instagram as Sincerely Jules. I absolutely adore her style and want to steal all her looks. Also, Kendall Jenner. Killing it in the fashion world these days. 
What do you love about your job?
Is "everything" an acceptable answer? If I had to pick one thing, I would say our freedom to create. Free People is so unlike any other brand out there. We are forever evolving and creating new and inspiring design work, and I feel so unbelievably lucky to be a part of that. Each month we create a web trend board where we bring together our inspiration from new trends, new layout styles, new artwork, etc. It's so amazing to see what our team can bring together to create design-wise, and how this entire company works together collaboratively to conceive something spectacular. In the end the work we produce is pure magic, and I'm so proud to be a part of that process.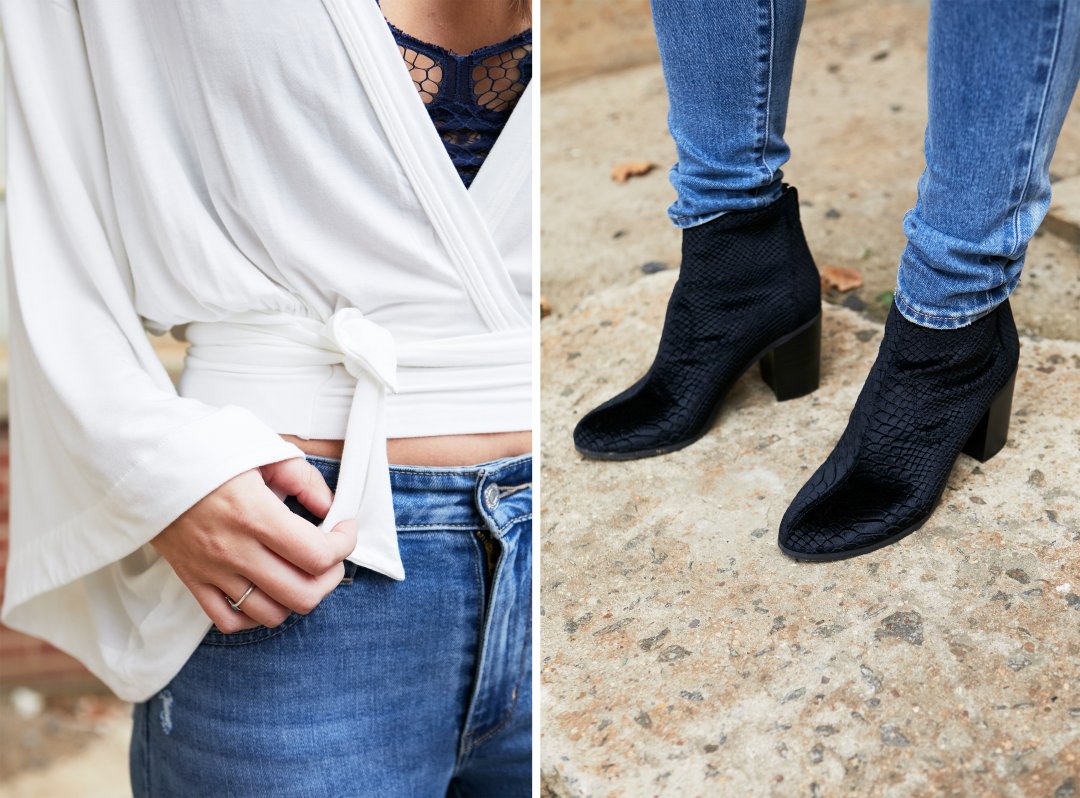 What are your beauty + wellness necessities?
I must admit I am not the most disciplined when it comes to beauty regimens. Most mornings I wake up with mascara marks stained on my pillow…oops. BUT, one beauty product I have been obsessed with is the Pai Rosehip Oil. I put it on my face every night before bed and wake up with my skin feeling bright and glowing. I swear by this stuff! 
What do you do outside of Free People?
I'm somewhat of a graphic design nerd. Even though I'm designing practically all day every day, I still love to come up with my own personal projects and create things just for fun! But when I'm not designing, I love to go hiking and exploring the outdoors. My favorite place I've ever hiked was Acadia National Park, and I'm hoping to get out to Yosemite next year. But since it's a little too chilly out for hiking right now, you can find me snuggled up in bed binging the latest Netflix craze. 
What's in your freepeople.com shopping cart?
Extreme Cropped Military Jacket
One thing in your closet that you could not live without is…
My favorite pair of distressed high waisted jean shorts. Although its not really bikini weather right now, as soon as it hits above 70 degrees you can find me in those babies almost every day! They pair with almost every top I have in my closest and are my #1 warm weather staple. 
Your spirit animal is… 
Jennifer Lawrence. Hands down. Not only is she one of the most talented and absolutely hilarious people in her industry, but what I love most is her ability to live her life completely care free. She doesn't care about maintaining the stereotypical Hollywood image, and instead embraces her inner weirdo and does and says whatever she wants, and I relate to that on a spiritual level. I try not to care what others think or take myself too seriously. I just let my freak flag fly. 
The soundtrack to your life…
Brown Eyed Girl by Van Morrison. It's been one of my favorite songs since I was a little girl. Every time that song comes on it brings the biggest smile to my face and I can't help but jam along.
Follow Callie on Instagram and shop her look today!
+ Loving Office Style? Meet more of the Home Office employees here!
Follow Taylor on Instagram.