Presenting: the best beauty and wellness gifts to get yourself this holiday season…
This post comes to you from contributor, Katheryn Erickson.
As the year comes to a close, I think we can all agree on one thing: 2017 was a little rough around the edges. The silver lining? The fact that self-care has basically entered the mainstream. It appears the chaos has led to an overwhelming urge to simply take better care of ourselves — whether it's splurging on a pottery class you've always wanted to take, the rise of bath culture, or going on a well-deserved solo vacation. Still, even if you have made the effort to stay mindful throughout the past year, perspective can easily go out the window with hours-long airport security lines and end of the year deadlines/burnout. Which is exactly why we shouldn't neglect ourselves during the holiday season. With this idea in mind, we rounded up the best beauty and wellness ideas to gift yourself — from ritualistic facial steams that'll give you glowing, dewy skin to calming, hemp-infused chocolates. Go ahead and splurge — 'tis the season, after all.
The Best Gift to Buy Yourself If…
…You cancel out stress with sugar
The holidays are for binging on chocolate, right? Right. Well, the Hemp Chocolates from NYC-based meal service Sakara Life are a pretty excellent choice. The organic, dairy-free hunks of goodness are made with cacao, coconut sugar and organic hemp oil, and have that crumbly, gratifying taste of only the darkest chocolate. Have one or two, and they'll chill you out just enough to keep you Zen through numerous flight delays. Looking for a less calming and more invigorating treat? Four Sigmatic's Coffee with Cordyceps helps maintain energy levels, giving you a nice boost if you're planning to hit the slopes on your vacation.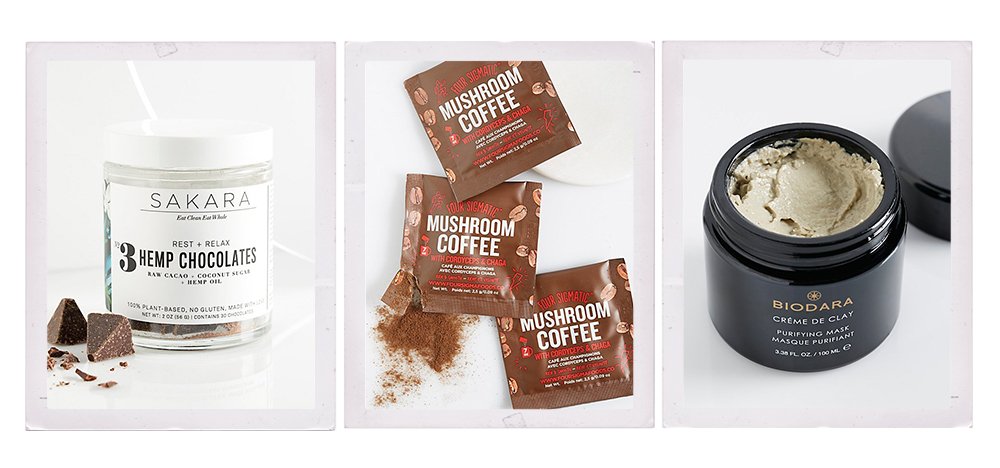 …You're feeling under the weather
Turmeric has been having a moment (it's what's in those golden milk lattes you're seeing everywhere), and for good reason: the Ayurvedic favorite contains a compound called curcumin that may help with everything from immune and brain function to treating the inflammation that only gets worse with worry. We like Tonik Turmeric Tonik, which provides 750 mg of the stuff every day. Bonus points: You'll want to display sleek, minimalist packaging in your bathroom.
… You're craving a tropical getaway
Maybe you don't have any sunny escapes planned this winter. No matter. BajaZen's creamy Cocoglow Buff Scrub will leave your shower smelling like a piña colada in the very best way. It'll also make your limbs silky smooth courtesy of its nourishing blend of Shea butter, coconut, sweet almond, and rice bran oils and sugar for scrubbing away flaky skin.
…You want to set your intention for the New Year
The idea of lighting something to 'clear the air' or set your intentions is not a new concept. But soaking to get there certainly is, and is decidedly more satisfying. Spitfire Girl Potion Collection Bath Salts come in four different essential-oil infused blends designed to offer different outcomes — Fortune, a pretty, fresh scent of lime blossom, vanilla, and green tea; Seduction, a spicy, woody blend; Protection, which has florals and woods; and Love, which has vetiver, musk, iris and bergamot. Buy a jar for yourself — and maybe for all of your friends too. Farewell, '17!
…Your skin needs a little TLC
Stress and cookie platters are a sure-fire way to end up with breakouts, and extra time at home is the perfect opportunity to turn your bathroom into a mini spa. Apoterra's Herbal Detoxifying Steam has ingredients like peppermint to boost circulation and calendula, cornflower, and tulsi to soothe skin. Steep the herbs in a large bowl with boiling water—kind of like tea—then place your face over the steam to open pores and encourage detoxification. Next, apply Biodara Crème de Clay Purifying Mask, which purifies angry skin with bentonite clay and roasted bamboo salts. The creamy gel texture feels cooling on first touch, and then slowly tightens to draw the bad stuff out. Rinse it away and you're left with the softest baby face you've ever had.
…You need to unplug
To many, the best thing about the holiday season is spending time with friends and family. But the fact that your email is no longer blowing up may be a close second. Pursoma's Digital Detox Bath was created as an antidote to all the screen time we have to deal with in our daily lives. Run a hot bath, switch your phone off, pour the mixture in your tub (it has alkalizing French Green Clay and French Grey Sea salt to remove toxins), soak uninterrupted for a good half hour, and then wrap up in a fluffy robe to sweat for another fifteen (or so) minutes. Don't be surprised if you end up sleeping through the night — or if you don't check Instagram for the rest of the day.
…You deserve the ultimate splurge
Sometimes you just need to go all out, and the Holiday Beauty Basket is perfect way to do it. This kit, which was curated by The Setting, includes a selection of Pai's cultish skincare (and a beautiful crystal tray to keep it on) and a ticket for the upcoming 6-night FP Escape to Thailand in January (!!). What you'll do there: sail and sleep on a catamaran on the Andaman sea, snorkel, eat the most delicious food prepared by chef Katja Tausig, and work out with personal trainer Dara Hart from The Dogpound. New year, new you indeed.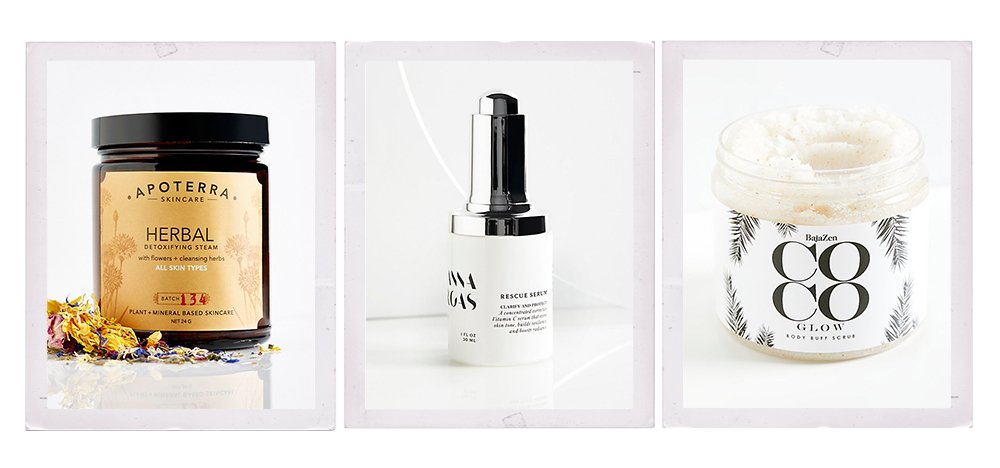 Lead image of Sabina wearing the Gwendal sweater
.