Everyday Oil works as a makeup remover, scalp mask, hair styler and more — all in one.
When Emma Allen set out to make a natural botanical oil for herself, she honed in on one very specific aspect: she wanted it to have the perfect texture, one that "absorbed really well, without sitting on top of the skin." That seemingly subtle detail is actually the reason why some oils make your skin glow — and others clog your pores.
Beyond that? She also wanted a formula that was "super hydrating but also cleansing, and that smelled really, really amazing."
With Everyday Oil, Allen achieved all this, and more. The multi-tasking mix of cold-pressed coconut, olive, argan, jojoba and castor oils sinks right in, and moisturizes without being greasy. In fact, the elixir is so transformative that Allen decided to bottle it for others. "It became something that replaced everything else in my skincare routine, and worked better than anything I had ever used," she reveals on her website.
Sure enough, Allen found that she didn't really need any other products in her daily regimen. "My skin felt so good, and even on days when I used nothing at all my skin stayed balanced," she explains. "I was in love with the idea of being able to use one product for everything."
And who wouldn't love that kind of convenience? Turns out, there's little you can't do with this multi-purpose wonder. Here, we share a few of Allen's best ideas from her site for how to use the miracle oil (which by the way, does smell really, really amazing).
As a Face Wash:
Lathering up with soap can often strip your skin of the healthy, essential oils it needs to stay hydrated. Oil, on the other hand, removes dirt and grime while balancing your complexion — and as an added bonus, Everyday's blend has antimicrobial benefits.
Allen's preferred method is to rinse your face with warm water, pat it dry and then apply Everyday Oil (it "will cleanse your skin but doesn't have to removed," she notes).
For a more thorough cleanse every few days (or daily if you wear makeup), Allen says to rinse with warm water, massage one to two pumps into damp skin, rinse, pat dry, and finish with a little more of the oil as a moisturizer.
As a Mild Exfoliant:
Follow the technique above, but use a clean washcloth to massage in the oil — you'll gently lift dead skin cells while the oil will prevent any dryness or irritation. Rinse, pat your skin dry, and then apply a dab of the oil as your moisturizer.
As a Hair Styler:
After using the oil on your face or body, rub whatever is left on your fingers into the tips of your hair to soften and tame split ends. For wavier hair, you can rub a bit more between your palms and use your hands to shape to your curls.
As a Scalp Mask:
Allen notes that her oil has "immense anti-microbial and anti-fungal benefits," which can help control dandruff.  For a DIY hair mask, rub the oil onto your scalp before shampooing. For an extra conditioning fix, mix two pumps with your conditioner, apply to the ends of wet hair and leave in.
As a Makeup Primer:
Sweep on the oil as the first layer under foundation or tinted moisture. "It provides a good base for those things," says Allen. Just let it absorb for a few minutes before applying other products. Allen also has friends who mix their tinted moisturizer with a pump of Everyday Oil, she reveals.
As a Makeup Remover:
Most traditional make-up removers are primarily mineral oil, says Allen, which is an oil derived from petroleum. To remove makeup with EO's mineral-free formula, splash your skin with warm water, apply two pumps and massage it on your face and around your eyes "just as you would a face wash," says Allen. Rinse and wipe away any excess with a towel. "If you still have any eye makeup simply use a little more oil and rub it away."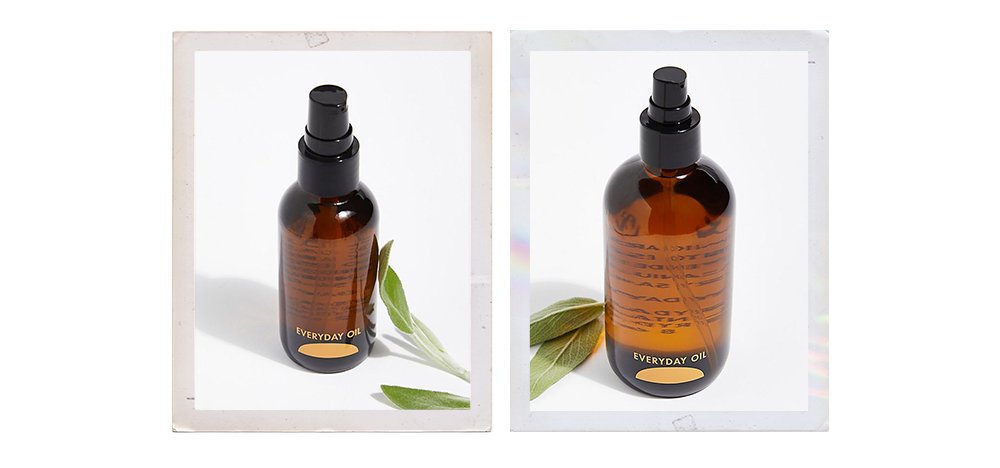 + How else do you use your Everyday Oil? Share with us below!