Seemingly effortless and healthy products, perfect for the low-maintenance girl on the go…
Shelby Wild and Olivia Austin are a wonderfully rare and much sought after breed of woman — from just a few email exchanges, it's immediately apparent that these collaborators work HARD. And LOVE every second of it. Here, sharing stories from their Venice Beach studio, Shelby and Olivia take us on a journey — from Playa's beginning as a means to streamline your routine, to today, where you'll find out just how necessary Playa actually IS to your hair care routine.
How did the name "Playa" — and the company — come to be?
Shelby: I wanted the name to be reflective of the laid-back California lifestyle without being too overtly beachy, so eventually we landed on the name Playa.
The company started as a means to pare down my personal beauty collection, as I had so many overlapping products that didn't truly support one another. I wanted to create a line of essential products that could potentially serve as the backbone of your daily routine.
The idea is to allow for more time to live your life, with less time being spent in front of the mirror.
Shelby, how did you transition from fashion stylist to Playa creator?
S: It happened pretty organically. My father is a scientist and, as a child, we were always formulating things at home and making little beauty concoctions. When I was living in New York and working in fashion I was putting in 11-hour days and barely had time to exercise or shower. I found during this period I was always trying to perfect my beauty routine so that I could look my best while also getting ready in about 5 minutes. The makeup routine was pretty easy, because I would just smear a few RMS pots on my face, but I always found hair to be a challenge. I started cocktailing products from different lines, trying to perfect the air dry/beach look but I could just never truly find products that I liked and that worked cohesively with everything else in my routine. That was kind of my a-ha moment, and the birth of Playa Hair. I then proceeded to quit my job and moved from NYC to California to develop the line, which everyone thought I was insane for doing at the time.
What roles do each of you play?
S: We work on everything together and are always collaborating and giving input before we approve any initiatives, but I tend to focus on overall brand development, retail strategy, and product [ & future :) ] product development.
Olivia: In addition to working with Shelby on brand strategy and product development, I focus on all aspects of creative marketing and communications. From producing content that lives across our digital touch points, to working with other cool likeminded brands on exciting new partnerships – I'm kind of a catch-all of for the multi-faceted elements of the Playa brand aesthetic and story.
Why Venice Beach?
Venice is one of the best places in the world — we get to swim about 10 months out of the year and the temperature never drops below 60 degrees. Nearly everyone is our neighborhood is a creator of sorts, so it's always fun to work together.
Olivia lives in Laurel Canyon, so we truly get to have the best of both worlds.
What animal best represents you?
S: Hard to say — I would have to go with koala or Golden Retriever.
 O: My pup Zev. He's a German Shepherd/Labrador mix. He's the apple of my eye. He loves snacks, long hikes, and making new friends. We're pretty similar.
Can you share with us a few optimal and EASY regimens for us to incorporate into our already crazy routines?
S: Water — drink at least a few liters a day, and take collagen supplements. RMS makeup is my best secret, the application takes about 2 minutes and your skin is instantly transformed in to dewy magic.
O: A good sweat, copious amounts of water, Korean exfoliating wash clothes (for body only! way too abrasive for the face) and vitamin C. The combination of the four will keep your complexion totally radiant.
From where/what do you draw the most inspiration?
S: Nature and literature.
O: Art. I can lose myself entirely in an afternoon at a museum. It satiates my appetite for new intellect and growth, and just totally feeds my creative spirit. And music of course. All genres, from Bach to Bad Brains.
Favorite color/why?
S: Cream. I've switched from black now that I no longer live in NYC. haha
O: Blue, denim specifically. I have a penchant for a neutral utility aesthetic and love for the classic Americana vibe.
Favorite go-to beauty tip:
S: On dry hair, use our Ritual Hair Oil on mid length to ends and spray dry shampoo on top. It gives amazing volume and a really cool piece-y texture to any hair type.
O: A nice drop of the Ritual Hair Oil at night on wet hair…you'll wake up with the softest, tousled bedhead head with the perfect amount of sheen. When I need to revive my natural texture a few days after I shampoo, I use Endless Summer Spray on dry hair and throw it all up into a top knot before stepping into a steamy shower. When I finish, I just shake out the new fresh waves and refresh volume at my roots with our Pure Dry Shampoo.
Best piece of advice you were ever given:
S: Live in the moment — know that you cannot control the future nor change the past.
O: Try to look at your missteps as new growing experiences. You've got to keep your chin up, or you're not going to get anywhere. Take a moment and reflect on how you can evolve from a negative situation. Everything truly happens for a reason.
Straight or curly?
S: Wavy. :)
O: I second Shelby. Beachy bedhead, every day. I'm too lazy for a blow dryer.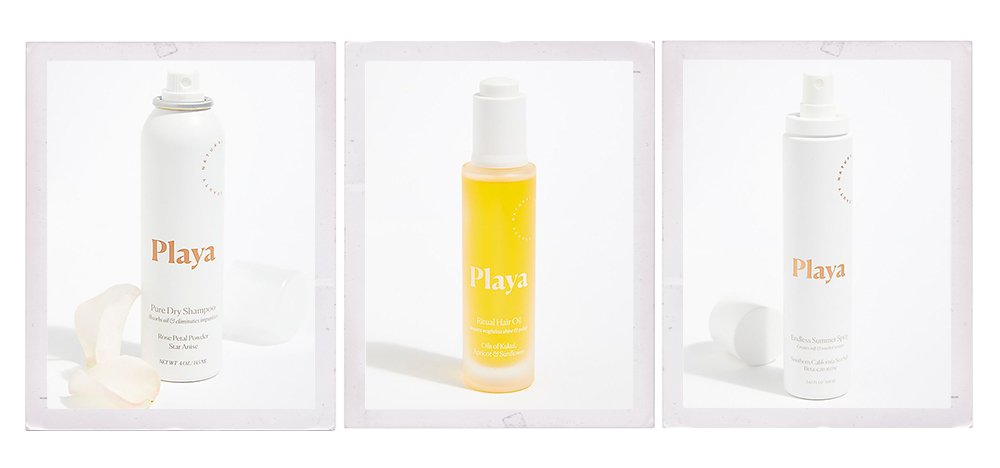 + Shop all Playa products here!
Animation by Jessie Weiner. Photos by Emily Knecht.