The cult-favorite wellness gurus reveal what's behind their clean-living glow (plus, new products!)
Danielle Duboise and Whitney Tingle, the founders of the uber successful, wellness brand Sakara Life, believe that food is both "medicine and nourishment." Having moved to New York City from the sunny desert of Arizona post-college, they realized that no one has time to cook healthy meals from scratch — or at least with any consistency — when working around the clock. Inspired to find a better alternative, they launched their now cult-favorite delivery service in 2012, with a focus on providing holistic, plant-based meals, in NYC and then L.A. It became such a hit among fans, including Gwyneth Paltrow and Kate Hudson, that the duo next created a line of clean-eating pantry items.
The super nutritious assortment includes all the things you'd want to snack on in between plating their meals — everything from watermelon jerky to superfood granola — designed to help your body stay at its peak. And they're only getting started. Here, we caught up with the focused founders to chat about manifesting your dreams for 2018, how to stay healthy on the go, and their newest releases (now in stock at Free People!) that you'll want to grab fast before the frenzy.
What are your personal resolutions for this year?
Danielle: I don't really believe in resolutions; every day is a new chance to grow and refresh. I am focusing this year, however, on becoming aware of the stories I'm telling myself. Are they helping me grow into my highest self or making fear and anxiety grow? It's important to learn the difference, and let go of the stories that no longer serve and focus on the ones that do. 
Whitney: I'm working on making sure I share my knowledge and story as often as I can. I often get shy about social media, writing blogs, etc. and am too critical of myself. I need to remember that it's not about me. It's about sharing the knowledge I have of nutrition and the power of living the Sakara Life with others, so that they can feel the transformation in their own bodies and lives, and to look and feel their absolute best!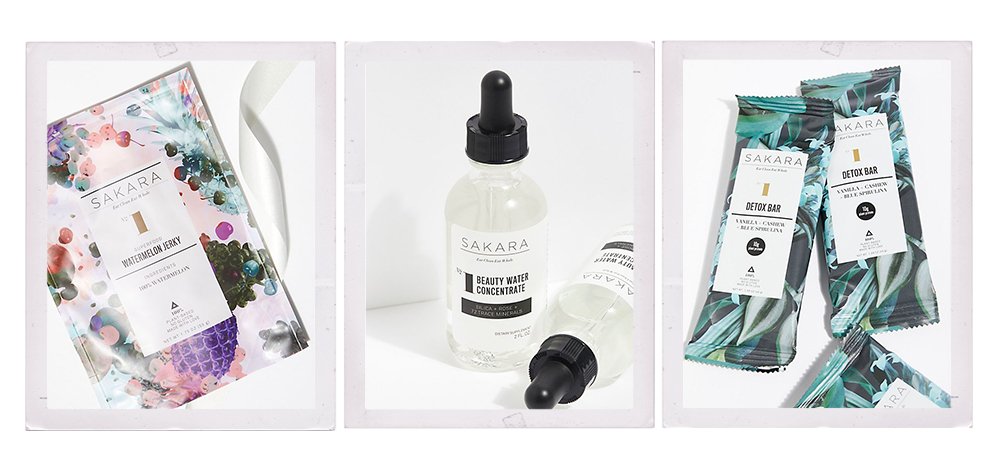 Detox has become a trendy word lately — especially in January. What does this concept mean to you both, and how do you make it part of your lives?
D: To us, detoxing is NOT about starvation or going on a liquid diet (i.e. juice cleansing). It's about flooding your body with nutrients and giving every system in the body — from the lymph to the liver to the colon — a deep clean. We like to live a life of balance; one that celebrates our bodies and nourishes it with foods that take care of it on an emotional, physical, and spiritual level. We eat Sakara Monday through Friday so that we have a baseline of healing foods, and have the confidence to have French fries or martinis when the mood strikes! That said, we are also big proponents of taking a pause from old habits and resetting the body, which is why we created Level II, our expert-level whole food detox. It's 5 days of eliminating common inflammation triggers and focusing on foods that heal the gut, detoxify the liver and balance blood sugar. We recommend participating four to five times a year to ensure your body is functioning its best! 
You guys have such busy schedules. How do you stay healthy on the go?
D: We never travel without Sakara's Beauty Water and Detox Water Concentrates — they're even carry-on friendly! They contain 72 powerful, naturally-sourced trace minerals and essential electrolytes to deeply hydrate, balance the body's pH and get the skin glowing. And we always take a daily probiotic on the road to keep our digestive systems balanced and our immunity strong. 
What are your fitness routines, and what do you personally eat and drink after a workout?
W: There's a beautiful Pilates studio called Le Petite a few floors above Sakara HQ in Soho, and I like to go there in the mornings. 
D: Some of my favorite workouts are by Amanda Kloots, Melissa Wood, and SoulCycle. I love joyous movement! Sakara's new Energy Bars are an amazing pre or post workout snack. They're functional nutrition bars, made with 10 grams of clean plant protein, raw cacao nibs, Vitamin B12 (essential for sustained energy!) and the nootropic supplement L-theanine for mental focus. They give you all the energy of coffee without the caffeine crash, and they're high in fiber and low in sugar to keep blood sugar stable. 
Besides drinking your lovely new Youth + Beauty Tea to make your skin glow, what other self-care rituals do you swear by?
W: Skincare is a passion of mine because part of my journey to creating Sakara was a journey to heal my cystic acne. I learned that the way to do this was to heal my gut, which is why I rely on eating four to six cups of greens a day to scrub my digestive system and nourish my gut microbiome (those beneficial bacteria thrive on plant fiber!). I also take my probiotic every day. We are currently developing an even more potent probiotic blend with extra beauty benefits…stay tuned!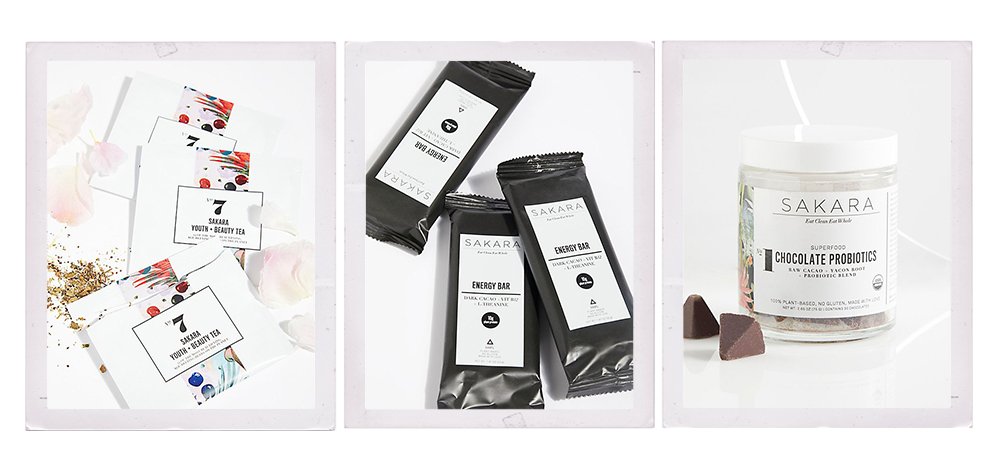 + Shop and stock up on all the Sakara Life essentials here!