A brand born almost a decade ago in the idyllic beachside town of Byron Bay, Australia…where two sisters joined forces to design a collection of dreamy floral dresses and bohemian turquoise jewelry…
Today, Spell & the Gypsy is a wardrobe staple for music festivals, beach vacations, and any adventurous, creative woman who lives her life unapologetically free.
With the launch of their Free People exclusive Siren Song Boho Midi Dress, we took the opportunity to check in with Elizabeth, one half of the creative genius behind Spell, to find out what it's like to work alongside her sister Isabella, their different personal styles, and the history behind their brand's iconic name.
What's behind the name "Spell & the Gypsy Collective"? 
Spell is actually Isabella's childhood nickname — when we used to yell at each other through our childhood home, 'Isabella' would end up coming out 'Speeeeellllllla' and she just started getting called Spell. When she started the label, it was originally called Spell Jewelry Designs and then when we came together we made it Spell & The Gypsy Collective, sort of like a collection of all of the things that we love.
Speaking of "Spell" … if you could have any magical power, what would it be?
I think some kind of 'beam me up Scotty' power would be amazing… being able to travel anywhere in the world with the blink of an eye.
What's your favorite part of working with your sister? And what are the challenges?
Haha – we get asked this often! We spent a lot of time as children creating and dreaming so to be running a company together is pretty special. I think that is the benefit of working with your sister — there is an immense amount of trust because we're family. There are always challenges owning a business with anyone, but we've never encountered anything major, and we don't fight. We're completely different and it works perfectly — all of her strengths compliment my weaknesses and vice versa.
How are you involved in the design process — is one sister more creative/more business savvy?
Isabella is our Creative Director and head designer and I love watching her create — it is something truly special. I always get my two cents in or she sometimes designs a piece that I really want! I oversee all aspects of the business alongside my general manager. After almost nine years in business I feel like we've really found our happy places in what we do best. I've focused in on managing our brand and culture as well as overseeing our sustainability journey.
What do you listen to while you work? 
In the early days when it was a smaller team we used to listen to Fleetwood Mac (Isabella's obsession!) and Angus & Julia Stone. This year at our launch for our collection LOTUS, we actually had Julia play and both Isabella and I cried because it was like having something come full circle! Right now we are listening to lots of different playlists that include Kita Alexander, Lorde's new album, First Aid Kit. But then sometimes you walk in and The Beach Boys or TLC is playing.. depends on who is playing DJ in our office of 45!
How would you describe each of your personal styles?
Isabella has her style down! Usually it consists of leather or denim shorts, a vintage rocker tee or Spell tee (usually with holes in it), sandals, roughed-up hair and lots of accessories. Then sometimes she goes a little bit bohemian with a maxi skirt and belts and a denim shirt tied up around it… Or, a favorite of hers would be wearing a silk slip or nightie. She always looks super cool and like a rock star – haha! My style is a little more neutral these days. I love beautiful linens and of course wearing a beautiful Spell dress. Maybe it is that my style is "less is more" and Isabella is "more is more". She did once say on a shoot that "Coco Chanel said, 'before you leave the house, take one thing off', but I say 'put one more thing on'"!
How does your environment – beautiful Byron Bay, Australia – influence your designs?
We are very inspired by our surroundings and Byron will always be the third character in our story! The lightweight, almost resort feel of our pieces all year around is synonymous with the weather and the year-round holiday feel of this town! We are also inspired by our travels, the colors of the sunsets in the deserts of Utah, the bustling souks of Marrakech, the rich culture, textures and color of India! Inspiration can be in the everyday or the extraordinary, and a lot of the time, for us, it is in a time past.
What are you most excited about for Spell & the Gypsy Collective in the upcoming year?
Our entire team have been focusing on our ethics and sustainability journey, People + Planet. We have some ambitious and exciting goals to reach to make our brand as conscious, kind to the planet as possible. We are releasing more content on this journey in the early parts of the year but we are super excited to release an organic cotton kids' range, start to work with sustainable fabrics and delve deeper into this journey alongside our customers. We are pretty proud of it! We are also going to be working on a new category for Spell (this will also have a sustainability aspect to it) so watch this space.
What does "free" mean to you?
The best things in life are free, so for us, that means: long days on the beach swapping from sand to saltwater, time with our families and away from screens, living our passion.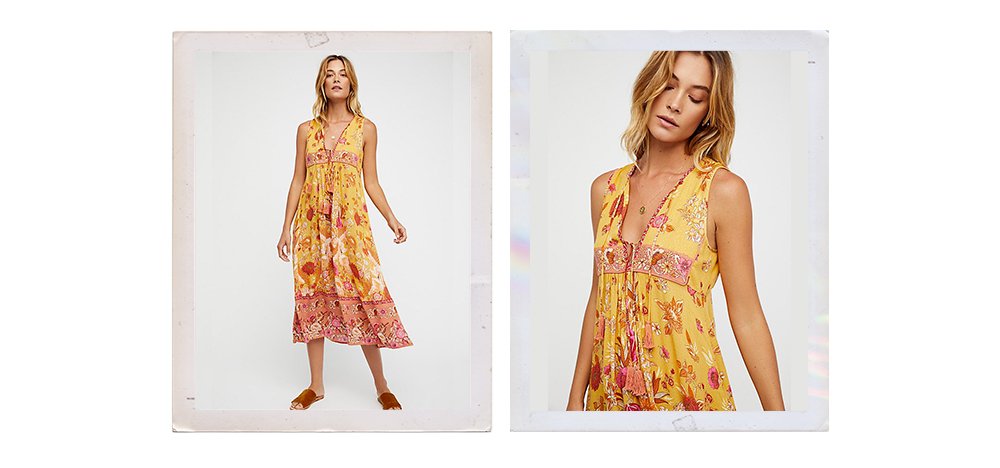 + Shop all our Spell & the Gypsy pieces here.
Follow Patrizia on Instagram.