It's time to put an end to detoxifying with toxic skin care…
"Breakout-fighting" products have historically been a gamble. Even those that appear to work are often laden with chemicals that can feed an angry cycle of generating dried out, damaged complexions that keep customers coming back for another round of toxic skin care. What's the point of clear skin if the end result is unhealthy?
"It's critical to stay in the know of scientific studies to avoid any ingredients that are the subject of controversy — 'when in doubt, formulate out.'" 
"My goal has always been to create a clean, healthy line that delivers visible benefits," says Indie Lee of her eponymous label that's spent the last decade doing exactly that. Lee was inspired to create the cruelty-free label after managing to beat the odds on a brain tumor, one quite possibly caused by the toxic skin care that was a mainstay in her former routine. "I started researching and the more I learned, the more I knew that I had to make a change in the industry — after waking up from very risky brain surgery, I started creating clean products in my kitchen." Fast forward through 9 years of collaboration with top chemists, and the Leaping Bunny-certified brand has managed to woo fans like comedic bombshell January Jones and fashion-meets-beauty guru Eva Chen with its gentle remedies along the way.
Now touting a trio of skin clarifying cocktails that are turning the industry's acne product reputation on its head, Indie Lee's Blemish Lotion, Blemish Stick, and Clarifying Mask are salicylic acid-packed natural wonders. "I believe that we can benefit from ancient wisdom and the healing powers of plants, particularly when their efficacy is amplified by science," shares Lee of their powerful green ingredients. "It's critical to stay in the know of scientific studies to avoid any ingredients that are the subject of controversy — 'when in doubt, formulate out.'"
Having struggled with acne in her 30s, Lee was a fan of the clarifying results of drying lotions, but realized that most popular options were formed with a much-debated ingredient: Talc. "I wanted to create a lotion that was just as effective without this ingredient," she explains. "My Blemish Lotion contains colloidal sulfur and salicylic acid to draw out impurities, reduce excess oil and clarify the skin, while Zinc oxide works in tandem to soothe and calm." According to Lee, finding the right skin care regime to support a healthy lifestyle is an absolute must.
A "Tag Team Duo"
Blemish Stick + Blemish Lotion
"Discretion is everything."
"When it comes to breakouts, the Blemish Stick and the Blemish Lotion are a tag team duo," says Lee of her popular imperfection-shrinking pairing. "The Lotion is great at night when you don't mind pink spots on your face," she explains of the rose-tinted mineral clay that pulls debris from pores to "work its magic." During the day, the Blemish Stick's clear formula can be applied under or over makeup for more a covert coverage option. "Discretion is everything," she admits. "I know first-hand how breaking out can impact your self-esteem. I wanted a product that could be used during the day without bringing further attention to the blemish." With its lipgloss-like application and transparency, the Blemish Stick's glycolic acid and witch hazel blend works to reduce the appearance of redness and inflammation on skin's surface.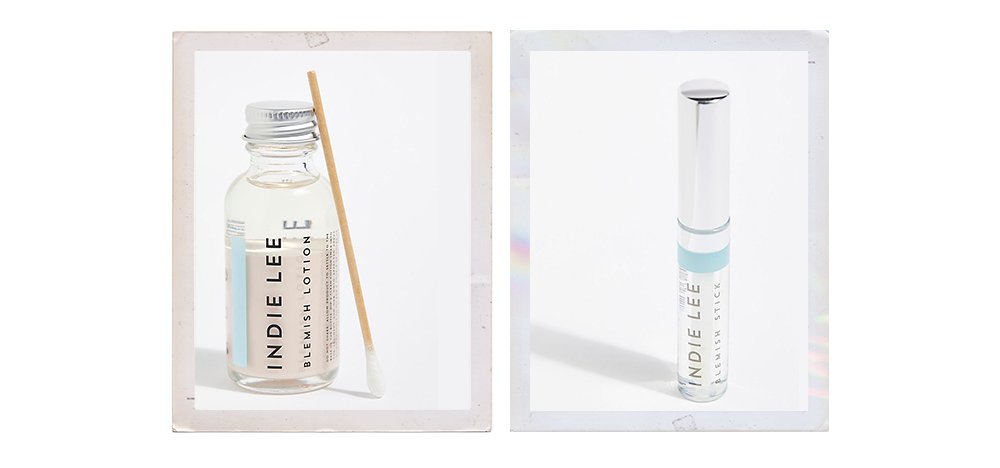 A Clarifying Conditioner for Your Face
"I think with our hectic stress-filled lives today—not to mention polluted atmosphere, eating on the go, and holding cell phones to our faces—it can become increasingly challenging to keep your skin clear and healthy," says Lee of the struggle. Rather than leeching every last drop of oil from your complexion in an effort to detoxify, Indie Lee's Clearing Mask decongests pores with a blend of acids, then nourishes its moisture barrier with plant extracts that condition and protect skin. "I've always been a fan of clay masks and how fantastic they are at drawing out impurities," says Lee of her instinct to add a more effective version to the line. "Ours is formulated with glycolic and salicylic acids, plus colloidal sulfur (known for its antibacterial and anti-inflammatory benefits) to deep cleanse and gently exfoliate." After addressing the breakout, hyaluronic acid, chamomile and seaweed extracts calm and hydrate the complexion. And isn't that the point? Here's to leaving struggling skin in even better condition than you found it.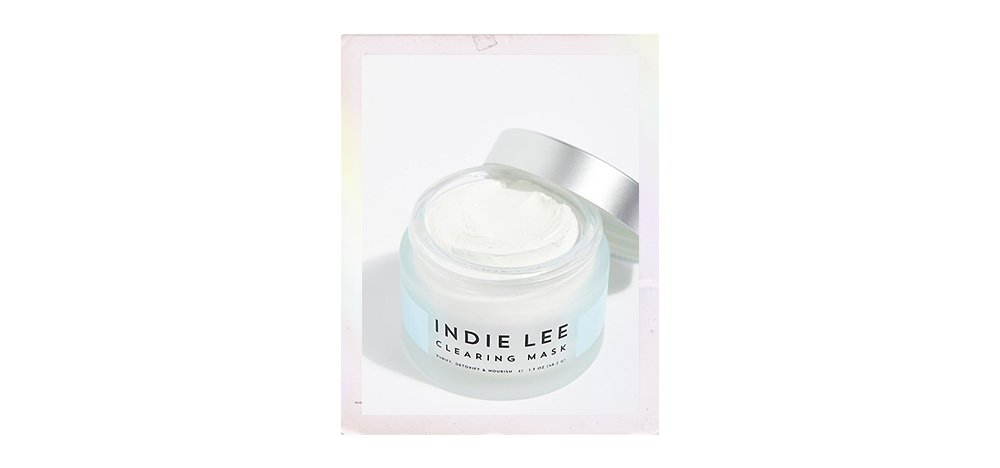 + Shop all eco-friendly Indie Lee products here!