We hope you've been watching the beautiful Mona-Jane share her favorite workouts via our weekly #MovementMonday series… Now, take a minute to learn more about the beauty behind the brawn!
Come along as we ask her how she came to be our #fitnessgoals.
What's the meaning behind the name ROCAMOON?
The name is actually super special to me (and I guess kinda funny that I chose to use it as my Instagram name ha) but… basically, it's my two babies' names combined — as they are what motivate me to be better each day. Before Roca, I had an angel baby who we named 'Bella-Luna' (meaning beautiful moon). So I put those together, and Rocamoon seemed to roll off the tongue better than Moonroca I think! Haha.
What made you become so passionate about health and fitness?
Well, I think it comes naturally to me. I have loved being active, playing sports and being outdoors since I was a young'n. So it has kinda stuck with me and I crave it, especially that feeling of losing my breath and breaking a sweat. But now that I am older (not that I feel a day older than 16, haha), and a wife, and mother, being my best self helps me to be so much better in those other areas of my life. When we nurture ourselves we can better nurture others. I feel much more connected to nature, people, each other, and seriously loooove witnessing the changes others experience when they give health and fitness more attention. It's very uplifting and motivating! It truly is energizing and makes me feel so much better when I make holistic healthy efforts. Meaning not just physical health but mental, emotional and spiritual. Life feels more balanced that way and find we thrive so much more when we are feeling good inside and out!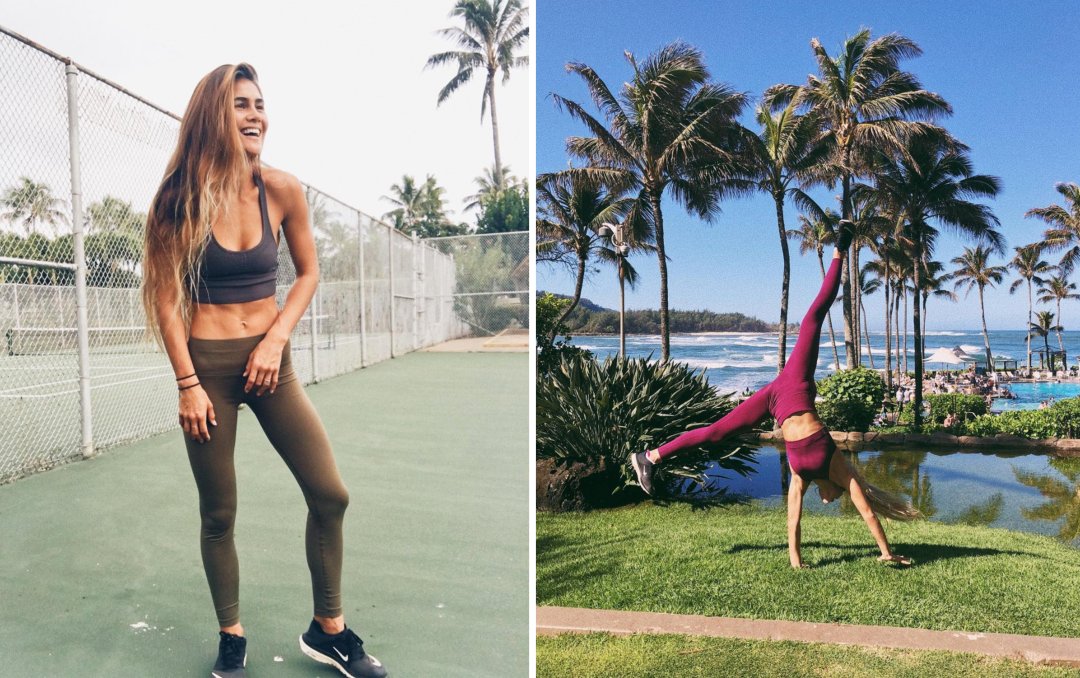 Your long, beautiful hair — what's your secret?
Well, I wish I had a secret, or luxurious rituals – that sounds so nice! The key to keeping it long for me is not to cut it, let alone do anything to it! I cut it maybe once a year. I barely brush it, about once a week. And when it's super sweaty (so basically every day), I shampoo the roots; then, every other day, I'll condition only the bottom.
Favorite activity for keeping your family fit?
Surfing is the top thing we do together, but we also love to go on bike rides and hikes.
3 of your favorite healthy dishes.
I love a good smoothie/smoothie bowl… mango and passion fruit, to be exact, or acai with berries, coconut, granola and almond butter. Lettuce wraps are always a fave, filled with different things, be it sweet potato, quinoa, beans, avocado, cucumber, cilantro, etc. with dipping sauces like peanut satay, balsamic vinaigrette, or a homemade cashew cilantro dressing. Annnd I love a good veg coconut curry.
What's your go-to outfit for everyday?
Other than putting workout clothes on first thing every morning (living in Hawaii), definitely would be my swimsuit!! Pareau (Island sarong) when I'm lazy and in a rush, or jean shorts and tank top.
Do you have a mantra?
I don't really, but two sayings that I often come back to are "what's meant to be will be," meaning if it doesn't work out, it's ok — life will go on and something else will come along. And the other is, "life begins when you step outside your comfort zone," so to try new things, be open, explore and make everything an adventure. Being content is a good thing, but I think we should always be striving toward something, or improving, which often means stepping into a slightly uncomfortable spot.
Favorite workout playlist?
+ For all things movement and wellness, follow @FpMovement on Instagram!
Follow Patrizia on Instagram.