For their latest supplement, Dope Naturally went back to the earth (literally) for a star ingredient derived from soil that will make your hair and skin shine.
Ever since New York City fitness trainer Sylwia Wiesenber launched her Dope Naturally line of wellness supplements—infused with energizing beets from her native Poland — we couldn't wait to see what the super-fit entrepreneur would launch next. Now we have the answer: Meet Atomic Beauty, her new ingestible that taps into the restorative power of fulvic acid along with prebiotic and probiotics to promote healthy skin and hair.
If you're not familiar with fulvic acid, get ready to hear more about it. The compound is incredibly rich in essential minerals as well as electrolytes to keep your body hydrated and help it recover faster after a workout (especially the type that Wiesenber likes to do — two hours of non-stop movement). The acid, which is derived from soil—you can't get any closer to nature than that! — also helps other nutrients absorb and supports your internal detoxification system. To round out the formula, Wiesenber added in a few other superfoods, including protein-rich watermelon seed powder (the star ingredient in Melonaid), sunflower seed powder and coconut milk powder.
Like the other supplements in her line, this latest innovation is made with USDA certified organic ingredients, vegan and free of added sugar or flavors (and Wiesenber adds, "tested on New Yorker, not animals"). Here, the Warsaw-born guru tells us more about Atomic Beauty and shares three supercharged recipes you can make with a sprinkle of this wellness powder.
What inspired you to launch Atomic Beauty?
The inspiration was to create a potent formula to keep me going at full speed, as I have for years. Atomic Beauty is a super potent formulation without compromise — a pure protein blend with amino acid rich watermelon seeds and mood enhancing sunflower seeds powered by fulvic acid. Fulvic acid is really the secret weapon to restore your body, for faster recovery, and for well-balanced beauty from the inside out…think endless energy.
What beauty benefits does fulvic acid provide?
It is a powerful compound from soil, extremely rich in minerals and ionic trace minerals that are crucial for proper body functioning, better absorption of nutrients and cellular detoxification. It also has naturally present probiotics and prebiotics for a healthy gut, and a healthy gut equals a beautiful natural glow, toned skin and healthy hair.
What other star ingredients are in the powder? 
Dope Naturally focuses on potent and unique formulations. I want to maximize the power of each of product with carefully curated ingredients. Instead of generic pea protein, I chose more powerful plant-based protein from watermelon seeds, which is better for your digestion and certainly your beauty. It is rich in amino acids that promote collagen formation, improve metabolism and promote toned skin.
Watermelon seed powder is blended with magnesium-rich sunflower seed powder, a natural mood enhancer, which is high in vitamin E and powerful antioxidants, and coconut milk powder, which promotes faster muscle recovery.
Ready to "dope" with Atomic Beauty? Wiesenber shares her three favorite recipes below.
Atomic Beauty Power Smoothie
1 ½ cup coconut or cashew milk
1 scoop Atomic Beauty
1 frozen or fresh banana (frozen banana adds that extra smoothness)
½ to 3/4 cup frozen cherries
Blend everything until smooth and enjoy the power of mother earth each morning; it's the best way to start your beauty within!
Atomic Parfait
1 cup cashew, almond or your favorite yogurt
1 scoop Atomic Beauty
1 spoonful cashew butter, peanut butter or any nut butter you crave
1/3 cup granola, raw or slightly toasted
1 banana
1 pear
In a bowl, blend yogurt with Atomic Beauty, then add your nut butter. Stir slowly, add granola and put sliced bananas and pears on top.
Midnight Beauty
1 cup hot water
½ scoop to 1 full scoop Atomic Beauty, depending on desired potency
1 tsp manuka or other raw honey
Add Atomic Beauty to a glass of hot water, stir and add honey, blending until dissolved and smooth. This potent concoction is a perfect way to unwind and prepare your body for a good night of beauty sleep and cellular restoration.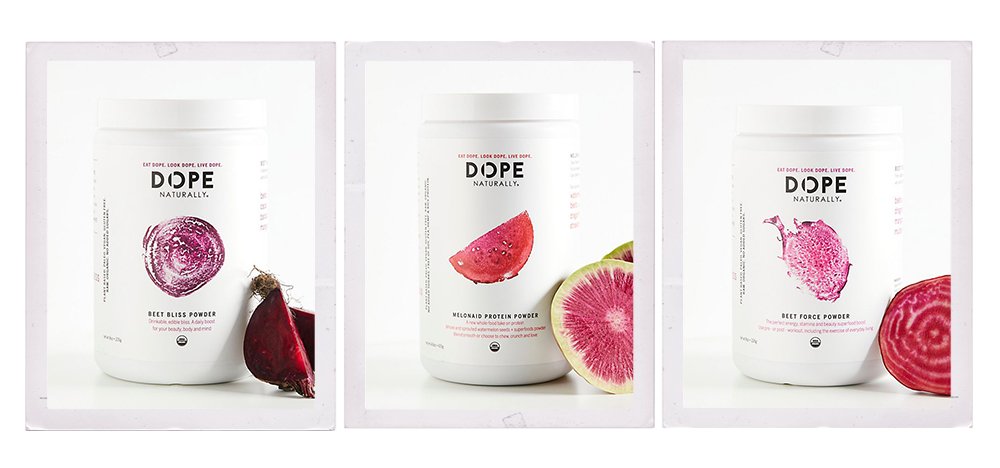 + Shop and discover all Dope Naturally supplements here.