From facial rollers to sparkling vanity trays, the latest beauty wave is all about a power balance…
The crystal phenomenon has been slow-building for months as countless editors and skin care gurus tease out photos of soladite facial rollers and quartz vanity tray compilations in a never-ending wave of social media proclamations. Simply appreciating the beauty of sparkling, polished natural elements could be enough, but for the real enthusiasts, it's about clean energy and smooth vibrations.
A VIBRATIONAL BREAKDOWN
"At an atomic level, our universe is in a constant state of vibration. Crystals are extremely good at holding a stable vibration due to their crystalline lattice structure," explains Melbourne's Ashley Bellino, who launched Stoned Crystals ahead of the curve after experiencing crystal energy for the first time a few years ago and finding few modern sources to explain the phenomenon. "All kinds of things can affect our vibration, from external influences such as electromagnetic stress, to internal ones such as constant negative thought patterns and suppressing emotions. Crystals emit high and steady vibrations that help to create balance within oneself and zen into the spaces around us by adjusting to imbalances and absorbing excess energy." Touted for thousands of years for their powerful healing properties, it's no surprised that an increasingly tech-focused generation is seeking ways to unplug and recharge with the stones' more natural forces.
A BACK-TO-THE-BASICS BEAUTY REVOLUTION
"Crystals are here to stay," declares Skin Gym's Karina Sulzer as we chat about the explosion of options in the beauty and wellness spaces over the past year. Harking back to their ancient healing properties, Sulzer's line of facial tools crafted from stones like blue soladite and citrine are changing the way digitally-focused clients approach a modern beauty regimen. Time-honored crystal rollers and wands are being snapped up by the consumer who "wants to take it back to the basics and pair a beauty routine with a natural tool instead of sending shockwaves through the skin, because you do enough of that with your technology!" For every battery-powered cleansing brush and hot tool in an old-school arsenal, a balancing charge is now offered in the form of obsidian facial wands and amethyst hair combs.
A FRESH START
For anyone that finds the concept of cleansing crystals a bit intimidating, Bellino simplifies the process in three quick steps:
CLEANSE: Cleanse crystals in salt water or pass them through incense to eliminate negative energy.
CHARGE: Charge your crystal under the sun or moonlight to re-energise. (Consider the Full Moon for an extra kick!)
ACTIVATE your crystal by setting an intention for you stone. Remember, what we think or believe about ourselves and the world becomes our reality.
 Below, eight strikingly gorgeous ways to harness the power:
Each crystal platter, hand-cut and polished to perfection, glows when you hold it to the light. Like a Grade A stone canvas for zenned-out vanity moments, everyday items from lip balm to hair clips are suddenly imbued with a dreamy new balance.
Turning a healthy habit into an art for anyone trying to add more water to 2018's inside-out-beauty goals, the stunning crystal tower fastened inside each glass bottle acts like an aquatic sculpture infusing every drop of H2O with new life.
The rose quartz crystals that plink around inside of each bottle of healing botanical oil are a feel-good bonus to the sparkling mica-sprinkled formula that imparts a pretty pearlescent sheen to freshly cleansed skin.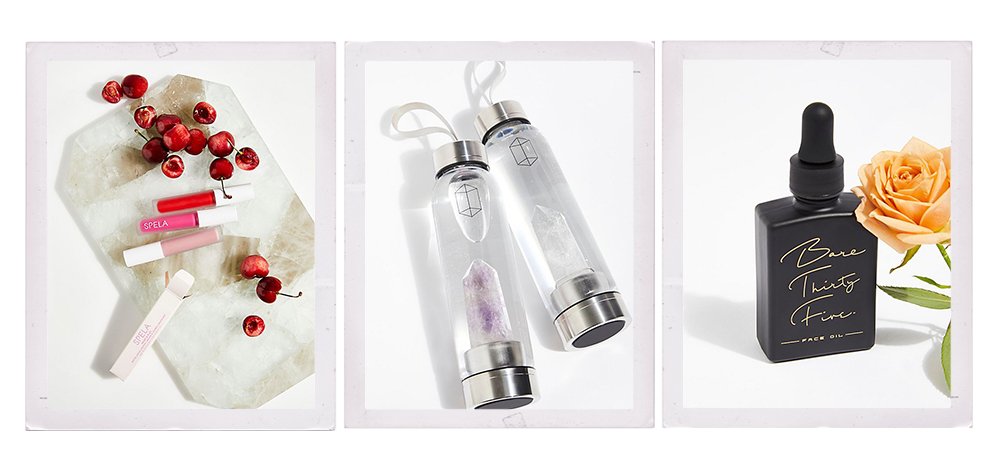 Like an energetic scalp massage, the rock candy colors of each comb come with a positive affirmation. For rose quartz, "the past is healed. I open myself to love and light. I am love." For amethyst, "wisdom and intuition always guide me. I am following the calling of my soul." And for clear quartz, "I am a transmitter of energy. I am the Master Purifier. I am a concentrated form of light."
"Of course, yoni eggs can also be used as external massagers for sore muscles and is a great companion to hold in your hand while meditating," explains Chakrub founder Vanessa Cuccia of the many uses for her rose quartz bud. Its true purpose? An intimacy-boosting exercise known for its ability to "strengthen the pelvic floor, increase blood flow, reduce numbness, and deepen orgasmic potential."
More than just a beauty massage tool, according to Sulzer, the wands can be used to "clear an area of negativity" or to "beam healing energy to yourself or someone else."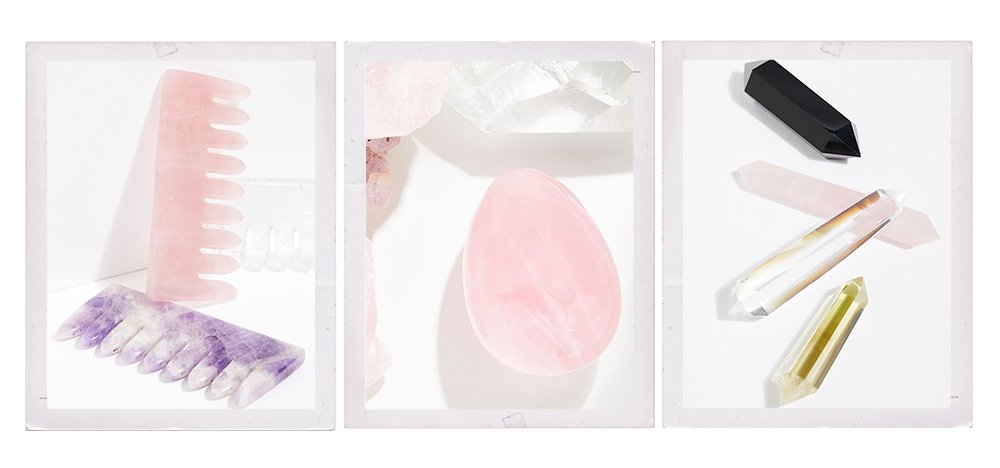 "Blue sodalite is excellent for hydrating cells and the overall health of the skin," Sulzer shares of the stone's notoriously inflammation-calming, healing properties. If you're feeling less than confident about your facial rolling abilities, take a spin through this helpful how-to.
A mix of rose quartz ("the ultimate beauty crystal"), soothing amethyst, opportunity-inspiring citrine, negativity-shielding green aventurine, and supportive carnelian. Place them on your body, tuck them under your pillow, or carry them in your purse — Sulzer declares these her "secret weapon."