Made of breathable and easy-to-wash materials, in a multitude of colors and low-price points, each piece is destined to become your new favorite wardrobe staple.
We hung out with Nikki, the mastermind behind Endless Summer, and Kelly, our LA-based Beach designer, to learn how it all started, and what it takes to create two effortlessly chic, lightweight and comfortable collections.
Tell us about your role, how long you've been in it and what brought you to it.
Nikki: I've been on the Endless Summer team for about five years, since almost its beginning! I used to be a very artwork-heavy/crafty designer at the start of my Free People days (I've been here for almost 8 years). Five years ago, I was given the opportunity to be the Endless Summer assistant designer. It was a  simple and sensual category. Definitely challenging at first, but once I found my groove and fell in love designing for this nomadic customer, the opportunity to design Endless Summer became mine!
Kelly: I have been designing FP Beach for about five years. Luck and good fortune kind of brought me to it. I've been with Free People for almost 8 1/2 years now, and started on the knits team 😊. I was very fortunate to be a part of the move from the Philly Home Office to Los Angeles to help with the startup of our now LA Regional Office. Initially I was still an extension of the knits team from LA, but then it naturally just made sense for me to assist the other Head Designer out in LA, Kris Chau. Chau was the magical force that actually first started the Beach line so long ago and to this day still has some top sellers going strong!! Working with Chau was definitely one of my greatest experiences with this company. She helped me to really grow, mature, and push my design ability from just focusing on knit tops, to all silhouettes in knit/jersey fabrications. We both also shared the ironic similarity of being born in Hawaii. After Chau left the company in 2015, I was honored to try to fill those big shoes. Beach has always been a part of me. I grew up 15 minutes away from the beach in South Jersey, grew up spending summers in Hawaii, and today live in California a block away from the beach. The easy, relax flow lifestyle and clothing has always been a part of me and love trying think of what our girls want in their closet to help complete that same vibe!
How did Beach & Endless Summer come to life?
N: With Endless Summer being a new business for Free People, I first found designing for it super challenging. Everyone kept telling me to have fun with it  — and so I did. My team and I had to figure out a way to make it stand apart from the FP collection… we had to learn and build our customer. Pretty soon, I fell passionately for Endless Summer, feeling extremely connected to the collection, the customer and the aesthetic.
Endless Summer is for the girl who loves to go on adventures and explore, which is something I do as often as I can. I wanted the designs to be simple and effortless, but to turn people's heads. I wanted her to look cool, sexy and beautiful. It's also important to me to design timeless and flattering silhouettes so that she'll reach for it next summer!
K: When I first started, Knits and Beach were designed in the same room, so I was lucky to see what new, easy, cool relaxed pieces were being created. Once I became a part of the Beach team, it felt like I was always meant to be there. I love trying to think of what our girl wants to wear to the beach, what she can throw on to go out at night and look a little dressed up, but still easy and cool (and also comfortable in case she got sunburned during the day! haha). She's also a traveler, so Beach has grown to accommodate her trips — whether it be by plane, car, biking or whatever. I want her to feel super comfortable, but also look unique and stand out from your average traveler.
Can you explain the difference between the two?
N: Beach is made up of knit/jersey styles, while Endless Summer works with woven fabrications. I believe Kelly and I have very different aesthetics when it comes to designing, and it kind of shows in the products. Endless Summer usually tends to be ethereal, feminine and retro with a bit of edge.
K: Beach tends to be slightly more relaxed, easy tomboy vibes. But overall, we love to address every girl's personality and make sure she feels awesome in something easy to throw on and go!
Where does the inspiration come from?
N: All over the place! But mostly, traveling. I like to observe my surroundings while traveling, looking for inspiration at markets and seeing what local women are wearing, I try to take it all in. I use a lot of vintage inspiration, honoring its details to make fresh and modern and yet still timeless styles. I try to envision what my friends and I would like to wear on holiday that isn't in our closet yet!
K: The beach!! Where else?? For me, it's all about capturing her vibe. She can spend all day on the beach in her bikini, salt water in her hair, glow from the sun, and then easily throw a Beach piece on top and hit the town. I love when I get the opportunity to explore other beach towns (in the US and all over the world)!! It's awesome to see how each place owns a unique look, but keeps that effortless feel intact.
Favorite part of your job?
N: Ah, it's hard to choose my favorite part! But my top just might the ability to create and produce a product, and seeing our customer wear it. I love seeing her looking super confident and feeling pretty! It's the best feeling, and why I come here to do what I do 5 days a week! I can't forget to add that it's really amazing to design in a beautiful environment with such beautiful women that truly inspire me every day!
K: Oh man, there are so many!! I am so lucky to be able to travel back and forth from the West Coast to the East Coast! The team I work with is amazing!! Everyone is so inspirational in their own way and very devoted to delivering the best product possible. It truly is an awesome experience, to see people out in the world wearing Beach designs! It's hard to put into words… but it's the coolest, humbling, and proudest feeling all in one. 😊
And what's the most challenging part?
N: The most challenging part would be dealing with the super cold months in Philly and designing with summer in mind. It's sometimes hard to envision what warmth feels like when in a puffer and snow boots.
K: Making sure to deliver new, fresh ideas! Beach doesn't incorporate trims or washes (tie dyes), so it's really all about the fabrication and silhouette. I really want to give her something well-made that feels comfortable in and will be a go-to year after year, or be her go-to vacation piece, while making sure it's not only easy, but also super unique and cool!! 
If you could wear only one of your designs for the rest of your life, which would it be?
N: Tough one! It's currently the Ultraviolet Midi. I love that you can wear it day to night and, even though it's body-hugging, it's very comfy!
K: The Manhattan Beach Jumper <3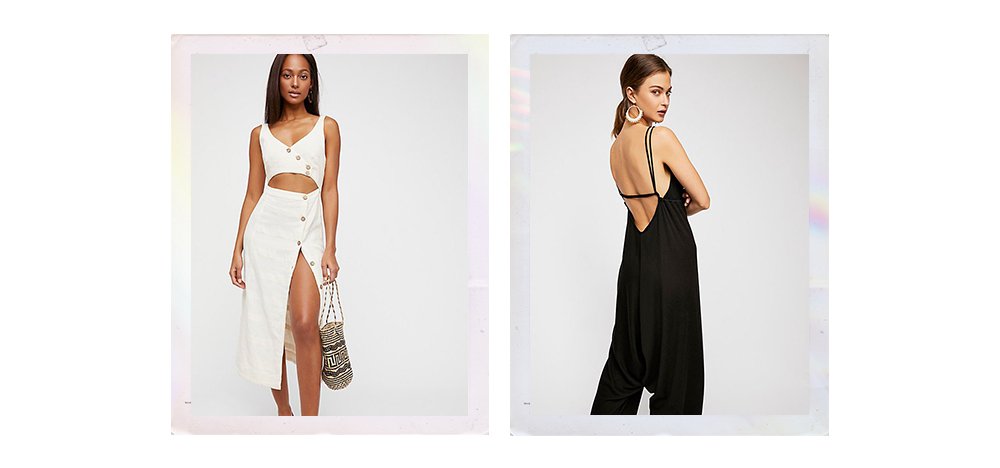 + Shop the entire Endless Summer collection here!
+ Shop the entire Beach collection here! 
Follow Patrizia on Instagram.