Similarly to skincare, there's a right order and a "wrong" order to apply these nifty new additions to your bathroom…
So you've gone through the trouble of stocking up on an arsenal of hair care and styling products…great! But similarly to skincare, there's a right order and a "wrong" order to applying these nifty new additions. I put "wrong" in quotes because you can't actually do this kind of stuff wrong but you can do it better, particularly when you take your natural hair texture into account.
If your hair is curly…
you're probably the target of a lot of straight-haired jealousy. But you also have a bit of a harder time with styling products since no two curly heads are the same, which means there's no one-size-fits-all approach to curly products. That said, a good rule of thumb is to start with a leave-in conditioner or hydrating serum to moisturize and soften your curls before running a gel or curl cream through your strands to help your natural texture take shape and stay defined.
If your hair is straight…
you're probably the target of a lot of curly-haired jealousy. (Guilty! We always want the hair we don't have.) But while straight hair is typically easy enough to handle, it's also more susceptible than other textures to falling flat. (And being the victim of static, but that's a story for another post.) To combat flat, lanky-looking hair, start your styling routine with a volumizing spray or dry shampoo like Rahua's Voluminous Dry Shampoo. Spritz liberally on the roots, close to the scalp, then comb it gently through to the ends. For a little extra oomph up top, work a mousse into your roots. (Yarok's Feed Your Roots Mousse is a great option here as it's lightweight and creates gorgeous texture without being sticky.)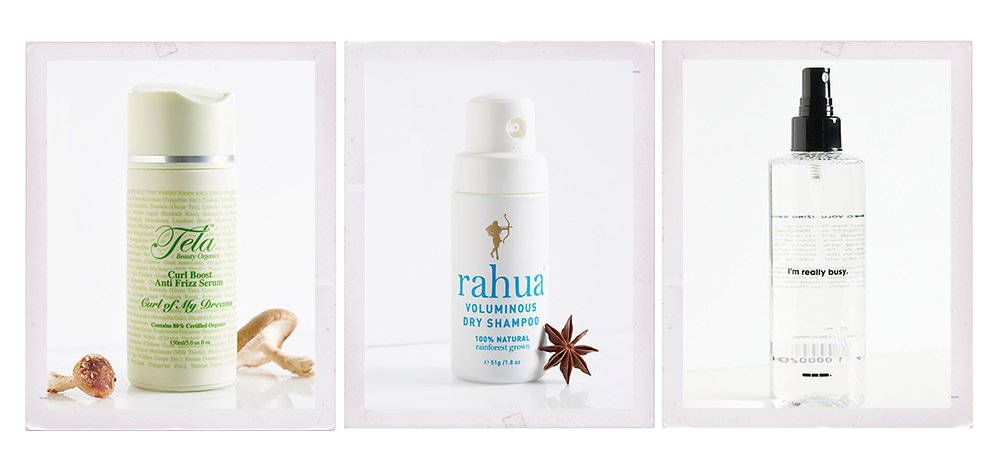 If your hair is wavy…
the world is your oyster when it comes to styling! But to really embrace your natural texture — and fight the frizz that can easily pop up for wavy-haired gals — you want to start with a small amount of styling cream followed by a generous helping of salt spray. A cream like Yarok's Defining Crème will keep frizz under control thanks to nourishing ingredients like palm oil, orange oil, aloe, argan oil, jojoba oil, evening primrose and rosemary. Then hit your hydrated hair with a salt spray like the Enchanted Sea Salt Spray from Rahua to bring out your texture.
If your hair is coarse…
you want to moisturize it as much as possible post-shower. First, hit that mane with a leave-in conditioner. Then harness the power of a hair oil full of vitamins and plant oils — like Flora Remedia's Lavender Hair Oil — to really saturate your dry strands with moisture. (Don't worry, it's not going to end up being too greasy…your hair will drink it up.) Then finish it all off with a thick hair cream to lock in all that moisture.